How to Vote in the Same-Sex Marriage Postal Survey Australia
Everything You Need to Know About Voting in the Same-Sex Marriage Postal Survey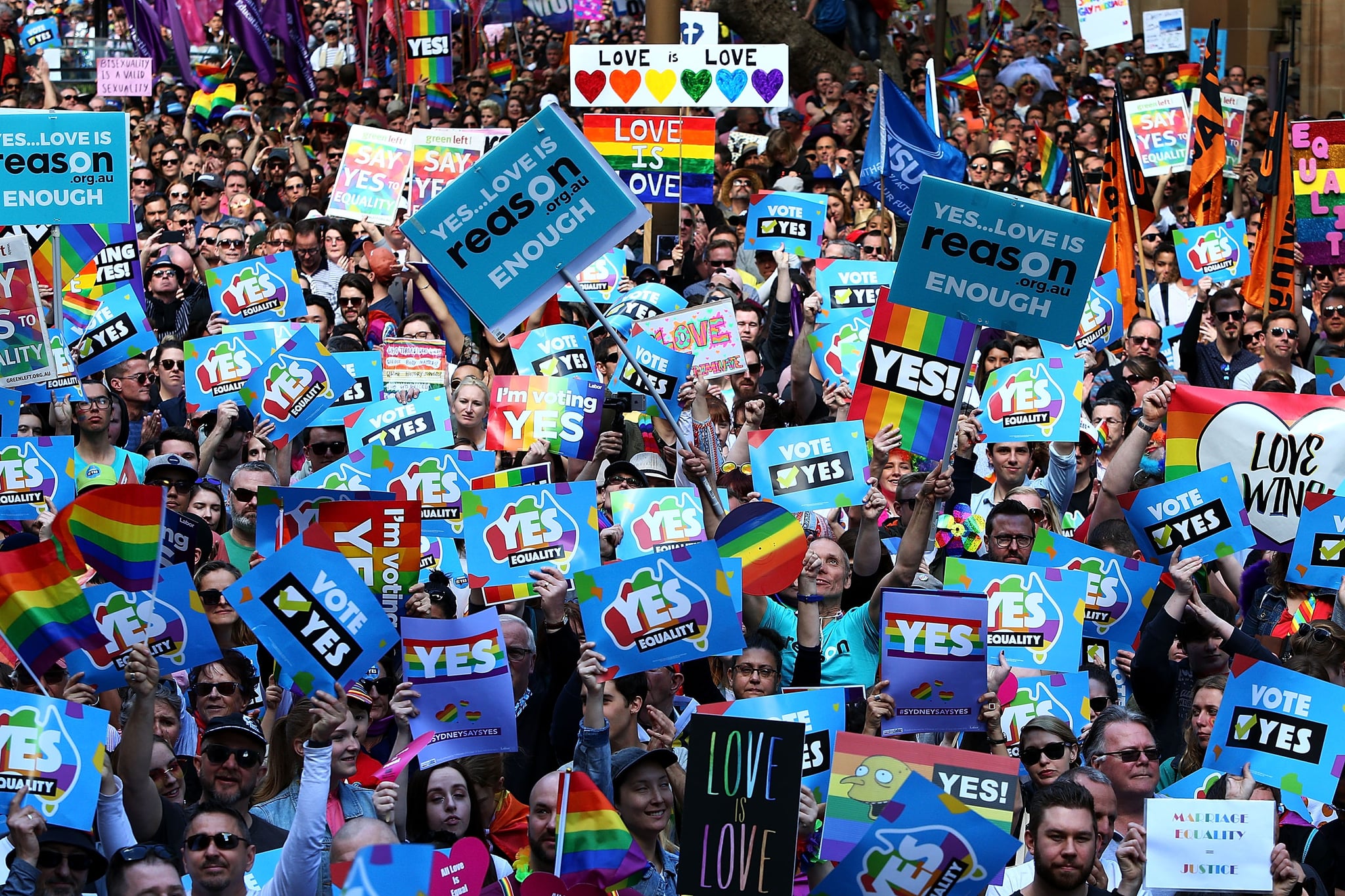 The high court has given the okay, and now Australian residents will take part in the Australian Marriage Law Survey. So what now? Below are all your questions answered on the how, why and what of the vote.
Why Are We Voting?
To allow for same-sex couples to be married in Australia, we need to change the common law marriage act that says, "marriage is between a man and a woman". The government has the power to change that act without the public vote — unlike changes to the Constitution, for which they hold a referendum — but they want to gauge the public opinion. Rather than holding an plebiscite, they government have opted for a ABS-run postal survey, which is not legally binding. The question being asked is, "Should the law be changed to allow same-sex couples to marry?"
Who Can Vote?
Unlike our elections and referendums, voting in the postal survey is not compulsory. Only those who are registered at their correct address on the electoral role will receive their Australian Marriage Law Survey Form, which they will need to fill out and physically post back.
When Can You Vote?
You can only vote once you receive your form. The forms are being posted from Sept. 12 until Sept. 25. They then need to be posted back and received by 6 p.m. on Nov. 7. The government is advising forms to be posted by Oct. 27 to ensure they are received in time and will be counted.
What If You Don't Receive Your Form?
If you require a replacement form, you will need to request the form yourself, or have a legally authorised person to request it for you. Requests for replacement materials will only be accepted between Sept. 25 and before 6 p.m. Oct. 20.
Can Anything Make My Vote Invalid?
When filling out your form, you must use a dark pen and mark only the "yes" or "no" answer box. Place your form (and only your form) inside the Reply Paid envelope and post it in an Australia Post mail box (without a stamp). If both boxes are marked, your vote will be deemed invalid. Your vote will also be deemed invalid if your unique barcode on the form is damaged, missing, or altered in any way.
When Will the Result Be Announced?
The results of the postal vote are expected to be announced at 11.30 a.m. on Nov. 15.
If the Majority Votes "Yes" to the Change, Does That Mean Same-Sex Marriage Will Be Legal?
No. As the vote has been downgraded from a plebiscite to a postal survey, the postal survey is basically a huge opinion poll. If the majority vote "yes" in the survey, a vote to change the law will be held in Parliament and Prime Minister Malcolm Turnbull has said he expects that vote will make same-sex marriage legal. However, MPs are under no obligation to vote in favour of same-sex marriage even if the nation or their electorate has.