March For Our Lives LA Interviews 2018
Kids Lead the Way at March For Our Lives: "We Need Change"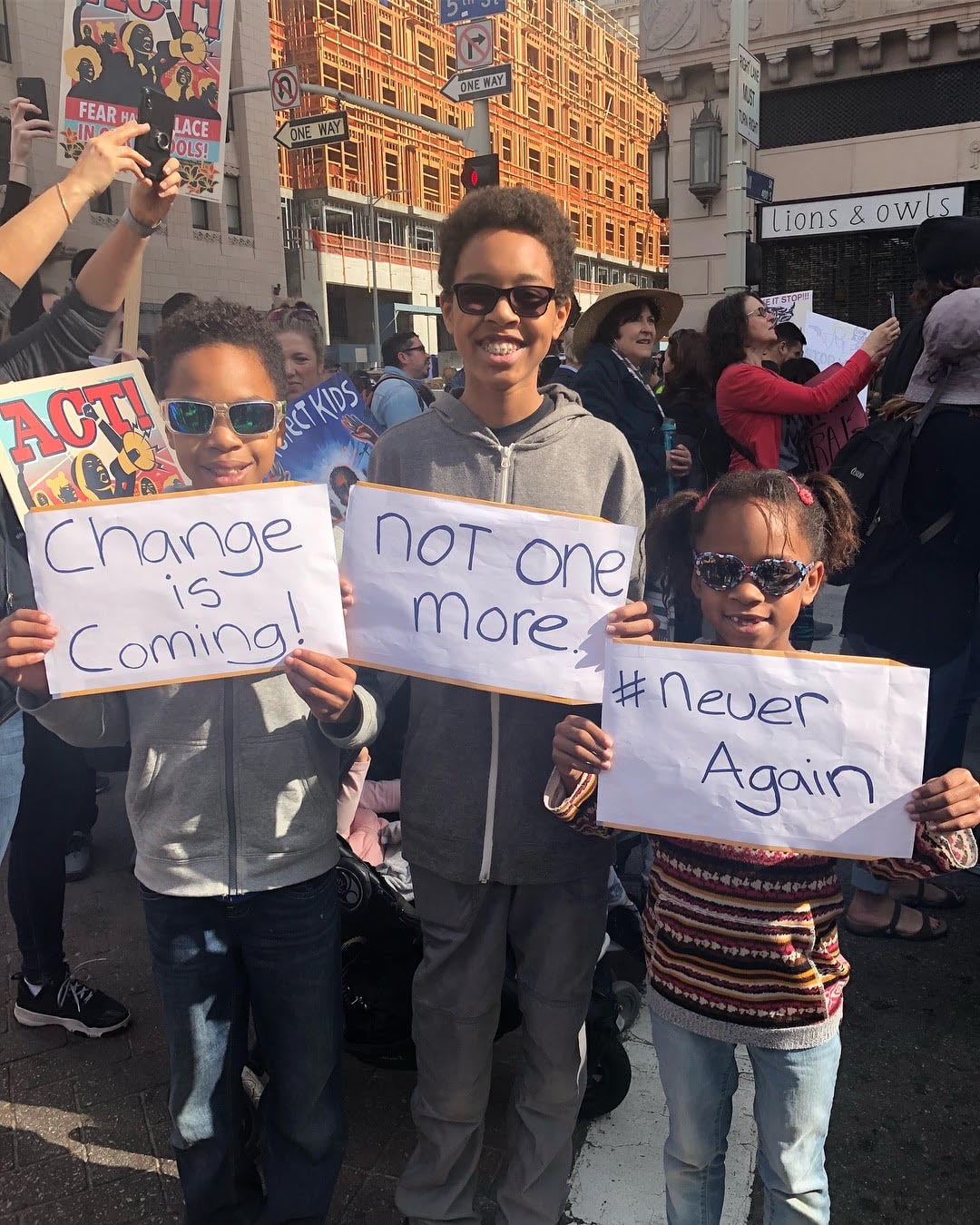 Christian, Julian, and Alexandra hit the streets at LA's March For Our Lives rally.
As I followed the crowd of March For Our Lives protesters down Broadway in downtown LA, I heard a small, persistent voice somewhere behind me. "Mum, say it! Hey, hey! Ho, ho! The NRA has got to go!" The brief moment seemed to perfectly capture the tone of the day. On March 24, more than 800 protests nationwide and globally drew kids and parents, students and teachers, grandparents and grandkids to join forces and demand gun reform. And despite the strong intergenerational turnout, it was clear that the youngest activists were in charge.
Four-year-old Ariel, decked out in a princess costume and tiara, carried a sign that read "NRA Don't Let Them Take My Life Away!"
The student-led protest movement that has risen up in the wake of the Parkland, Florida, school shooting — and so many other school shootings like it — is invigorating a new generation of young activists. The LA march unsurprisingly drew lots of Hollywood star power, but kids remained at the forefront — even as celebs such as Amy Schumer, Connie Britton and Kendall Jenner milled around. When actor Laura Dern took the stage with her 13-year-old daughter Jaya Harper, she took a supporting role, holding the microphone for the teen as she delivered an impassioned speech.
"Did you know," the middle-school-age Dern said, "that there are already stationery and roving metal detectors at most of the schools in Los Angeles? . . . I don't want to go to school wondering if I'll be safe, or wondering if children I don't even know will make it home."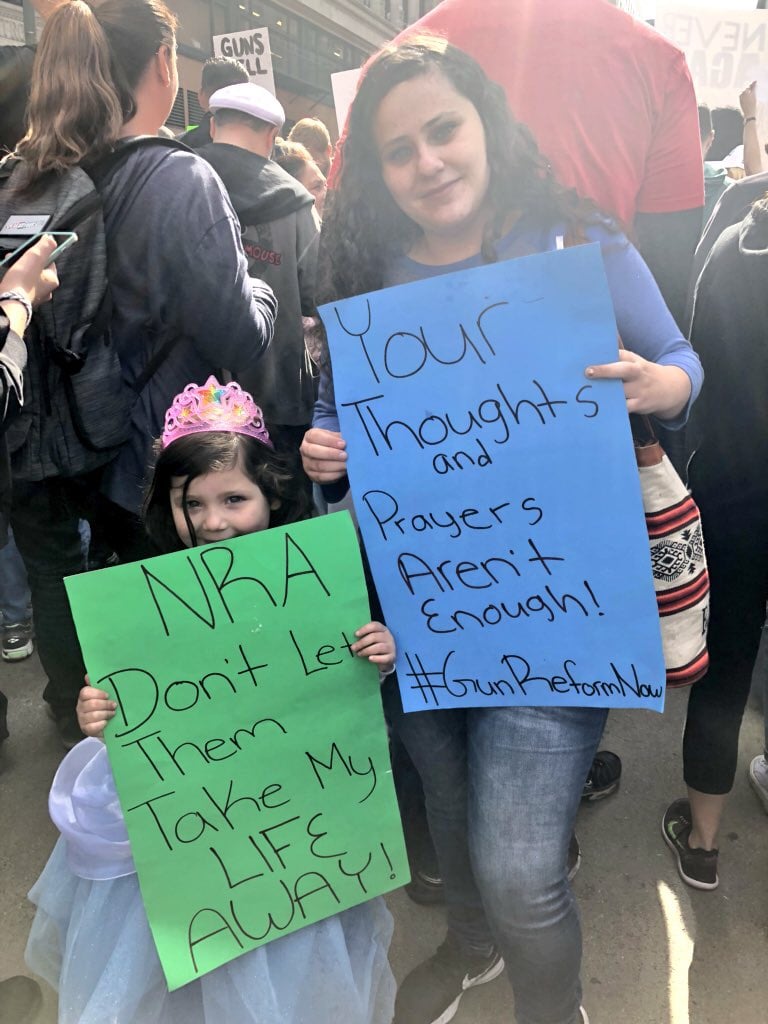 Diana and Ariel Greer at the rally point
The LA march, coordinated with the team at Women's March LA, was largely spearheaded by high-school activists who saw to it that the majority of the speakers who took the stage were teens. But both kids and parents I spoke to along the march route said that, in this era, even the very youngest among us have an awareness — and fear — of gun violence. I met Diana Greer and her preschool-age daughter, Ariel, as we waited on a jam-packed corner of Spring Street for the march to begin. Four-year-old Ariel, decked out in a princess costume and tiara, carried a sign that read "NRA Don't Let Them Take My Life Away!"
"Her teacher had to talk to her about if someone brings a gun to her class," Greer told me. "She came home crying to me, saying, 'Mum, I'm scared.' So then I started explaining to her, and I told her about this march. I told her this march is to help with gun control, so she wanted to come. She understands what's happening. She sees it on the news constantly. She tells me, 'Mummy, someone else got shot.'"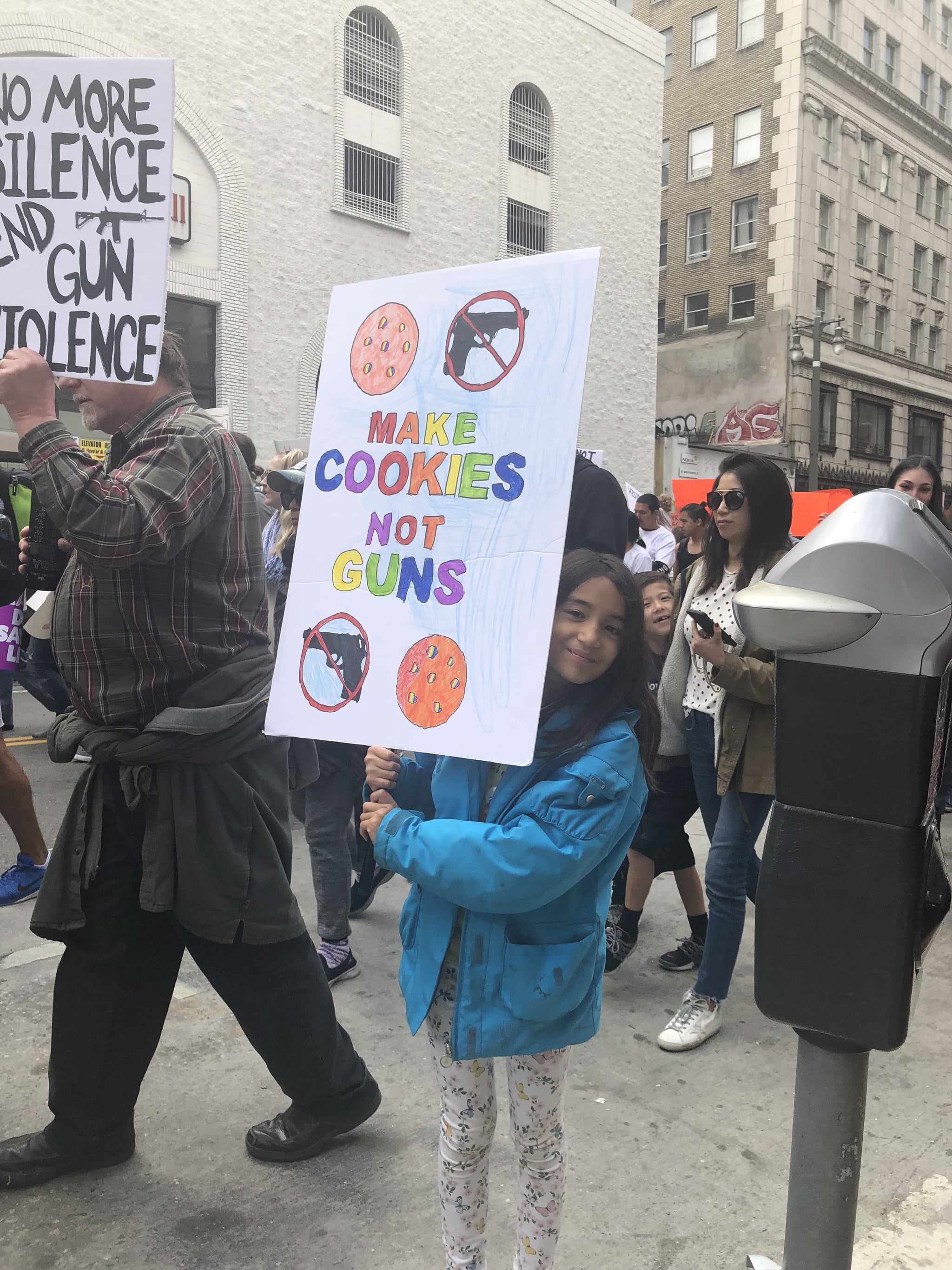 Simone, 10, marched with her father, John Wooden.
While some of the smallest marchers clearly had some help generating their signs and slogans, older kids, like 10-year-old Simone — who marched with her father, John Wooden — and 17-year-old Norco, California, student Taylor, had specific messages to send.
"There are so many shootings within high schools, and I could never imagine losing one of my friends or someone close to me," Taylor said. The teen had travelled about 80 kilometres with a group of friends from suburban Norco, California, where she lives.
Her sign, which read "My Books Are For Reading, Not For Shielding," featured drawings of bloody, bullet-hole-laden books.
"I wanted to come out and support this because we need to make change. We need better gun laws," she told me, flashing a smile as she ran ahead to rejoin her friends.
Image Source: POPSUGAR Photography / Lindsay Miller