Pauline Hanson One Nation Senator Quits
Today in Aussie Politics: One Nation Senator Quits Within an Hour of Being Sworn In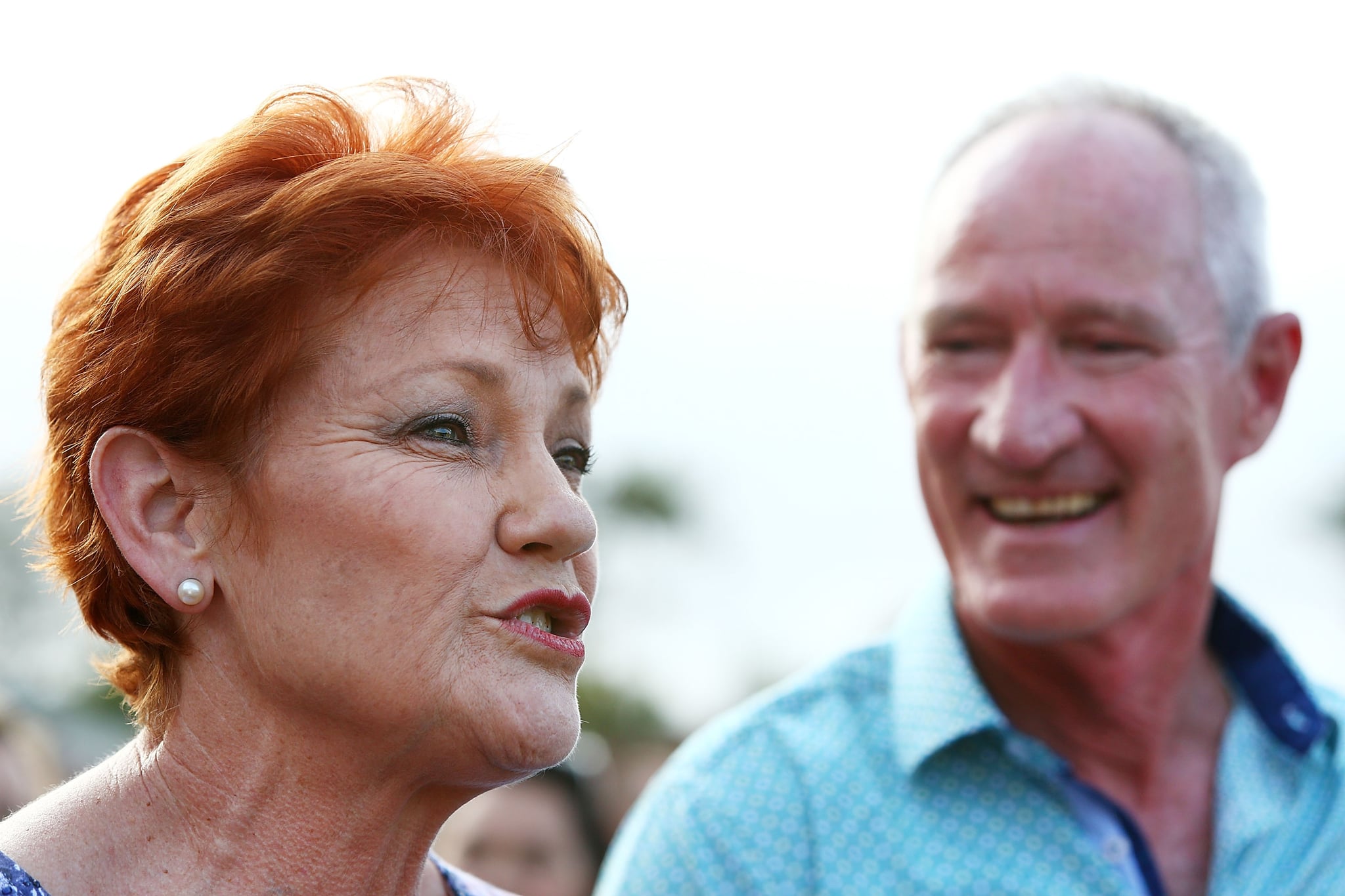 Australian politics has been a circus recently, and it just got a little weirder: senator Fraser Anning has quit the One Nation party, less than one hour after he was sworn into the role on Monday morning.
It was already an historic day in the chamber, with the swearing in of all senators replacing those who were ruled ineligible in the recent citizenship saga. But in news that will have been surprising to nobody, it was Anning, who was replacing former party senator Malcolm Roberts, who ended up being at the centre of the day's drama.
After Roberts was ruled by the High Court to be ineligible to continue in his senate seat earlier this month, the court confirmed the next person on the party ticket — Fraser Anning — was to be his replacement. But within an hour of being sworn in, Anning quit the party to sit as an independent. As a result, he and his staff members were not allowed to enter the One Nation party room.
There were some signs something was up earlier: firstly, Anning chose crossbenchers Cory Bernadi and David Leyonhjelm to vouch for him at his swearing in rather than One Nation party leader Pauline Hanson and secondly, Pauline did not attend the ceremony, despite the fact that she was in Canberra at the time.
Hanson has now released an utterly bewildering public statement about the day's events, which reads more like a teenager's diary than a press release. It quotes Anning as saying he plans to sit as an independent "until something else comes along," leading to speculation he plans to join Bernardi's newly-formed Australian Conservative Party. Her statement read:
One Nation leader and Queensland Senator Pauline Hanson has announced Malcolm Robert's replacement, Fraser Anning has abandoned the Party to stand as an independent "until something else comes along".

Senator Hanson believes previous employees of Malcolm Roberts made contact with Mr Anning several months ago, encouraging him to move to Corey Bernardi's party should Malcolm Roberts lose his seat.

"Before the citizenship cloud hovered over Malcolm Roberts' head, I had already approached Fraser Anning to contest the seat of Gladstone in the upcoming Queensland State election. I was of the view at the time, Fraser would be a solid candidate for that electorate," Senator Hanson said.

"Mr Anning dismissed the request on the grounds that he and his wife were determined to make a permanent move to the United States to join their two daughters and grandchildren, who own a business venture on the West Coast."

"Prior to the High Court's decision, I had attempted to speak with Mr Anning while he was overseas, but those efforts fell on deaf ears. I was forced to communicate through Fraser's brother while I was travelling through North Queensland in September."

"I indicated to Harry Anning at the time, that given the work Malcolm Roberts had achieved as Chair of the banking inquiry and his role in challenging climate change, it would be in the Federal Party's and Australia's best interest for Malcolm Roberts to be returned to the Senate."

"I was disappointed Mr Anning made no attempt to contact me or any One Nation executive member off the back of multiple requests to discuss his future plans. Instead he chose to release scathing media releases demanding I pledge my support to him without even meeting or speaking to him."

Mr Anning only spoke with Senator Hanson this morning on the return of Parliament, but those talks quickly failed when Senator Hanson refused a number of Mr Anning's staff into a Party room meeting.

"Mr Anning was advised that David Goodridge, Leon Ashby, Richard Howard and Boston White were not welcome to this morning's Party room meeting, because of their disloyalty to their former employer and myself," Senator Hanson.

Fraser Anning said "I know where this is going" and stood up and walked out of the room.

In an attempt to calm the waters, Senator Hanson asked Senators Burston and Georgiou to mediate with Mr Anning to find some common ground, but they were informed Mr Anning would stand as an Independent only minutes before he was sworn into the Senate.
Sixteen months after the 2016 Federal election, where 76 senators were elected, nine of the senators elected are no longer in Parliament. Seven of them have been ruled ineligible: five through the citizenship debacle, one due to a criminal matter and one due to a conflict of interest.
With lower house members Barnaby Joyce and John Alexander soon facing by-elections due to their ineligibility, what happens next is anyone's guess.