Tim Dormer Gay and Lesbian Marriage Equality Essay
"We Felt Like Revolutionaries!" — Tim Dormer on Saying Yes to Love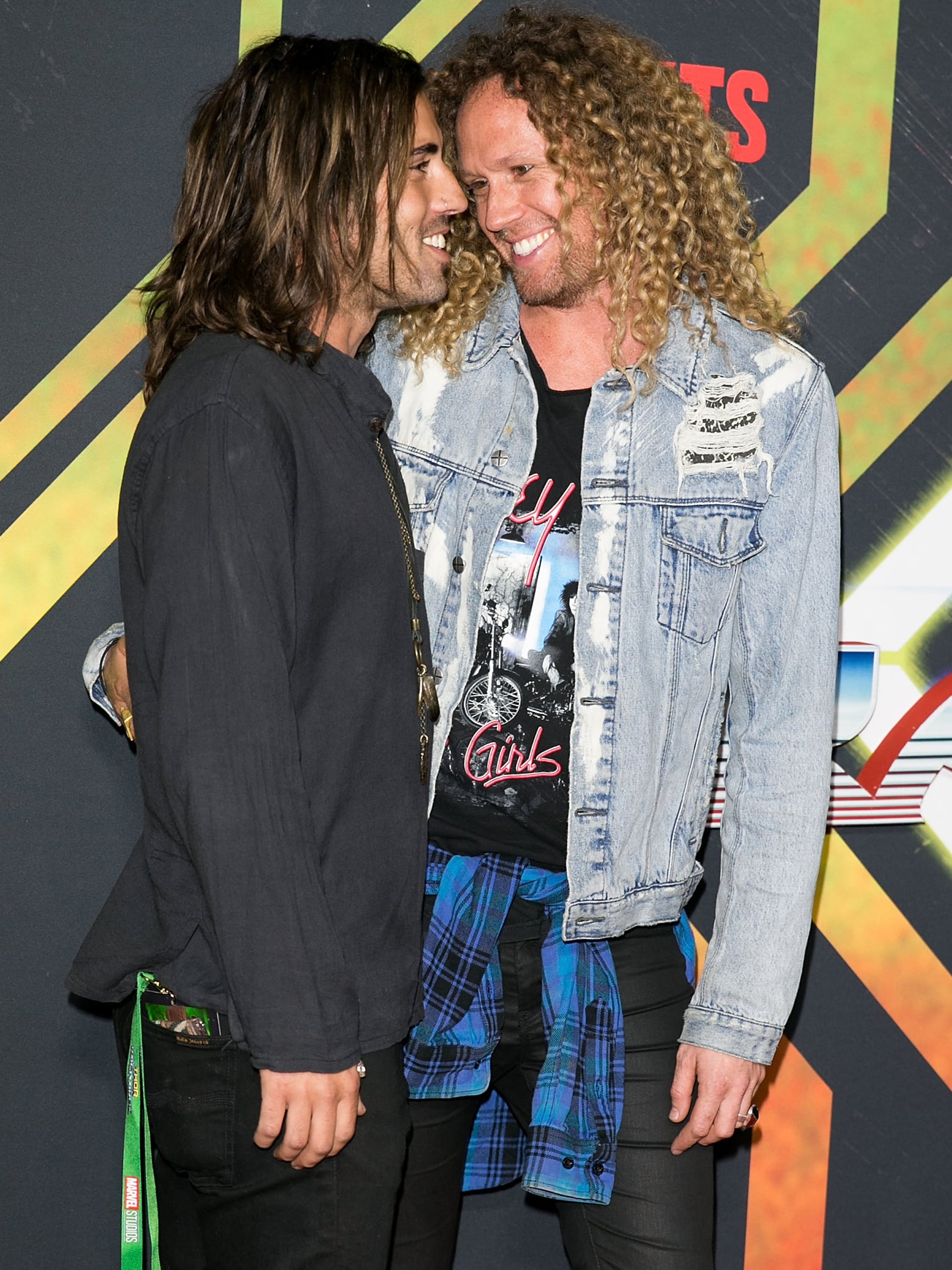 Thinking back to 12 months ago when I publicly declared I had found love, it was the most magical Summer ever. Coming out was such a tricky and personal process, but I'm so glad I did because suddenly, I was free to celebrate love with the rest of the world. After years of hiding, I was able to walk along the beach proudly holding the hand of the man I loved, my beautiful partner Ash. It felt like we were newly in love again — and I probably owe my Instagram followers an apology for the occasional PDA in my posts! I thought I'd conquered my biggest battle. Back then I had no idea that our love was yet to be put through an even bigger test within the year. . .
But first, we basked in the glow of our very own Summer of love — having publicised our relationship in the Australian Summer, we set off to chase the sun overseas in San Francisco. At sunset on a beautiful beach next to the Golden Gate Bridge, I picked a bunch of Californian wildflowers and got down on one knee to ask Ash to marry me. He said yes, before bending on one knee himself to ask me the same question. It was all very soppy and romantic, we even sang Scott McKenzie's 1967 hippie anthem "San Francisco": "If you're going to San Francisco, be sure to wear some flowers in your hair." We later found out that beautiful spot is actually a nude beach during the day, something we won't be telling the grandkids!
We felt like revolutionaries, buying our engagement rings from a shop on the famous Haight and Ashbury Streets, known as the birthplace of the hippie counter-culture movement back in the 60s. In fact, 2017 was the 50th anniversary of the 'Summer of love', when the hippie movement exploded and young people started protesting against war, calling for everyone to live in peace and love. I think some of those same fears are present again today: Threat of war, environmental collapse, lack of compassion and empathy for others. . . The world really does need to celebrate love, because it's what unites us all.
Some of those same fears from the 60s are still present today: Threat of war, environmental collapse, lack of compassion and empathy for others.
With that thought in mind, we decided to have a long engagement while waiting for the laws to change in Australia. We committed to proudly displaying our love all the while, in the hope that we could change the hearts and minds of those who were against same-sex marriage. But within weeks of returning home as an engaged couple, Malcolm Turnbull announced his plans for a public survey on whether couples like ourselves could legally get married. And just like that, our Summer of love was over.
Suddenly, I was on the frontline of a raging debate, with some of my own conservative family members even fighting for the other side. I didn't know what it meant to be an activist, and there were so many amazing LGBTQI+ heroes who had been fighting this battle for a lot longer than I. It was going to take a lot of brave voices to fight for and demonstrate love, if we were ever going to win. I knew that I had to stay proud of who I was and my relationship in that moment, more than ever.
So, I kept posting loved-up pics on Instagram like any other couple would. I was patient with family members who said hurtful things because they didn't understand, and I tried my best to ignore the hateful headlines that were in the news each morning. I put all my positive vibes into planning a big engagement party for the first day of the following Summer.
When we mailed our engagement invitations, we returned our completed postal survey forms at the same time — for extra good luck. Like a lot of others, I thought I'd write a message of my support for a 'Yes' result in chalk on the wall of the post office (which happened to be at the end of the street where Ash and I first met four years prior). I just wanted to send out a positive message to the world through our relationship, that we were just like every other couple seeking to celebrate their love through marriage, alongside our family and friends.
I will never forget dancing in the streets after the 'Yes' result was announced to "Love Is In The Air", which, to be honest, I always thought was a terribly cringe-y song until that moment. As I rejoiced alongside thousands of fellow Australians something magical certainly was in the air. People of all sexualities, ages and races were united under love (and mutual daggy dancing to John Paul Young).
The more we come together despite our differences and celebrate, the more we realise how much in common we all have. Love does unite.
The survey result was delivered the week of our engagement party, so you can imagine the celebration we had! We threw a huge outdoor, bush-dance party that was all about peace and love, with all our family and friends in attendance. It made me realise just how important celebrating love is in achieving acceptance. The more we come together despite our differences and celebrate, the more we realise how much we all have in common. Love does unite, and I can't wait for the day we no longer hear people say "I'm going to a same-sex wedding", but instead, "I'm going to a wedding". In the meantime, I'll probably still be daggy dancing to "Love Is In The Air" until next Summer.
Feeling the love? Read more POPSUGAR Pride stories here.
Image Source: Getty Images