Trump Quotes on Rob Porter Staffer Accused of Domestic Abuse
Trump Hopes Former Staffer Accused of Domestic Violence "Has a Great Career Ahead of Him"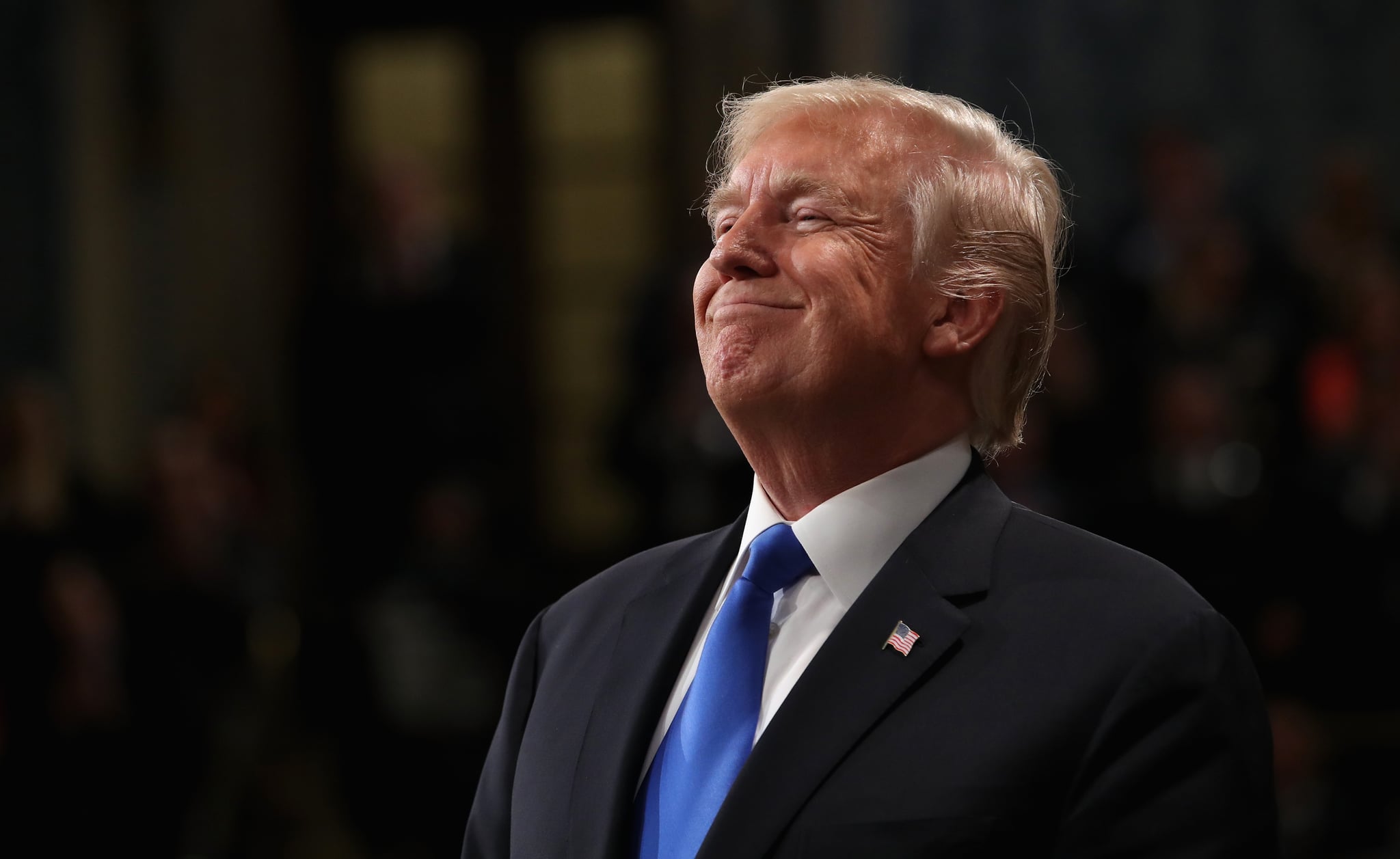 White House staff secretary and accused domestic abuser Rob Porter stepped down on Feb. 8 after two of his ex-wives went public with disturbing claims that he was physically violent during their marriages. The following day, Porter's former boss Donald Trump lamented the situation — but his sympathies clearly were with Porter rather than the women who say they were subject to his abuse.
At an unexpected press briefing on Feb. 9, Trump said he learned of the allegations "very recently" and was "surprised." Then, Trump went onto praise Porter, who he said did a "very good job" in his role at the White House and who he hopes has a "great career ahead of him." Trump reminded the gathered press that Porter maintains his innocence and is "very sad now," and shared his prediction that Porter has a "great career ahead of him."
Let's review some of the claims against Porter, shall we? His first wife, Colbie Holderness, shared photographic evidence of a black eye she says she endured by his hand during a 2005 holiday with The Intercept. His second, Jenny Willoughby, took out an emergency protective order against Porter in 2010 after what she says was a terrifying altercation at their home. And in 2016, she claims, Porter's new girlfriend reached out to her saying their relationship was emotionally abusive and asked if Willoughby had had similar experiences with him.
Willoughby also says she disclosed the abuse to the FBI as they reviewed Porter for a potential security clearance — a clearance that the New York Times says was reportedly delayed due to claims from both women — and there have been conflicting reports as to who in the administration knew about Porter's past and when. But even putting all of that aside, it was both shocking and not unexpected to hear the head of the free world bemoan how sad it is for a thrice-accused domestic abuser to have had to quit his job. Sad!
This fits a pattern with Trump: to side with the men accused of abusing women as long as they maintain their innocence — and however weakly they maintain it. Before Porter, we most recently saw him do it with Alabama Senate candidate Roy Moore. Multiple women came forward in 2017 to accuse Moore of sexual harassment or assault, with several women saying he pursued them when they were in their teens when he was in his 30s and 40s.
"Look, he denies it," Trump said in November when he broke his silence on the matter. "If you look at what is really going on, if you look at all the things that have happened over the last 48 hours. He totally denies it. He says it didn't happen. And, you know, you have to look at him also. He says, 40 years ago, this did not happen." Moore, you may remember, gave a very weak half-denial of many of the claims against him in a disastrous interview with Sean Hannity and ultimately lost the election.
Trump has his own long history of denials when it comes to the laundry list of sexual harassment and assault claims that have been levelled at him over the years. So, while it's easy to see why he feels a disturbing affinity with men like Rob Porter and Roy Moore, it's certainly not easy to stomach.