Trump Supporters at Sydney University
What It Was Like Being Surrounded by Trump Supporters on Election Day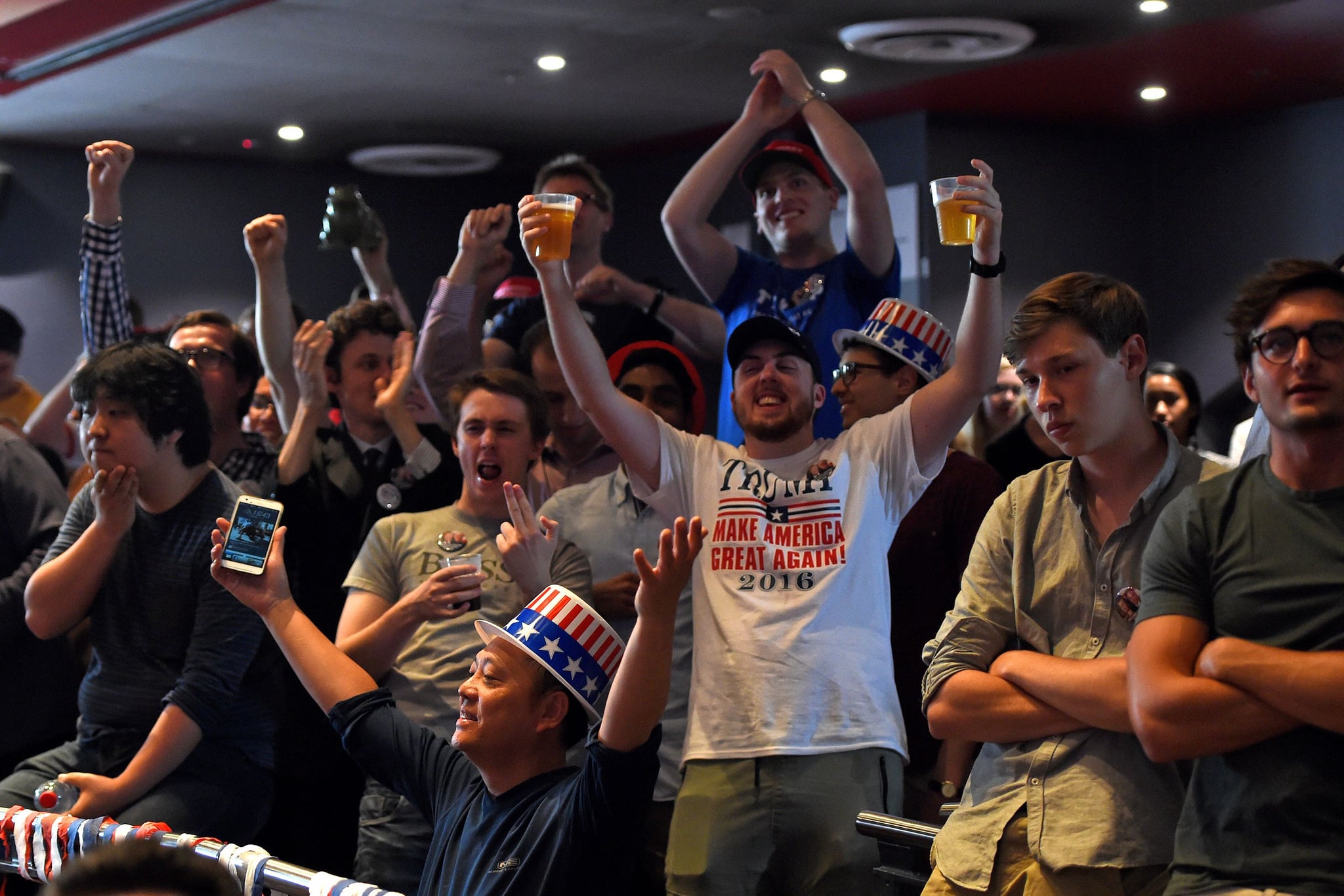 The first US presidential election I paid much attention to was coincidentally one of the most historic elections the country had ever seen: the election of 2008, which ended with Barack Obama becoming the first person of colour to win the presidential campaign. My classmates and I spent hours glued to the science lab computer watching the electoral map turn blue; by the time the period was over, we'd watched history be made.
"Election day 2016 had a completely different feeling."
Today I've been trying to remember how I felt on that day, because election day 2016 had a completely different feeling. This year I spent election day at Sydney University's Manning Bar. It was completely packed for the election day festivities, hosted by the United States Studies Centre, a centre at the university.
When I got there I spotted two Trump "Make America Great Again" signs stuck outside Manning Bar, and I naively thought that would be the strangest sight I'd see all day. But as I walked upstairs into the bar I noticed an entire wall plastered with those same signs — apparently the Clinton ones had been stolen by supporters, but the resulting effect was that the area looked pro-Trump.
The bar was packed. When I finally found my way to my friends, they told me about the group of Trump supporters in the back — 50 or so people, almost entirely white and male, save for a couple of women. Almost every one of them had a "Make America Great Again" hat on, and all of them had Trump/Pence 2016 badges, thanks to CNN, who were sponsoring the event.
Later, I saw several men in shirts with the words 'alt-right' emblazoned on them; the alt-right, for the uninitiated, is the group of far-right activists who helped spread pro-Trump propaganda online. Many members also dedicate significant portions of their time to harassing others on social media.
"Several women told me how threatened they felt, particularly by the sexist chants."
Every time CNN announced Trump's success in yet another state, the supporters in the back would cheer. They chanted things like "drain the swamp," "lock her up,"build a wall," and, most disturbingly, "grab her by the p*ssy." The atmosphere was fairly tense, especially as Trumps' numbers kept climbing while Clinton's stagnated, and several women told me how threatened they felt, particularly by the sexist chants. I felt threatened too, and increasingly frustrated — why was this allowed at my university? Shouldn't I feel safe at the place where I spend so much of my time?
Complaints were made, and eventually campus security escorted at least one Trump supporter outside — according to the university's Twitter account.
Seeing Trump supporters in person was jarring, and that's coming from someone who went on exchange to the same city where a National Association for the Advancement of Colored People (NAACP) building was blown up.
But today, as I work through the disappointment and look for the positive take-out, I'm done feeling threatened and hopeless. I want to address the reasons for Trump's success — appealing to a disaffected middle America, or in Bernie Sanders' words, he "tapped into the anger of a declining middle class that is sick and tired of establishment economics, establishment politics and the establishment media" — and Clinton's lack of — relying on experience instead of policy,and representing the establishment many Americans feel have left them behind — so this doesn't happen again in 2020.
"There are people who need to be reminded of the love and support they have."
I want to put all of the emotional energy I have to good use, and get out there and try and make a positive change, even if it's only in a couple of small ways. Despite not being an American, and just an Ameri-fan, there are ways to show support for progressive movements here at home in Australia. There are grassroots organisations and causes that need support and national attention, and there are people who need to be reminded of the love and support they have now more than ever. Yes, you are just one person — but that doesn't make you insignificant.