Updates and Details on Same-Sex Marriage in Australia
It Looks Like There Won't Be a Same-Sex Plebiscite After All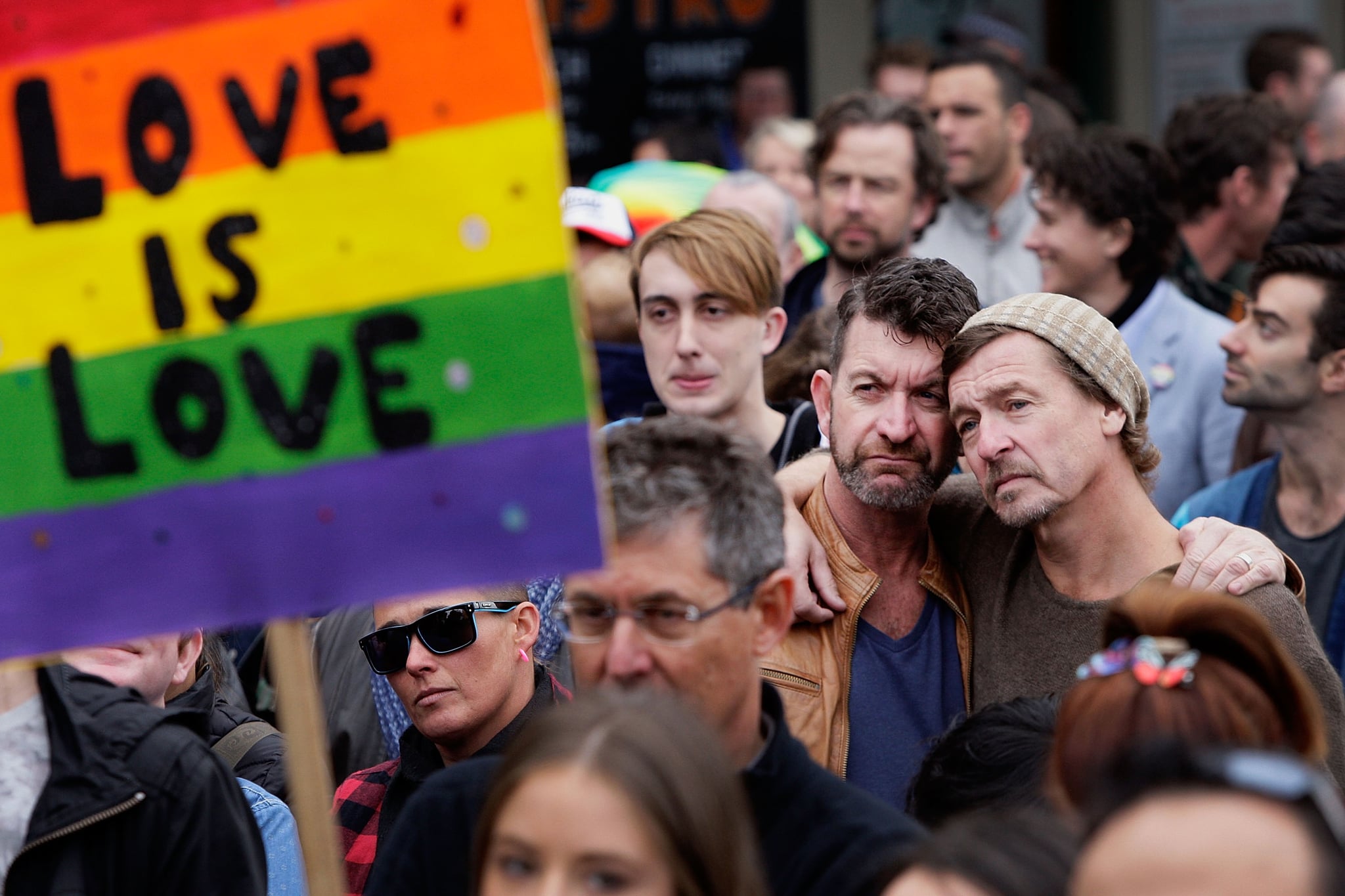 Update: With a date for Australia's same-sex plebiscite put forward earlier in the year, it seemed like it was all systems go — until Labor voted against imposing the legislation on October 11. Without Labor's support, the legislation won't pass the senate, meaning the plebiscite will no longer happen.
First up, what exactly is plebiscite?
A plebiscite is a vote held nationally to determine public interest in a specific proposal. Think of it as a fancy alternative to the word 'vote.' If a same-sex marriage plebiscite goes ahead in Australia, we will have the chance to vote 'yes' or 'no' as to whether they want to legalise same-sex marriage.
But that's great, isn't it?
If the majority of us vote 'yes,' same-sex marriage becomes legalised . . . It sounds good, right? It would be, if it weren't for a few major problems — the main one being that even if Australia votes to legalise same-sex marriage by an overwhelming majority, the government in charge can still veto the vote. So we could go through the entire process and still end up without the result we want. While we're on a roll: the proposed same-sex marriage plebiscite will potentially cost the Turnbull government $160 million, which is a lot of money to spend on something that might not see a result. It can also take years to roll out and to see the results come into fruition.
Where are we at with it right now?
Federal cabinet signed off on plans to hold the plebiscite on February 11 next year, so until now it was full steam ahead. Now that Labor has voted against it, it looks like plebiscite won't happen at all. The question that was going to be put forward to all of us: "Should the law be changed to allow same-sex couples to marry?" A number of politicians have indicated they would block a public vote on the matter, calling it "abhorrent" and seeing it as a waste of time and money.
What does that mean for same-sex marriage in Australia?
Labor leader Bill Shorten promised during his election campaign that legalising gay marriage would be his first priority if he was elected Prime Minister. He even went so far as to say he would put laws to parliament within 100 days of the election, if he won. He obviously didn't win, but he's sticking with his mission for equality. He announced in August that he and Tanya Plibersek intend to introduce a private member's bill to parliament, to avoid an "expensive and divisive plebiscite" and achieve marriage equality in the most cost-effective way. Now, as a result of Federal cabinet signing off on the plebiscite plans, he's gone ahead and done just that. Shorten introduced the Marriage Equality Amendment Bill 2016 in Parliament on September 12, and his party has now voted against the plebiscite legislation.
How does the bill work?
Bills have been presented to, and rejected by, Liberal-led parliaments before. This time though, when the bill is presented to parliament, only three of Liberal's MPs need to "cross the floor" (vote for Labor's motion) in order for the bill to be passed. It could very well happen. Once the bill is passed, a parliamentary vote will be held to decide whether Australia should legalise same-sex marriage or not.
Want to know more?
Here's a great round-up of high profile people with an opinion on the marriage-equality matter. You can also read up on Bill Shorten's bill announcement as it happened, take in PM Turnbull's view on Bill Shorten's move, and read the latest on what's happening in parliament.