The Weather Channel on Trump's Climate Accord Decision
The Weather Channel Responds to Trump's Climate Accord Decision — and It's Super Shady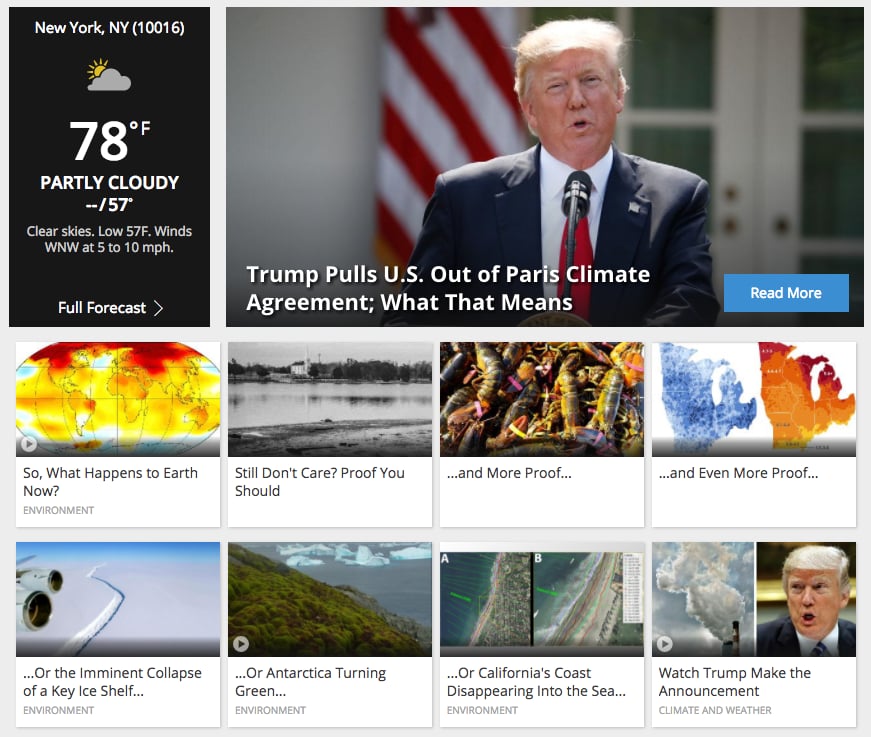 On June 1, President Donald Trump announced that he was pulling the United States out of the Paris Climate Agreement. While it may take up to four years to officially leave the agreement, Trump has made his thoughts on climate change and the deal clear. He claims the agreement, which is a worldwide effort to confront the undeniable issue of climate change, was "very unfair, at the highest level, to the United States."
Concerned US citizens have a tonne of questions about Trump's decision, but they are not alone, as The Weather Channel, too, has some thoughts. The company did not hold back their commentary, as you can see by taking one quick glance at the website. Prepare to feel the heat radiating through the screen with a series of links reaffirming the horrible reality of climate change, a sample of which you can see ahead.
"So, What Happens to Earth Now?" "Still Don't Care? Proof You Should" "...and More Proof..." "...and Even More Proof..." "...Or the Imminent Collapse of a Key Ice Shelf..." "...Or Antarctica Turning Green..." "...Or California's Coast Disappearing Into the Sea..." "Watch Trump Make the Announcement"
For now, we can definitely appreciate how The Weather Channel is not hiding their dissatisfaction with Trump's decision. The company is throwing some serious shade and everyone is loving it. Check out some reactions below.
...Is it a pun if we say https://t.co/dURnUxrF8t is throwing shade

because you know... sun... and clouds... meteorology... https://t.co/fh1OLgNB3P

— c'est quoi gritty (@PaperClippe) June 1, 2017
"omg, look at https://t.co/FZc4oPKgwC right now" is not something I thought I'd exclaim at work but

— KFine (@KellyeFine) June 1, 2017
omg the Weather Channel HAS THE RECEIPTS https://t.co/aLxKDpAV4G

— Alp Ozcelik (@alplicable) June 1, 2017
https://t.co/bZzdWgYGku coming in hotter than our inexorably rising global temperatures. pic.twitter.com/wgdRQg06Z0

— Dan Casey (@DanCasey) June 1, 2017
I applaud @weatherchannel for this. Meteorologists cannot stay silent on this despite other concerns. We're knowledgeable. Need to speak up. https://t.co/ioKXGGz19e

— Jacob DeFlitch (@WxDeFlitch) June 1, 2017
Nobody trolls quite like the @weatherchannel. #ForgetParis pic.twitter.com/GW7tCK6Zpn

— ian bremmer (@ianbremmer) June 1, 2017
Image Source: Weather.com