Who Will Be the First Female US President
This Is the Silver Lining From the US Election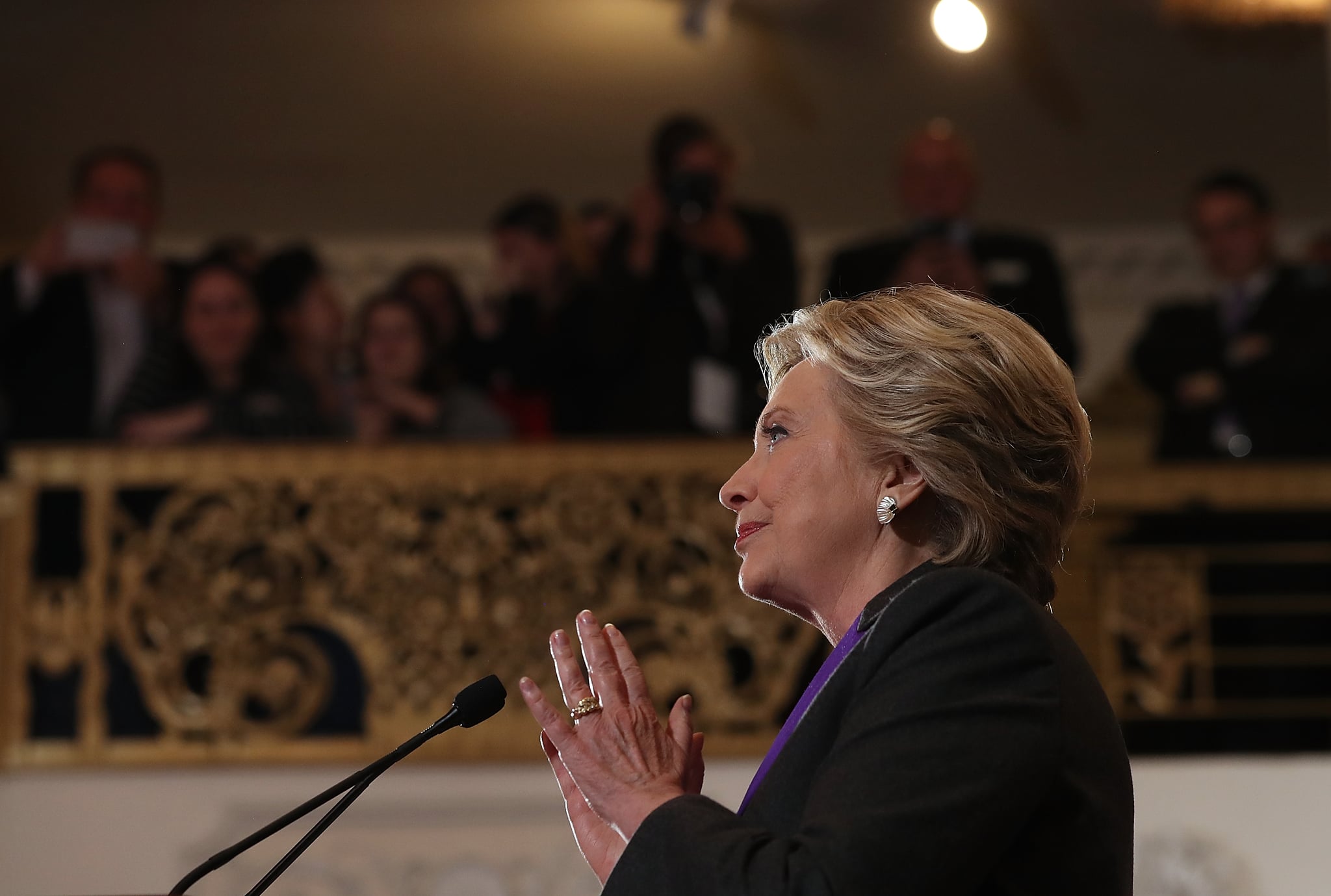 It's a tough week to be female in America. Living in a country lead by a man who has made headlines for misogynist comments is going to be a significant challenge for all of us during the duration of the new president's term. But as I watched Hillary Clinton's concession speech yesterday, as she smiled courageously at the podium, I felt a little less miserable: it is going to be difficult. But women and our allies are going to pull together, and we are going to find ways to thrive.
This was the first election that I've experienced in the US since the mid-90s — I lived out of the country for 14 years. America is not the same place that I lived in when Bill Clinton was president, and it was shocking to experience the election on the ground, rather than through the filter of the British media: the aggression between Democrats and Republicans, the lack of compromise, was hard to see.
But the excitement over Hillary Clinton's candidacy was also magnetic. Two days before the election I knocked on doors in Philadelphia, the closest city in the closest swing state to where I live in Brooklyn. The goal was not to convert people to Hillary's cause: it was to galvanise people to actually get out and vote. Alongside a number of amazing, determined women, I banged on door after door and met people who were joining the push to get the first woman in America's highest office.
Living in a swing state means that you get a lot of these door knocks and phone calls, but by and large these people were happy to see us: "Thank you for doing this work," they said, one after the other. On one door, a family who didn't want to be disturbed had left us a sign: "We can't wait to help elect the first female president", it read. We were with her.
I wore my Nasty Woman t-shirt to the polls on Tuesday, and I was far from alone: I stood in line for well over an hour, and part of the reason for that line was the number of women who had brought their daughters to watch them vote. Our collective horror at the statements of the Republican candidate about his attitude toward women could not dwarf our happiness at seeing one of our own in the race.
It's important to note that Hillary Clinton won the popular vote: more people in America wanted her to be president than her opponent. It is only due to a quirk of our electoral system, something that dates back to the 18th century when the country was much smaller, that she is not currently preparing to assume position in the White House. This is devastating, yes, but it is also a sign that people will vote for a woman: a woman can win.
When I was eight years old, I drew a picture for a school assignment of my dreams for the future: it was an adult version of me, sitting in the Oval Office, wearing my eight-year-old interpretation of presidential trouser suit (it was the late 80s, so yes, it had big shoulders). "I want to be the first woman president", I wrote in careful felt tip. As I grew up, however, I ceased to have that ambition: in part because I didn't want to work in politics, but moreover because I wanted to see someone beat me, and my generation, to it.
"To all the little girls watching right now, never doubt that you are valuable and powerful and deserving of every chance and opportunity in the world," Hillary Clinton said in her concession speech, and that is when I cried: because I was sad that she had lost but also because it meant so much for someone in her position to demonstrably make that true. Eight-year-old girls in America can still hold the ambition to be the first woman president, but I hope and believe that they'll be too late: I still believe that it can happen long before today's eight-year-olds are old enough to run. Someone watching Hillary Clinton's speech yesterday will be the first woman president. That woman may well do it soon.
Image Source: Getty images / Justin Sullivan