Bumble Makes Changes to "Unmatch" Function
Bumble Has Updated Its App to Make It Easier for Victims to Report Their Abusers
Bumble announced changes to its "unmatch" feature earlier this week, after it was revealed that abusers were using the function to avoid being reported to the dating app.
The function previously allowed people engaging in inappropriate and/or abusive behaviour to unmatch from their victims, erasing their chat history and all evidence of the incidents, and making it very difficult for their behaviour to be reported to the app.
Bumble's latest update introduces a new step for the person who has been unmatched with. The chat and the profile will be greyed out instead of deleted, with the message, "You won't be able to see their profile or the conversation anymore." A banner underneath offers the option of deleting the chat from their account or reporting the other person to Bumble if they have behaved inappropriately.
The profile and chat history will still be deleted for the person unmatching, but the conversation history will be preserved for the app itself, so it can be reviewed if reported.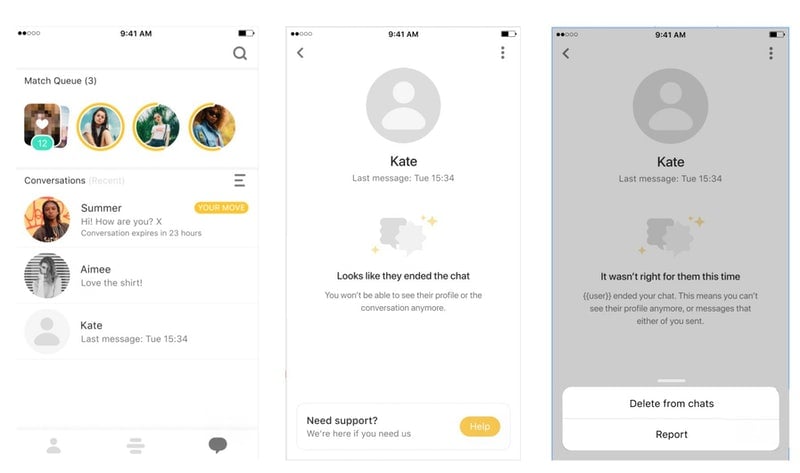 Image Source: Bumble
A majority of the more than 400 people surveyed in an investigation by triple j Hack said they had experienced sexual assault or harassment associated with their use of dating apps.
A joint investigation by Four Corners and triple j Hack found that rival dating app Tinder's unmatch function made it possible for offenders to simply block their victims, that the app often failed to respond to complaints that were made, and Tinder frequently failed to cooperate with law enforcement when serious claims were made.
US dating industry consultant Steve Dean told triple j Hack that while the function was designed to allow people to delete people they felt unsafe speaking to, it was now being used by abusers to escape responsibility. "I don't think that that should ever be a possibility, that someone can simply escape their bad behaviour by blocking the person they just abused."
Tinder's parent company Match Group, which also owns other services like Hinge and OkCupid, has not said if it will update its unmatch feature, but has updated its reporting functions and committed to working with law enforcement.
"If you are sexually assaulted by anyone you've met on our platforms, and the assailant unmatches you, we are still able to access those messages and work with law enforcement if reported to us," Match Group clarified.
Bumble's new feature goes some way towards addressing issues with the dating app, although concerns about how reports are handled remain.