Dad's Story About Shopping at Ikea With His Wife
1 Dad Wrote a Man's Guide to Surviving an Ikea Trip With Your Wife, and Holy Sh*t, It's Amazing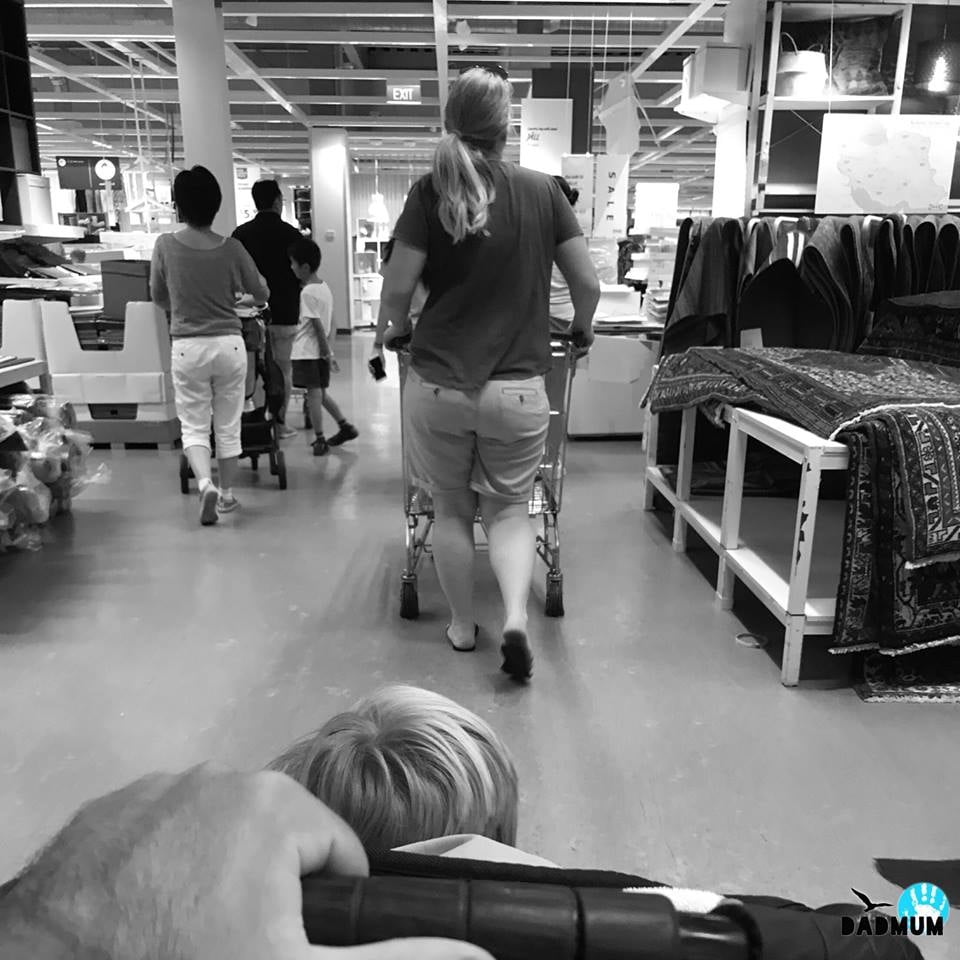 Brad Kearns, a father of two and blogger at DaDMuM, seriously underestimated the saga that is stepping foot inside Ikea with this wife, Sarah. Like, seriously underestimated. The dad from New South Wales decided to give the world a play-by-play in a Facebook post, and we're so happy he did. To be honest, poor Brad seemed to be totally screwed from the very beginning, and we can't stop laughing:
On entering the store . . .
"We thought we'd quickly pop down on the weekend. Needed to sort out some storage for the kids' new toys. You know. Just pop in, grab a few things, get in and get out, duck in, nab some goodies and piss off. The car park had three hours free as we pulled up. I laughed all the way into the centre like a cocky moron saying 'who could even be here for that long?'"
He was about to find out.
The trouble starting brewing as soon as Brad and his family walked in and he was handed an unusual shopping bag.
You pick up a big yellow bag upon entry. But this ain't no little shopping bag like Cole's or Woolies, this thing is a fucking sack capable of smuggling humans across a border. And everyone grabs one. As she gives it to you. You're thinking well this is a bit of overkill, but you go along with it anyway.

Then you collect your free led pencil and paper tape measure. "Mkay . . . free is cool." But what's the catch?

And then you look up at the sign that says "you are here" (points to the beginning of the domestic argument marathon).

And you realize this ain't no normal store. This ain't one of them "go directly to the aisle I need" stores. This was a "you ain't fucking leaving till your wife's seen every last thing" store.

It was like The Wizard of Oz and I was like Dorothy. We were on the yellow brick road with no way off and my weapon of choice was a blunt HB pencil.

I thought to myself "it's OK . . . if we can just rush to the storage part and then rush out it'll be fine." Hahahahaha what a knob!
On bickering. . .
Unfortunately for Brad, things didn't improve as they made their way to the living room section of the store. The pair fell into a classic pitfall all Ikea-loving couples know all too well: bickering.
Not even a minute in and nowhere near the storage section she stops and begins seriously considering a $150 fake indoor plant we don't need. What the hell lady. We're not here for plants. So then we start fighting because apparently, we in fact, needed an indoor plant more than we needed a man of the house.

I think the store was making her crazy. It was a spell clearly. Then to top it off we've entered at the same time as a gay male couple who were obviously moving into a new house together. They debated every damn thing the entire way next to us. "No Joshua, that won't fit, we need to look at something more contemporary." Sarah looked at me and said, "I should have come with one of them." Those fuckers, using all their constructive criticism bullshit making me look bad.
On not overbuying . . .
Brad also made another important observation: Ikea isn't exactly cheap when your wife wants basically everything in the store. He decided to protect the family's bank account by any means necessary. "So armed with nothing more than a led pencil and floppy tape measure, I spent the next three hours rebutting the color palette of all the shit we didn't need," he wrote. "Like a floppy-tape sack wielding Zorro defending our savings account I was the most shameless motherfucker there. I reckon my voice even had a bit of camp in it by the end but I didn't even care."
Hey, at least he owns up to it. He also had some advice for other men who ever happen to be in the same situation:
Listen up lads, if shopping next to these men taught me anything it's that if you say "we don't need it" or "it's crap" she gonna buy it because fuck you.

Or you could confuse her and say "oh babe I'm really not sure because the harsh orange and soft edges might not fit with the straight edge theme, Hamptons furniture and pastel accessories" she'll dead set look each way and say "Yeah, I think you're right." It's foolproof.

And that's how you save money.

You can literally just say whatever you want and as long as it sounds like a judge from The Block has said it you should be right. It's like a game. All you gotta do is put enough doubt into her mind over an object and she won't buy it.

"Really hun? I think the plastic ones that are 1/4 the price are better because the fit the color scheme of the kitchen." And plastic it is . . . boom!."
Well played, Brad. Well played.