How My Rainbow Baby Shower Helped Me Heal From My Loss
I Didn't Know How to Heal After I Lost My First Baby — Until My Rainbow Baby Shower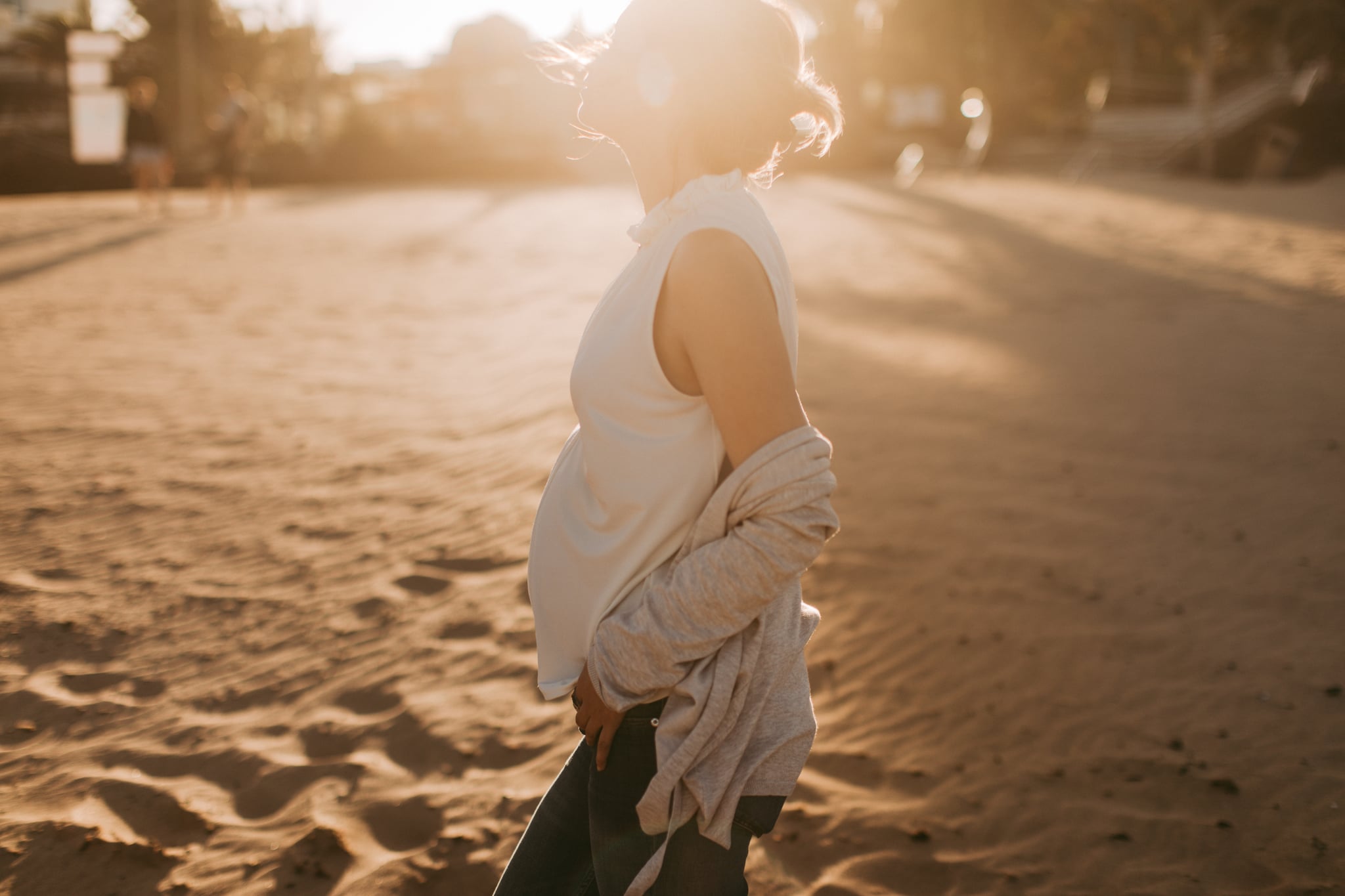 The first time I ever got pregnant, my life and my emotions were a mess. It was an unexpected, unintentional pregnancy with someone I was just starting to get to know. The only thing I felt sure of was that I was head over heels in love. While it was risky, we both wanted to jump into what came next. And despite fears and hesitations, we were excited. So when I suddenly went into labour and gave birth to an extremely premature baby at just 22 weeks gestation; and when that baby died just as quickly as she was born, we never thought we'd feel anything other than despair ever again.
In the months that followed, my husband and I both grieved together and separately, openly and secretly, crying and keening and sleeping, and simply existing without actually living. It was the the most difficult thing I ever had to endure. But not even a year later, I found myself pregnant once more. It was confusing, surreal, complex. I knew I wasn't healed (we weren't healed) because no one ever fully heals from that kind of heartbreak. I worried that it was too soon. I thought about all the different things that could go wrong, all the awful potential outcomes, without even giving any of the potentially positive outcomes a chance. Secrecy became my preferred shield, and I hid the pregnancy as much as possible for fear of losing yet another baby. But eventually, my mother found out, and through her joy and hope, she wanted to know if she could plan a baby shower.
Toward the end of my first pregnancy (the one that I lost), my mother and I had several discussions about having a baby shower for me. At the time, all I wanted was to have my friends with me (that, and no cheesy baby-related games). I was reluctant to have one in the first place, but when our little girl was born and died so soon, that reluctance became a much larger monster. Months into my second pregnancy, my rainbow pregnancy, my mother asked once more what I wanted out of a shower, and I knew the only thing that was true: "I don't want a shower."
I was absolutely terrified of the idea of celebrating a baby that didn't quite exist yet.
How could I put myself through such a thing, knowing full well I might end up at another hospital where I'd once again check out without a baby to take home? How could anyone even suggest I do such a thing? I was absolutely terrified of the idea of celebrating a baby that didn't quite exist yet. I didn't want to get my hopes up. I didn't want to feel my heart shatter into a million pieces all over again. There was just no way to survive that again, I told myself.
But my mother was persistent. Eventually, she recruited my sister-in-law to help her plan it all out. And because I found myself on bed rest, unable to do much other than use the internet, I finally agreed. The only thing was that at least some of it had to be on my terms: No to games; yes to decorating onesies; and so on and so forth. Suddenly it was absolutely perfect, complete with invitations designed by one of my best friends, a guest list that was a healthy balance of friends and family, and of course, me carrying a seven-month pregnancy.
My rainbow shower looked right out of a Pinterest page. There were frilly things and balloon-y things and a sweet little "tree" where people could write and hang wishes for the baby-to-be. Old friends and new friends and even some concurrently pregnant friends all showed up and took photos with me. All the people I loved most drew fun and cute and funny designs on plain, white onesies that I still cherish to this very day. I was supposed to be on bed rest, but I took the day off from laying down to enjoying it with my loved ones. While I'd been hiding my pregnancy away for so long, now I was celebrating it for all the world to see. I knew than that I no longer wanted to be the bereaved, grieving mother. I wanted more for myself, and more for my future son. And in that moment, I finally decided to choose a different path: one that would allow me to feel again, to be vulnerable again, to accept those things I could not control and to simply love this baby that was coming with all my heart.
When I look back on my rainbow pregnancy now, I can safely say my baby shower was one of my very favourite memories of the time.
When I look back on my rainbow pregnancy now, I can safely say my baby shower was one of my very favourite memories of the time. I have never felt the kind of love and support that I did on that day. Maybe it's because everyone around me knew that I needed it. They'd seen me devastated at the service we held for my daughter. They all held me up as best they could while I grieved. They understood, just as I did, how very special my rainbow baby was and would be. And because of that, because of a simple celebration, I finally began to admit to myself that yes, I was pregnant, yes, there was a baby on the way, and yes, the odds were ever in his favour.
Getting pregnant, giving birth, raising babies . . . these things come easily to some, and yet they are nearly unattainable or extremely painful for others. I've always fallen into the latter category. Never was this more certain than when I lost my daughter. But existing solely in my grief was no way to live — especially not with another baby on the way. It was easier to close myself off to the world, to the possibility of experiencing joy once more. I got lost in my pain. And what I needed was a reminder that things might actually get better, that there are other choices, other options, more chances in life than I might've ever imagined. That's what my rainbow baby's shower was: another shot at the life I wanted, the life I needed to have.