Kids Using iPads at Restaurants
I Let My Kid Use an iPad at Restaurants — and You Should Stop Judging and Do It Too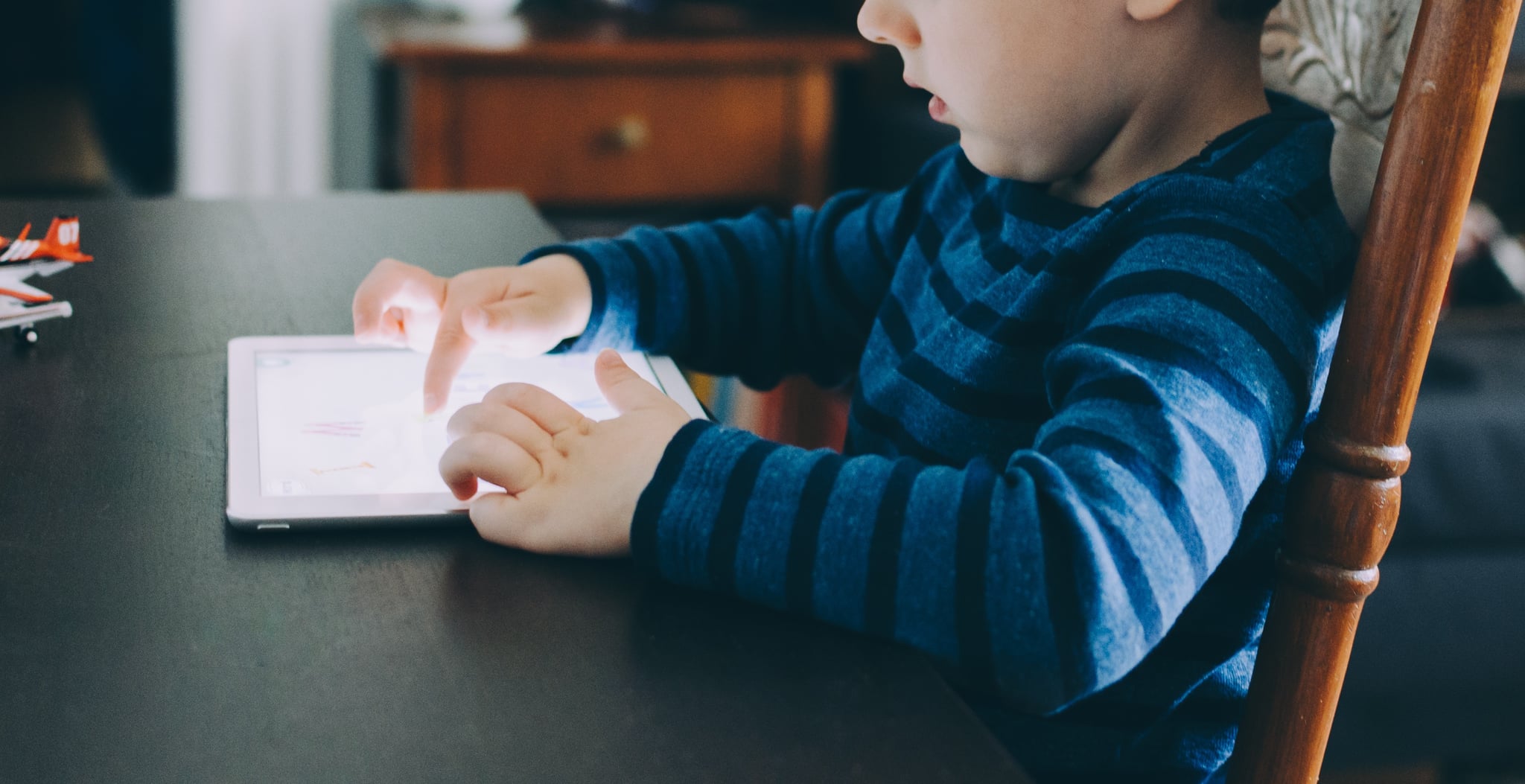 Somewhere at the top of the list of things I thought I would never let my toddler do is use an iPad at a restaurant. Certainly, there are worse things to be concerned about, but considering the the breadth of concerned trolls across the internet, just acknowledging that technology actually exists seems to be worse than giving your child candy or nonorganic produce.
And I bought into that. Certainly no new mother wants to enter into parenthood with the understanding that sometimes you'll have to give the appearance of ignoring your kid. Maybe that's the difference between new motherhood and the wise, grizzled parent of two years that I have become: I've stopped caring about what strangers think. Yes, even you, though I'm sure you're lovely.
My husband and I love to go to restaurants, and prebaby, we went out more than our waists and budget would have liked. Since having our son, we get out significantly less, unless we manage to convince my mother to babysit. It turns out taking a toddler or a baby to a restaurant isn't as much fun as going out as just the two of us.
Between trying to keep him entertained, preventing him from playing with the salt shakers, and desperately trying to get him to use an inside voice, dining out is anything but a relaxing experience. More often than not, we'd scramble to keep everything copacetic until the food arrived and then one parent would rush him off the moment he was finished, leaving our own food cold on the plate.
Rarely would we all finish our meals at the same time, and most of our conversations were centred around the best tactic for keeping our son content. After all, it's a bit of a catch-22. People expect that you keep your child socialized and take them out to experience restaurants and other adult activities, but under no certain terms should that toddler reveal that he is a child with a child's needs. No crying, no laughing, and absolutely no yelling.
Somewhere in all of this restaurant mess, we spend the money and don't get the benefit of having gone. That is, until we bit the bullet and busted out the tablet.
My son is a whirlwind who rarely settles down. Not a huge fan of colouring, the one thing that will keep him occupied for longer than 10 minutes is television. Thank God we live in the modern world where he can watch his favourite programs and we can get some guilt-free adult time.
After his food is done, we hand over the iPad, already loaded with his preferred program of that day. He gets to relax and learn about colours and numbers, and my husband and I get talk at a leisurely pace. We get to experience each other as adults, listen to each other, and have that second glass of wine to finish our meals with. In essence, that silly little iPad allows us to feel like grown-ups again.
We're not ignoring him; we're still very present in what he's doing as he watches his shows. He's not interfering with the enjoyment of a neighbouring table's dinner, since he's actually focused and entertained on his barely audible screen. An extra 30 minutes of TV isn't going to rot his brain. If anything, that extra bit of time does wonders to recharge our bodies so we can parent at our highest and most present selves.
Instead of thinking that parents who let their kids relax with a little screen time are bad parents, next time take a look around the room. Chances are you'll see half a dozen people on their phones or watching sports on the restaurant's TV. We provide the same entertainment for adults, but expect children to sit through dinner in silence or maintain controlled conversation.
Children and adults need breaks, and what better way to actually enjoy your dining experience than with a little relaxation, even if it's thanks to an iPad and that second glass of Rosé?