Mother's Letter to Her Daughter Kristin Fisher
"Go to the Party, Eat the Cake." The Letter Every Mother of a Daughter Needs to Read
IT'S A NEW YEAR IN THE DRIVER'S SEAT OF YOUR OWN LIFE, AND WE'RE HERE TO HELP YOU ACCELERATE. THAT'S WHY WE'VE PARTNERED WITH CALTRATE TO BRING YOU #KICKSTARTER. A DESTINATION DEDICATED TO GIVING YOU THE INFORMATION AND INSPIRATION YOU NEED TO SUCCEED IN EVERY ASPECT OF YOUR LIFE. #KICKSTARTER IS ABOUT TAKING THE RIGHT STEPS, RIGHT NOW, TO IMPROVE YOUR LIFE FOR THE LONG-TERM. WHETHER THAT'S STRENGTHENING YOUR BODY OR BUILDING THE CAREER OF YOUR DREAMS, WE'RE SHOWING UP FOR IT.
Kristin Fisher is one of the coolest women you'll ever meet. She's warm, upfront and hilarious; is the kick-ass entrepreneur and brow queen behind Kristin Fisher Eyebrows; has seriously good skin; and is a doting mother to her two adorable kids, Lila and Eddie. Kristin is the perfect example of the modern woman in action — one who believes wholeheartedly in getting comfortable in your own skin and owning your journey. So, rather than interview her on the lessons of womanhood she'd like to pass on to her daughter, we're letting her share it in her own words. Read her letter to Lila below, and maybe keep a few tissues handy. . .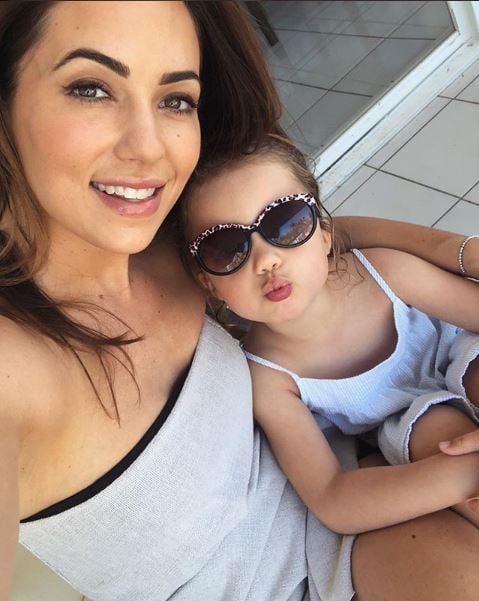 My darling Lila,
You are almost 5 years old. I honestly cannot believe it! I still remember the feeling of holding you in my arms for the first time. Your smell, your soft skin, your perfect little hands. . . I thought my heart was going to burst. I didn't know a feeling like that even existed! Pure love and joy mixed with primal instincts to protect you from any kind of harm.
I wanted to wrap you in my arms and shield you from what can sometimes be an incredibly scary world. But instead of just protecting you, I need to equip you with the real lessons you'll need to thrive in this world.
I am now 32 years old, and there are some lessons I've learned along the way that will help you navigate the next few phases of your life with confidence and kindness. I'm still learning as I go, but I have wisdom learned from my own my mother, my beautiful sisters and the strong women we surround ourselves with.
The first thing you should know: Don't be afraid to have a voice.

Speak up for what you believe in, always back yourself — this will be your greatest strength. It's not easy going against the grain, but if you truly believe in yourself your opinion will be heard. Believe it or not, I haven't always had the voice I have today. I was reserved and often held back my opinions in fear of being mocked or questioned. I was scared to be different. But as you get older you learn to trust your gut regardless of what others may think.

Every single one of us has grand plans, dreams. . . But not everyone gets to follow them. I want you to follow every single one. The world is there for the taking! And it starts by speaking your truth.
Next, you're definitely going to fail at something. It's inevitable. You will be disappointed in yourself and you may beat yourself up about it. But guess what comes after failure? Success.
You may fail one, two, three or 100 times at different things over the years, but these are all just stepping stones to success.
My failures have led to all of my successes and I am immensely proud of myself for never giving up. Don't be hard on yourself, my darling girl — you've got this! And I will be standing right beside you.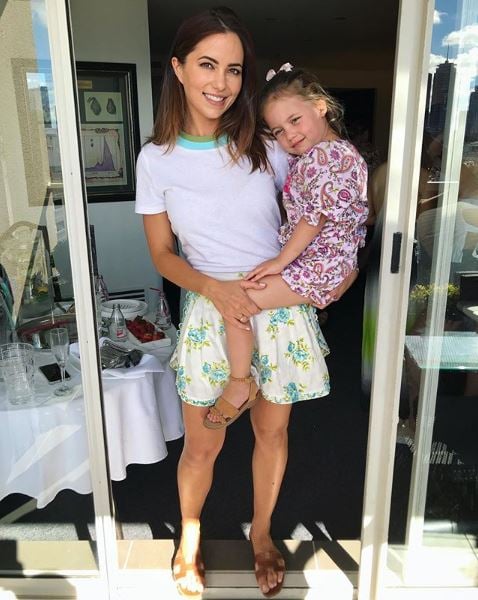 Know that you are beautiful. So incredibly beautiful, inside and out. And remember that it's your heart and soul that makes beauty shine from the inside. When I was a young girl, I remember not going to a birthday party because I absolutely hated my haircut. I thought all the kids would think I looked like a boy (your grandma gave me a bowl cut.) That was a lesson for me and I want it to be for you too. Don't be so worried about what your peers think of your appearance, because half the time they haven't even noticed.
Let your self-doubt be fleeting, and don't miss out on life experiences because of something you have built up in your own mind.
Life is too short for that! Have confidence and own that haircut (or your version of it). Wear it with so much pride that your friends want the same hairstyle, too. Confidence is something that you develop over the years and it will be one of your strongest attributes in life.
So go to the party, Lila. Eat the cake. Rock the bowl cut. (But I promise I won't ever give you a bowl cut. And you'll never, ever have bad eyebrows, for as long as I live.)

And while we're talking about appearances: As a teen I would look in the mirror at my pimples and be so embarrassed. I didn't like my braces or my curly hair. But looking back at photos now, my hair was luscious, my skin barely had spots, and those braces were on for a mere nine months before revealing a million-dollar smile!

For every fault that you think you have, think of how big your heart is. That's what other people will really see.
And that is what really matters. Instead of focusing on how you look, focus on who you are. Beauty is in how we treat others. Our passions, our beliefs, the love we have for family and our friends.
Remember that you can teach others through your actions. Don't nod your head to something you don't agree with. Don't go with the flow just because it's the easy option. Never has there been a greater time for women to prove their their worth. Your time is now! And I promise to remind you of this daily.
The reality is that you'll need to rely on yourself more than anyone else, but you'll never have to face the world alone. I am going to be your best friend, your biggest ally and your greatest fan. You are a piece of my heart living outside of my body. I will help you work hard, have fun, follow your dreams and never give up. I will be proud of you every step of the way and I will love and support you through every hurdle.
I love you so much, Lila.
Love always,
Your mama xxx