"Thank you for being so open and honest! It has a been a pleasure speaking to you. Sorry for taking up so much of your time."
"Oh no, that was my fault, I'm so sorry for talking so much. I just love to chat!" . . . is exactly how our 45-minute chat with Nadia Bartel ended.
There's no façade, fakery, or recommended lines of questioning when working with her. Instead, she's funny, kind and oh-so sharing. What you see is exactly what you get. So when our conversation about babies, motherhood, silent reflux and cheap underwear ended, I wanted to call her up again to chat some more.

Nadia's stats are impressive. At 32 she's a firm fixture in Australian fashion circles thanks to her blog Chronicles of Nadia (dubbed an "Online hub — no wait, a multi-level department store") and her online shopping store The Con-nection (she created in collaboration with her sister, Michelle). She's wife to Jimmy Bartel — AFL great and former Geelong player — and most recently, she became mum to the adorable Aston, the son she credits for being her greatest achievement.
But Nadia is the first to admit becoming a mum wasn't something she necessarily wanted immediately after getting married in her late 20s. "When I became pregnant it was a bit of a surprise," says Nadia. "Jim had been wanting children for longer than me, and while I always knew I wanted children, I was never the type who wanted them straight away because it's always been about work for me," she says.
Like most women of child-bearing age, Nadia wasn't immune to the pressure from friends, family and strangers to start a family. "I got a thousand questions as soon as we got married. Literally the next day it was, 'So when are you having kids?' It's hard when your friends and family are asking you that. It's almost like there's something wrong with me because I just wanted to take my time.
"Of course, it was so exciting once I actually found out I was pregnant," she says. "As soon as I saw those two lines on my pregnancy test it was funny because I just didn't think about it before — at all. But finding out I was pregnant changed everything. It changes your perspective."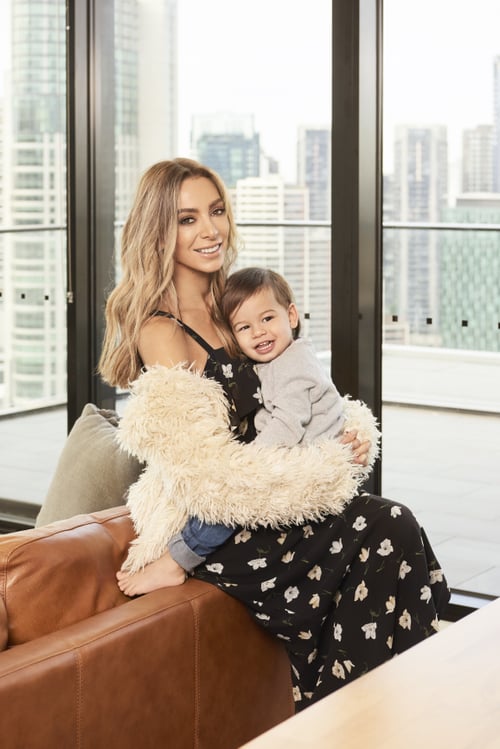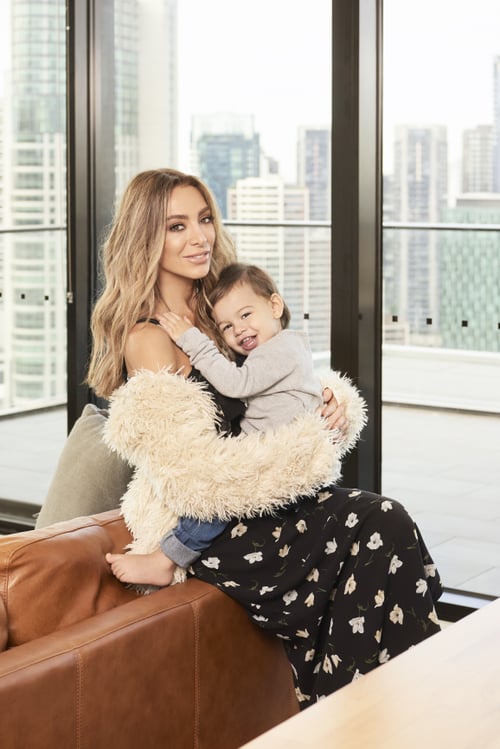 Image Source: POPSUGAR Photography Australia / Sevak Babakhani
Enter the first trimester. For Nadia, being pregnant for the first time was fairly easy, that is, once she passed the morning sickness that kept her occupied until the 16-week mark. "I was so tired, so lethargic and the smell of everything would just make me sick. But after that point it was a pretty easy pregnancy, I was able to do everything that I normally do," says Nadia.
"In the end, my body was sore but I ended up really loving my pregnancy body," Nadia admits. But despite how she felt, it was the criticism and comments from strangers (oh, but of course!) that surprised her most. "A lot of people on the street and a lot of people on social media would comment that my bump wasn't big enough," says Nadia. Her tone revealed how shocked she was that people would ever consider commenting negatively, especially to a woman going through her first pregnancy!
"There were so many people — even friends of friends — who weren't that close to me were like, 'Are you even eating? Oh, my goodness, you don't even have a bump!' So that was a little bit hard to hear sometimes."

Nadia is whole-heartedly against this kind of bump-shaming (as are we), but at the same time she's is absolutely aware that her profile (complete with 380k Instagram followers and tens of thousands more on the other socials combined) makes her more of a target to this kind of trolling.
"I am putting myself out there and I have the choice to post pregnancy selfies on my Instagram, which is public, so I have to take it with a grain of salt," says Nadia. "It would be different if I was being totally private about it and people were still making those observations. Once you put yourself out there you just have to realise that's the way it is.
"Everyone's going to have opinions, everyone's going to love or hate you. But when you become a mum, it opens you up to a whole new level of criticism."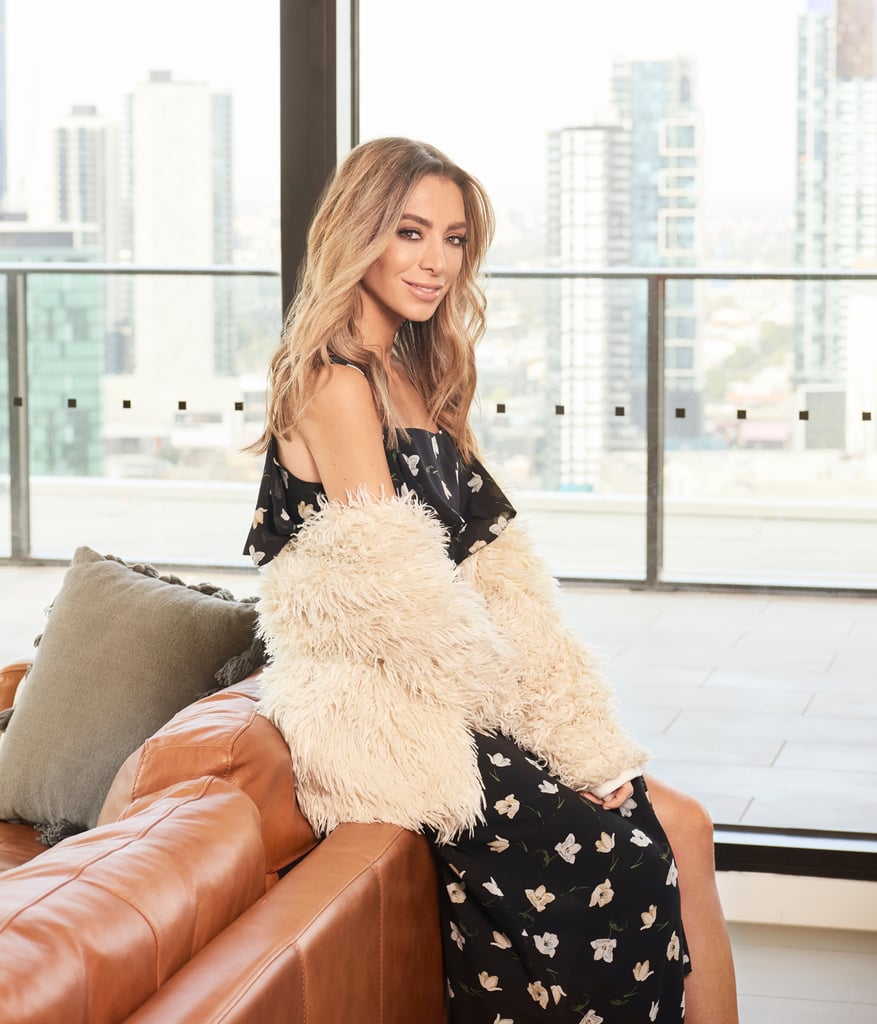 Image Source: POPSUGAR Photography Australia / Sevak Babakhani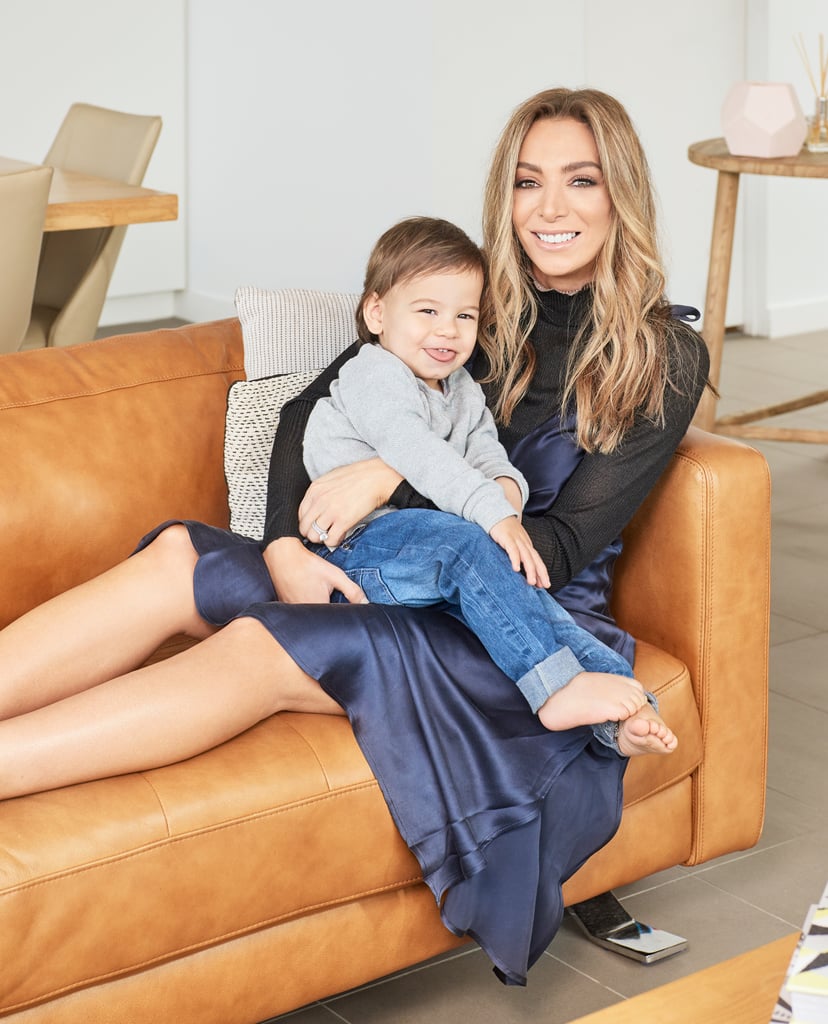 Image Source: POPSUGAR Photography Australia / Sevak Babakhani
Giving birth to her beautiful baby boy made all the morning sickness and bump-shaming a distant insignificant memory in comparison.
When Nadia met Aston, naturally, it was love at first sight . . .
"It was amazing, without sounding corny because I know everyone says it, but I did feel that instant connection," gushes Nadia when asked what her first few moments with Aston were like.
"As soon as they propped him up and put him on my chest I remember looking into his eyes and he felt so heavy and I was just looking at him . . . it's this feeling that you just can't explain. Honestly, it is so emotional, Jim and I were crying and Aston was climbing up on me — they know what to do — he was almost straight away trying to nuzzle into my chest," says Nadia. "It was really cute and special."
"All the pain goes away immediately. I had a really long labour and I had my legs held up in the stirrup position, I was vomiting, it was like hell. But as soon as you have your baby it just disappears, it's so strange."
Further proof of Nadia's honesty is when she details the intimate and personal moments following Aston's birth. You know, the things they don't tell you once you have a baby. Again, there's nothing glossy or glam about what she has to say about her first real moments as a mum.
"So much surprised me. On a personal level as a woman, no one told me — and this is kind of gross — how much you bleed. You literally bleed so much, for like 40 days after!" shares Nadia. "They told me to buy pads and just buy a bunch of really cheap underwear and I was like, 'Oh, okay?', so you're packing all this stuff and then you need it and it hits you. It's just full-on, the blood just went on and on, and that was something that no one ever told me."
The first-time new mum surprises didn't stop there for Nadia. Everything from going to the toilet — "You can't go to the toilet at all after, it's really impossible and you feel like as soon as you go everything's going to come out, and I cannot even explain to you, it's like the most horrid feeling" — to baby's sleeping patterns had Nadia surprised. But it was Aston's silent reflux that had her scared.
"I just had no idea that he had silent reflux for so long. Being a first-time mum, I thought that this was normal, I didn't have anything to compare it to. He was really sort of irritable, he was always screaming, he couldn't lay back, he was continuously arching his back but I knew that babies can be irritable when they're first born so I expected that to be normal. It was after a few months that he got diagnosed and put on medication, it went on for the first six to nine months.
"But it's fine because next time I have a baby if he suffers from the same silent reflux I'll be able to see the signs earlier and I'd know what to do — whether it's different ways to feed him or having the cup propped, or burping them different ways, I think I would know now."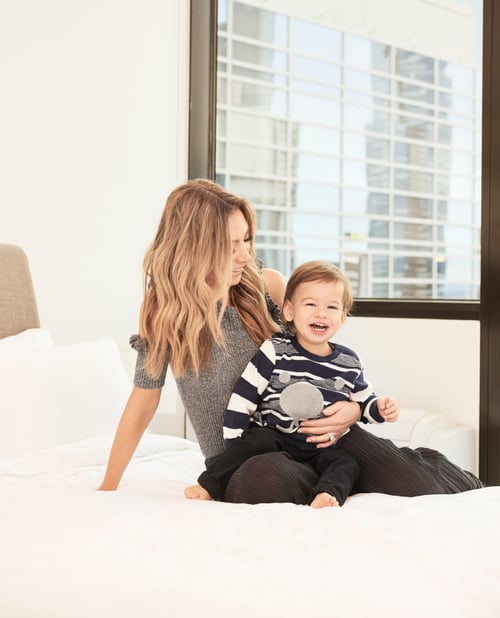 Image Source: POPSUGAR Photography Australia / Sevak Babakhani
All this chat about a potential second baby had me wondering (but not asking) if a second bub is in the works for Nadia.
As expected, even with one child to satisfy the pressure from family and friends, Nadia and Jim are fielding demands to grow their little family further. But with Aston just shy of his second birthday, she's still enjoying the dynamic of being a family of three.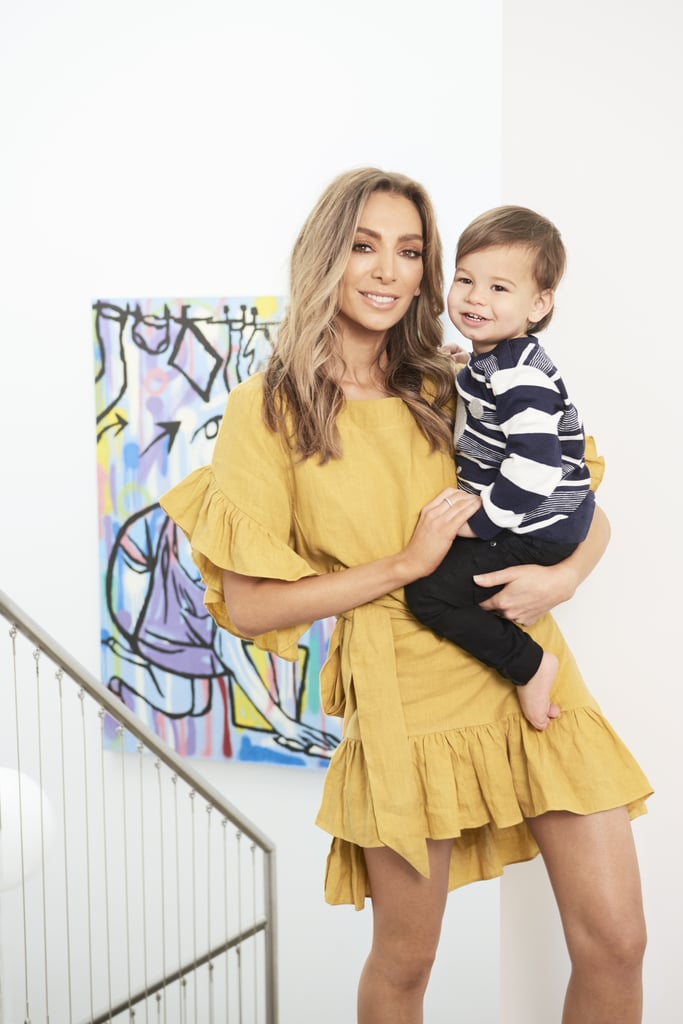 Image Source: POPSUGAR Photography Australia / Sevak Babakhani
There's no doubt having a baby changes everything. For Nadia, the shift from me to we happened as soon as she fell pregnant. "It's a pretty easy transition because you're feeling them inside you and you're already making all your decisions, whether that's for work or home, and I think once they're born that sort of becomes more heightened," says Nadia.
"The older Aston gets we have to start thinking about where we are going to live, what are we going to do for his school, or different work decisions, we definitely make them all together. It changes how you make decisions and it's very different from it being just you, but I think it's good because it gives you a bit of perspective.
"Before having Aston I was so focused on things that don't really matter at least for myself, but when you've got a baby you realise that even if something goes wrong with work, or I don't know, all the little things I used to get quite stressed about, in the scheme of things it's not really a big deal."
"Recently Jim and I had to make a real conscious effort to do little things like date night. Because you know, we've only got one and he's only 18 months but you still get so caught up in your day-to-day. When work's so hectic and then you've got baby it's almost like, 'Hey there you are, I forgot about you!' So yeah, we're being much better about it now and making more time for each other.
"The first six to nine months focusing on us as a couple was just something that was totally put on the back-burner, we were so focused on him, and with the silent reflux and the sleepless nights, we were both just struggling to get through and get it all happening. But it does really change things and I think you've got to, like any relationship, work through it. Now we're on a good little plan."