Tempur-Pedic Tempur-breeze Cooling Mattress Review
I Slept on a Cooling Mattress For 30 Days, and I Feel Like It'd Be Every Pregnant Woman's Dream
As POPSUGAR editors, we independently select and write about stuff we love and think you'll like too. POPSUGAR has affiliate and advertising partnerships so we get revenue from sharing this content and from your purchase.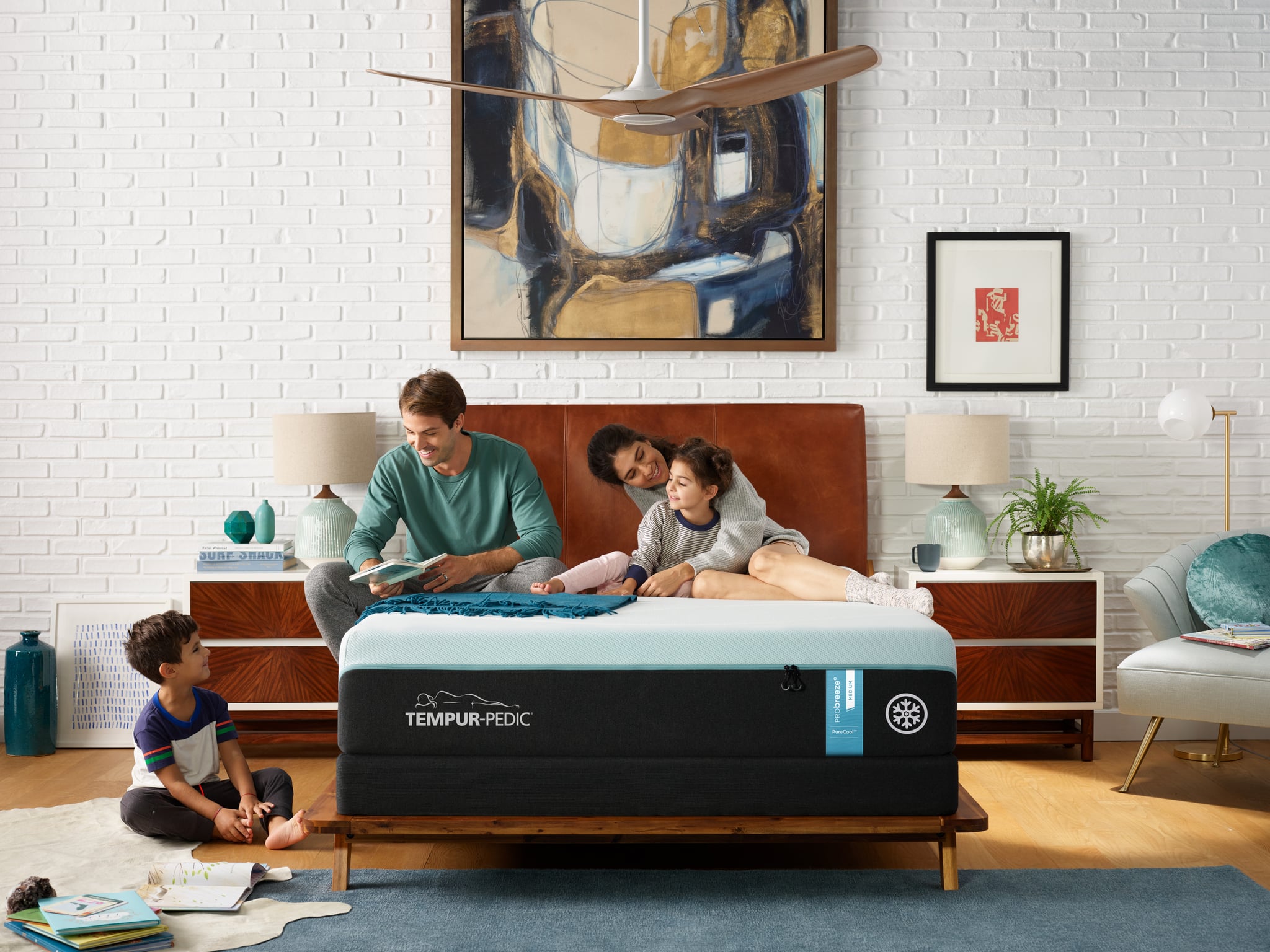 When my PR friend asked if I'd be up for trying a new Tempur-Pedic mattress, I nearly cried with anticipation — my mattress at the time was 15 years old and killing my lower back. Memory foam would be good for me, I thought. When my friend mentioned that the new Tempur-breeze mattress ($3,299-$7,998) was made with a layer of cooling technology that keeps you up to eight degrees cooler, I actually cried. I live in a tiny apartment with poor circulation and uncontrollable heating, so I was sweating through my sleep every night of the year next to my fiancé — a human furnace — and our two cats.
Here's how this mattress's glorious technology works: First, the Tempur-breeze's SmartClimate dual cover makes you feel instantly cool — seriously, it's cool to the touch! Then, during the first 20 minutes or so of you lying down, the next layer, the PureCool+ Phase Change Material, offers a thorough cooling wherever your body's lying. Finally, throughout your eight-hour (we wish) sleep, the breathable Tempur-CM+ layer "allows the heat and humidity normally trapped under the covers to be cycled out of the mattress."
The cooling mattress comes in two forms, each with two different firmness levels. The PRObreeze keeps you up to three degrees cooler and comes in a medium firmness, as well as a medium hybrid, which offers a bit more support as it has over 1,000 spring coils (this is the one I have!). The LUXEbreeze mattress keeps you up to eight degrees cooler as you sleep and comes in both firm and soft varieties (additionally, the mattresses come in the following sizes: twin XL, double, queen, king, split king, California king, and split California king).
I've been using this mattress for just over a month now and can confirm, it's the best thing that's ever happened to me (sorry, fiancé). I already know it's going to be my lifeline when I'm pregnant and *if* I one day have toddlers who think it's fun to crawl into bed with me every night for a slumber party.
Here's why the Tempur-breeze is a literal dream (aside from the fact that it cradles you deep into a dream-filled R.E.M. cycle) for so many types of people:
Why Tempur-breeze Is Amazing For Sweaty Sleepers
Even if you are the only person in your bed every night, sleep sweats are no joke. Whether you're a person who sweats every night of the year no matter the outside temperature or someone who gets most uncomfortable in the Summer, this mattress will cool you down and keep the sweating at bay. If you're a Summer sweater but usually freezing in the Winter (this is me), never fear: the Tempur-breeze isn't so cooling that you'll then be freezing in the cold months, it just keeps you comfortable.
Why Tempur-breeze Is Amazing For Pregnant Women
Aside from the fact that the Tempur-breeze will keep you cool (have I mentioned that?) as you sleep through hormonal hot flashes, its classic Temper-Pedic memory foam will lovingly cradle you and your bump. I sleep on the PRObreeze mattress with a medium hybrid firmness, and after getting used to the memory foam for a few weeks, my chronic lower-back pain started to dissipate because the curve of my back was better supported — I've never been pregnant, but I know this is exactly what you want for your back and bump when you're sleeping on your side during pregnancy.
Why Tempur-breeze Is Amazing For Cosleeping Parents
More bodies equals more heat (and more kicks to the face*). If you're a parent who cosleeps, the Tempur-breeze will keep you and your little ones up to eight degrees cooler (depending on which mattress you go with), and if they lie on top of the covers when they clamber into bed and subsequently trap you in, the Tempur-CM+ layer will work overtime to cycle out all of their extra body heat. Plus, if anyone in your family is a mover while they sleep, you won't have to worry about being completely aware of their tossing and turning — because of the memory foam, this mattress doesn't shift and squeak under your weight, nor does it threaten to send someone on the other end flying just because you rolled over.
Why Tempur-breeze Is Amazing For Pet Parents
Animals are freaking hot, dude. My 10-pound cats are my best snuggle buddies on a Winter's night in front of the TV, but when I'm trying to sleep through the night and they pin the comforter down over me, warming the spot they're sleeping on to a casual 150 degrees, it's less than ideal during any season. Because the Tempur-breeze is cool to the touch, I find that the spot the cats lie on doesn't get as hot, and when they change positions or saunter off to make trouble at 3 a.m., the temperature of the spot they were lying on levels back out super quickly. Whether you have a giant Golden Retriever or a three-pound Chihuahua that you dare never move in order to adjust the blanket on your body, you can sleep better (literally) knowing that you'll never be as hot as you used to be trapped under your blankets.
*Unfortunately, Tempur-Pedic cannot solve the age-old problem of small children climbing into bed with their elbows and heels ready to ruin your life.
I was very graciously gifted my Tempur-breeze mattress, but all opinions stated are my own.