Interview With Sydney Mum About Parenting During COVID-19
We Asked a Sydney-Based Mum How She's Parenting During COVID-19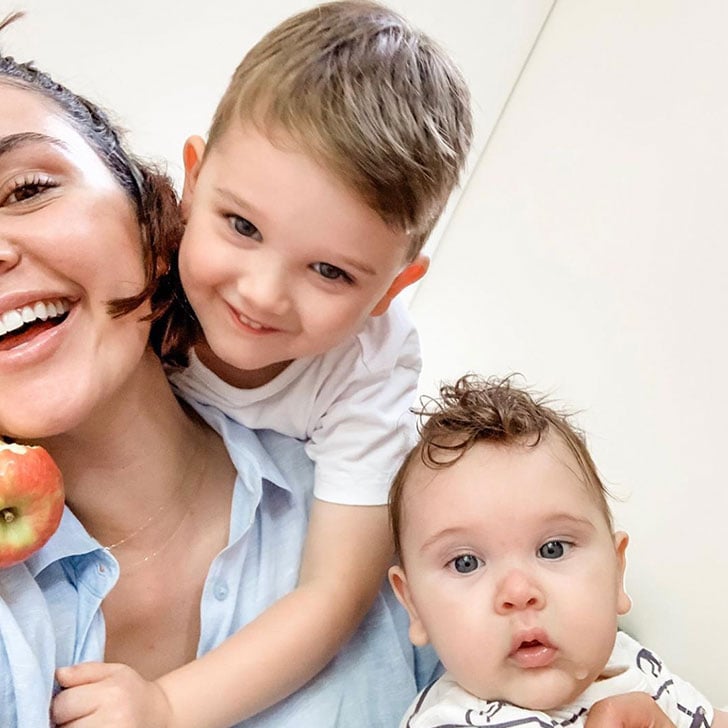 Coping with the lifestyle changes necessary to flatten the curve of COVID-19 is hard to wrap our heads around, but navigating them as a parent would be twice as tricky. As we move into a stricter lockdown period and more parents choose to keep their children at home and self-isolate, we interviewed mum-of-two and former writer for POPSUGAR Australia, Jade Cottee, about parenting during the Coronavirus crisis (over email of course, because, social-distancing).
Below, Jade shares where her head is at, how she's managing her own stress and anxiety, and how she's talking to her 3-year-old son Spencer about what's happening in the world right now. Read on!
POPSUGAR Australia: First of all, how are you feeling right now? The COVID-19 crisis is an unprecedented event that is a lot to cooe with for everyone, but I imagine being a parent adds an extra layer of stress?
Jade Cottee: I was scared, anxious and worried before circling into anger (at seeing people not taking social distancing seriously!) and now I'm strangely calm. We've seen how countries overseas have responded and I think Australia is slowly realising what needs to be done.
I can only control the actions of myself and my family so just focusing on us has helped with the anxiety levels. We've chosen to self isolate to hopefully help flatten the curve so our medical system has a fighting chance. I'm also encouraging others who can to do the same (sorry, I'm #thatguy on Insta right now).
Financially it's stressful as we are business owners in the hospitality industry, however we are very much in the same boat as many Australians. Employees, sole traders, business owners — no one knows what lies ahead and that's very unsettling. It's calming to know that we are all facing unchartered territory together.
Being a parent means that on top of worrying about the economy and people who are at risk of becoming severely ill with COVID-19, I'm also worried that if kids (or anyone else!) get sick with another illness that there won't be medical resources available because they're all tied up. My son has allergies so the thought of him experiencing anaphylaxis and not getting medical attention soon enough is terrifying.
PS: How are you articulating the crisis to your kids?
JC: To explain why we're staying home / his party is cancelled etc., I've spoken to Spencer about "bad bacteria" — a term he already understands as his school uses this when talking about the importance of washing hands and not spreading germs and sickness etc.
I've told him that right now, there's some new bad bacteria out there which means lots of people could get sick at the same time, and if that happens there won't be enough doctors to look after everybody. To make sure the bad bacteria doesn't spread quickly, we're staying home and only interacting with our family so theres enough doctors to treat everyone who needs it. That it will be ok, we just need to do our bit to keep everyone safe.
He's been understandably upset about cancelling his birthday party but is coming round to accept this explanation. We've been doing lots of video calls with family which has helped him still feel connected.
PS: How are you managing your own stress and anxiety?
JC: Reminding myself that I can only control what I can control is a good one.
Being a mum is full on in a normal week, but being stuck at home is next level! I'm trying to reframe and am grateful that I have the privilege to be able to self isolate with my boys, and I'm also forgiving myself for not being the parent I want to be 24/7. I'm allowing myself to feel whatever feelings come up and not be guilty about how I "should" feel.
Exercise does wonders for my mental health and I'm really missing in-person classes, so I've been doing Fluidform at Home every morning before my husband leaves for work.
PS: How are you maintaining a healthy relationship with your partner during this time?
JC: My husband has his own business so is still going to his office most days (he's the only one there and gets more done than he would at home) so it's just me home with the kids. Usually I'd be resenting his "alone" time but I know it's been incredibly stressful for him navigating the changing landscape and what that means for our finances.
We are actually stronger in crisis — it makes you realise the small stuff you usually bicker over doesn't really matter.
I don't have any secrets for staying connected, but once the kids are asleep we catch up and chat before settling in for ice cream and Netflix. Too exhausted for anything else right now!
PS: What are some of the activities your kids have engaged with most at this time?
JC: I am the opposite of a crafty mum, however my kids don't know that! So we've been building (terrible) monsters out of recycling, colouring, painting, drawing etc . . . and watched a lot of movies. We've also been baking (also terrible) cakes so we can lick the icing spoons.
PS: Favourite educational shows for kids?
JC: I like Daniel Tiger! Spencer's favourite is Rainbow Ruby.
PS: How are you managing your consumption of the news cycle?
JC: I like to be informed but I'm getting COVID-19 fatigue. It's overwhelming. I've been focusing on updates from the WHO and watching ScoMo's addresses. And trying to avoid the fake news doing the rounds on WhatsApp, Facebook etc!