What It's Like to Self-Isolate on Maternity Leave
I Thought Maternity Leave Was Lonely Enough, and Then I Started Self-Isolating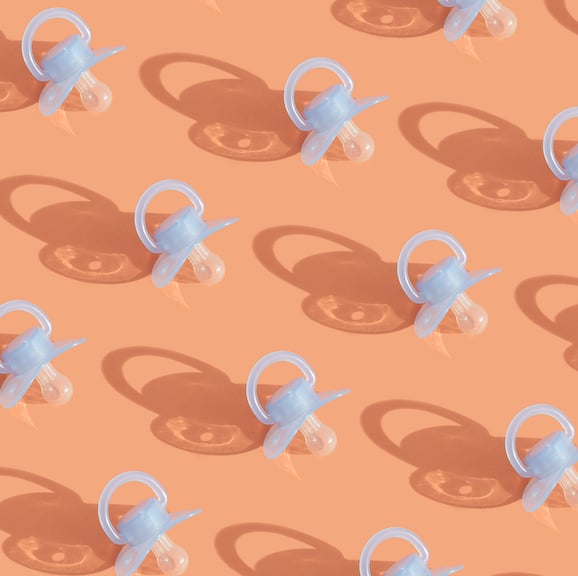 Sitting in the sun outside at a café sipping a flat white, while looking adoringly at my tiny daughter and sharing horror stories about newborn wrangling with my new friend from mum's group . . . that's how I pictured my year of maternity leave to look.
I wasn't kidding myself, I knew from my friends who'd had babies that this period would have its ups and downs — the loss of identity, the long nights of broken (and sometimes zero) sleep. Even the educator at the hospital's Having a Baby class warned that they would be endless, tedious days of feeding, changing, settling, napping and repeating. My mate's tip? "Make sure you have a plan every day. Even if it's just going to buy bread. Just having something to do will give you purpose and make you feel good for doing it." My GP's advice? "Get out of the house. Your apartment feels a lot smaller when there's a crying baby in it."
So I bought myself a handsome, gleaming whiteboard calendar from Kmart, excitedly jotting all of my mum dates and appointments down so I could keep track. For a fortnight. Yep, I had exactly a fortnight of my beautiful full calendar before the nation was advised to stay indoors as much as possible and then there was nothing to write on it anymore.
It started gradually enough — my local council said they could no longer host our mums group at the community health centre because of the risk of coronavirus spread. Fine, we'll just meet at a café! A week later, that was banned too. Then I realised the weekly visits from my partner's mum and my own mother, both in their 60s and therefore in the high-risk age group, could no longer happen. My best friend who lives a block away couldn't come over to drink wine and watch the finale of Survivor. Before the lockdown, I had expressed breastmilk like some kind of lactating demon, building up a huge freezer stock so that I was free to leave my baby with my partner and go to the pub with a few friends whenever the mood struck. I escaped to the pub exactly once before ScoMo shut all venues down.
Don't get me wrong, a lockdown is exactly what the country needs to combat the spread of COVID-19. I could easily break the rules and see my friends, or let my mum visit, but I'm doing the right thing and socially distancing because none of us are above the law here, we all have to play our part and it's super important that we do it. I also know I'm in a relatively lucky position as I still have a job to go back to and others are doing it really, really tough in other ways right now. But it's still hard to self-isolate during maternity leave, which is already such a lonely and isolating time as it is.
Turns out my GP was right, your apartment does feel like the size of a shoebox when your baby is screaming in it and you're trapped there. If one more person has the genius suggestion of "going for a walk" I might punch them (when social distancing is over, of course). Sometimes it rains, or you've had four hours' sleep and the last thing you want to do is wrangle the baby up and down a steep hill and 3 flights of stairs. So when you're doing maternity leave in quarantine, you have to get creative.
The first thing my mums' group did was organise a Zoom catch-up, which actually turned out to be as fun and enlightening and good for the soul as the one we did at the café. I can now put "mums group" back on my sad little calendar and look forward to it every Wednesday. My mate and I watched Survivor together via Houseparty. I had some wine over Facebook video chat with my pals, and while it was sadly lacking a delicious chicken parmigiana, we still got to gasbag like we do at the pub (and one of my frozen milk bags finally came in handy for my partner who was baby-wrangling in the other room). I've signed up to an online Pilates programme and done a virtual boot camp session in my kitchen. Okay, so I used to do that same boot camp at a park high up on an ocean cliff in the fresh air, while this time all I could smell was my kitchen tidy bin that urgently needed changing. But I'm adapting. I'm rolling with the punches. And I got some fresh air when I took the bin downstairs, so I'll take that as a win.
Self-isolating, socially distancing, quarantining, lockdown — it all involves us making big changes to our normal lives for the greater good. I'm trying to remind myself that we're part of history here, strangely united while we're being kept apart. And I get to do nothing but spend time in my apartment with my 10 week old, who one day will come home from school and ask me about the coronavirus pandemic of 2020, wide-eyed and expecting a dramatic story. And I'll tell her that it was the most boring time of my life and show her the 4000 identical selfies I took of us on the couch during lockdown. Because the whole point of this is that we don't have a dramatic story to tell. It feels endless, but it won't be. Soon my calendar will be full again, annoyingly full, and maybe I'll even miss these days of doing nothing at all.