Alyce Tran Founder The Daily Edited Habits for Success
The 4 Non-Negotiable Habits That Helped Alyce Tran Build a $30 Million Empire
It's a new year in the driver's seat of your own life, and we're here to help you accelerate. That's why we've partnered with Caltrate to bring you #KICKSTARTER. A destination dedicated to giving you the information and inspiration you need to succeed in every aspect of your life. #KICKSTARTER is about taking the right steps, right now, to improve your life for the long-term. Whether that's strengthening your body or building the career of your dreams, we're showing up for it.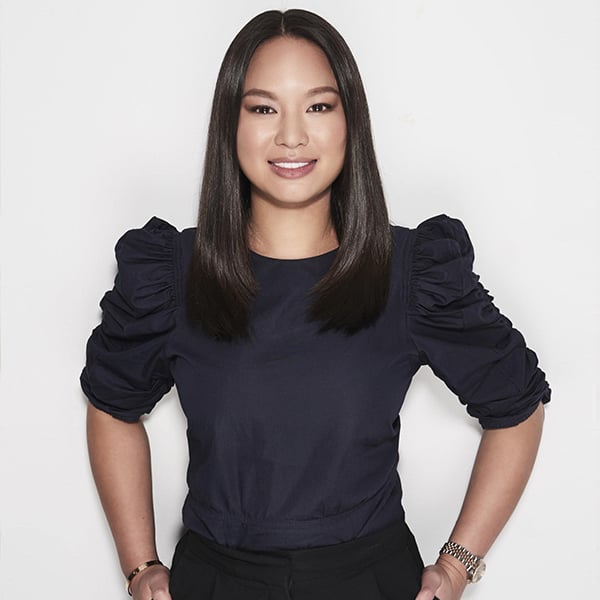 This generation of women has become defined by ambition. It's a blessing and a bit of a curse — the next goal is always at the back of our mind, sights set on progressing, creating, disrupting and advocating. But the path between "here" and "success" (in whatever shape that takes for you) isn't always obvious. And let's get crystal clear: in life, not everyone gets a trophy. So, what are the skills required to "make it"? What are the defining habits that distinguish the most successful people from the rest of us? For the answer, I decided to ask one of the most inspirational women I've ever met: Alyce Tran.
The co-founder and powerhouse behind The Daily Edited knows a thing or two about what it takes to strive for success. Alyce and business partner Tania Lu started The Daily Edited just four years ago, and are on track to hit 120 staff members and $30 million turnover by the end of this financial year. Just. . . wow. If you're looking for someone to model your game on, she is a strong bet. A few hours spent with Alyce will instantly make you want to pull up your socks and work harder, do better (I can personally vouch for that!).
Of course, you might not necessarily get the opportunity to meet Alyce yourself. For the next best thing, motivate yourself with her honest advice below on what it really takes to create your own success. No sugar coating, no bull, just four important habits you need to start practising right now.

"I started The Daily Edited when I was a lawyer. [It] gave me the ability to work hard, accurately and with a certain level of speed," Alyce says. "These skills make running a business much easier as I'm not dwelling on things and taking too long to turn things around." I've spent some time with Alyce over the past month — on a video shoot and a short trip to Melbourne — so trust me when I say the woman is a force. She is fast, regimented, intelligent. The "fail often, fail fast" mantra is famous in the start-up world but it applies everywhere. Constant movement forward is something many successful people have in common; once they have a plan or goal in place, they don't spend time overthinking it and simply get on with the 'doing'.
Tips For Getting in the Habit

A simple way to practise acting with speed is to categorise decisions as small, medium or big, based on how long-lasting the impact of that decision will be. Don't waste time on small choices — if you can do it now, do it now! The more small decisions you can clear quickly, the more time you'll have to be strategic with your big, long-term goals.
Alyce believes the only person who can influence your success is you. So much so that she is still incredibly hands on in The Daily Edited's day-to-day (excuse the pun.) Listen to this run down of her week: "I read around 500 responses provided to customers we've sent once a week and provide feedback to my team, work on the shop floor once a week, and yes, I still post and create all of the content you see us upload on Instagram," Alyce says. Then, there are the marketing meetings that she leads — "We don't have a marketing team, that's me. My team assists me in coordinating the roll out of our activations, new products, new services, new campaigns to ensure they are touching every part of the business" — developing new products, writing web copy, liaising with staff and dealing with HR issues. "I leave the office around 7 p.m." Damn, girl.
Tips for Getting in the Habit

Alyce's personal involvement in all of the above has helped grow the business into the international brand it is today. It's proof that the most important question to ask when you want to move the needle forward is: what can I do? A study has shown that having personal accountability can increase your odds of hitting your goal by up to 95 per cent. Take ownership of your path and maintain that level of hands-on work, no matter how big you get.
Habit 3: Never Stop Learning
One thing is for sure: no one knows it all. And successful people never assume that they do — that would kill their drive to keep learning. When I asked Alyce what she had to learn 'on the job', I was surprised that her answer was "basically everything!" But it makes sense; she doesn't view her lack of specific knowledge as a deterrent, but rather a clear next step. The learning curve might be steep, but it is a permanent part of the process. "Probably most foreign to me was web development, understanding the process and how long it takes to get things working the way you want them to." Even the concepts she did have background knowledge of, like the "boring" administration behind starting a business, were still ones she dedicated time to researching further.
Tips for Getting in the Habit

Alyce's advice? Get comfortable with feeling inexperienced — those feelings will tell you what you need to read, research and explore next. Understand that the learning is never done, and revel in it! We live in an age where information has never been more accessible and you can use it all to your advantage. "There are a lot of free materials online [like] business.gov that set out different business structures that people should get across when establishing their businesses."

Habit 4: Stay Single-Minded
All great things come with sacrifice, and Alyce is frank about what her biggest sacrifices have been. She warns: "Be prepared to not have a life outside of work!" While she leaves the office at 7 p.m. now, in the early stages of The Daily Edited her days were much longer. When Tania and Alyce launched the brand they were both still working full-time — Alyce's demanding job as a lawyer meant she often left the office well after dinner, working on The Daily Edited until late and getting a few hours sleep before doing it all again. Not to mention dedicating entire weekends to her passion. "[You also need to] manage the expectations of your friends and family," she explains.
Tips for Getting in the Habit
High achievers have no problems skipping social commitments or leaving the party early (particularly if that gives them the rare opportunity for an early bedtime). Every spare second is time they want to dedicate to the cause. You'll make this so much easier if you share your ambitions with your loved ones — having their support will leave your mind free to laser in on your end goal.