DIY Clean Your Jewellery
Shine Bright Like a Diamond: Easy DIY Jewellery Cleaner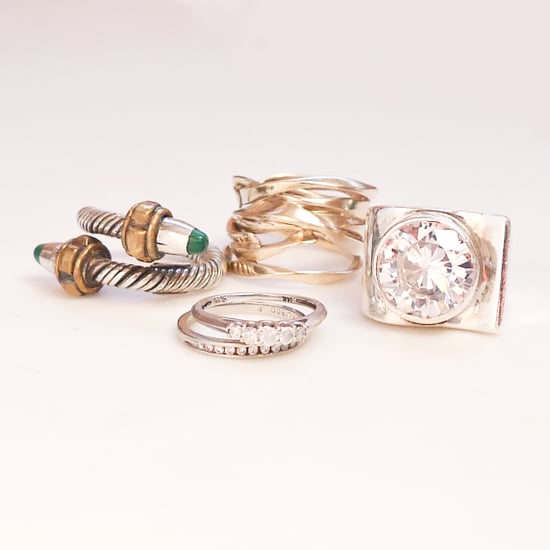 When your favourite bling just doesn't have the same sparkle, instead of purchasing expensive cleaning solutions or forking out for a professional scrubbing, try this easy DIY jewellery cleaner. Using ingredients you already have in your pantry, this concoction costs cents to make and doesn't use any harsh chemicals — just the power of science. And you can give your old toothbrush a new life by gently scrubbing jewels post soak. Before you know it, your special gems will be dazzling.
What You'll Need:
Small bowl
1 tablespoon salt
1 tablespoon baking soda
1 teaspoon dish detergent
1 cup hot water
Aluminum foil
Paper towel
Old toothbrush
Directions:
Gather what you need for making the jewellery cleaner. You can use your favourite dish detergent — or make your own — to add a serious grease-busting aspect to this concoction. The salt, baking soda, and aluminium foil create a chemical exchange called an ion transfer, which naturally cleans metals.
Line the bowl with a square of aluminium foil, and then top with the salt, baking soda, and dish detergent. Now add the hot water and watch as the liquid fizzes. Drop in your jewellery and let sit in the cleaner for 10 minutes.
Remove your jewellery and use the toothbrush to gently scrub around any prongs, groves in the jewellery, or gemstones. We tested this cleaner on gold, silver, sterling, diamonds, and other gems with glittering results. Rinse after cleaning, and pat dry.
You'll love how your jewellery sparkles after the quick cleaning, which is safe to do over and over.
Image Source: POPSUGAR Photography / Sarah Lipoff