Generation Y Advice
10 Things Generation Z Can Learn From Generation Y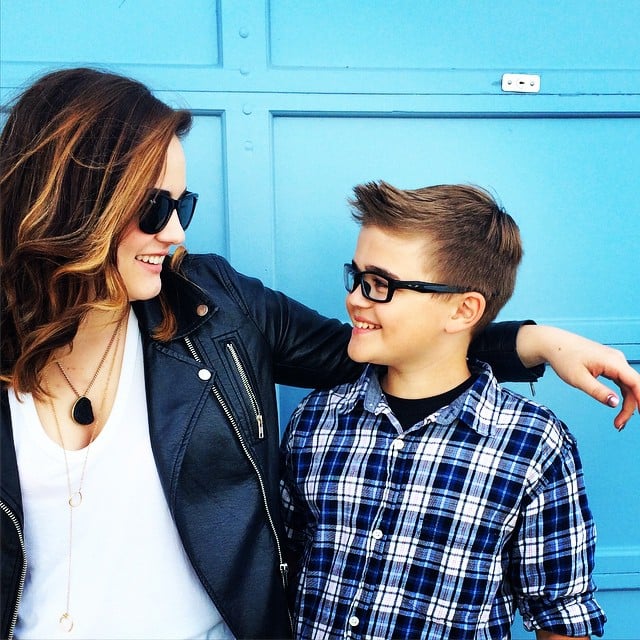 As I approach my 30s, I feel bombarded with new emotions and ideas. Friday night plans are no longer as appealing as they once were, that extra glass of wine can hurt the next day, and a good sweat session at the gym paired with a green juice is a treat. All of these things are simply reminders that I am heading into a new era (happily so, let's do this!). Generation Y, or "Y Me?" as I have so lovingly dubbed us due to our constant struggles often smeared across social media, seems to finally be growing up! This generation shift emerged more prominently to me when I became an aunt to two Generation Z-ers. I have become even more aware of what the newcomers will grow up with and how it will differentiate from their predecessors. So welcome to the world, Generation Z! Here are a few things you can learn from your Generation Y counterparts.
1. Simplicity Isn't Necessarily Bad
Once upon a time, Facebook used to be specific to university students — that's right! If you happened to miss a viewing of The Social Network movie, there was a grace period in Facebook's early days where the social media site was strictly for collegiate connecting. That means not everyone and their mothers (literally) were able to sneak a peek at your profile. Remember that sometimes the simplicity of the past does have its perks.
2. Never Take Your DVR For Granted
When you heard the word "streaming" back in the day, odds are your mind drifted to trickling water. Back before Netflix and Hulu would stream shows, the only time to watch your must-see TV was when it actually aired. There was no second chance, either, unless you were lucky enough to catch a re-run or tape it on a video. From this, TV watching definitely infringed upon people's schedules. Be grateful for the convenience of your little enjoyments and guilty pleasures.
3. Patience Really Is a Virtue
Instantaneous information is a newer concept. If you forgot a song lyric or needed the definition of a word, those things took time and effort, like asking if anyone else could remember or sifting through a dictionary. Before Google, finding answers was usually a much bigger investment of time than a simple click of a mouse. The next time you are annoyed with your homework assignment or any buffering you may come across, think of this and you might breathe a bit easier. Appreciate that you have these life-changing tools at the tips of your fingers.
4. Do Not Take That Opportunity For Granted
Odds are you have watched Generation Y endure quite a few difficulties when it comes to careers. We can tell you from experience not to take any opportunity for granted. They are often hot commodities and can lead to where you eventually want to go, so do not casually pass on something potentially great that comes your way. There isn't always room to be picky.
5. Invest in Your Interests
If you know what you like to do, get on it! Invest your time into something you love. It's competitive out there, and with so many virtual channels to get your name or talents heard or seen, it has become even more so. If you "wait until later," you might just be putting yourself far behind.
6. Don't Take For Granted the Skills You Already Have
Believe it or not, typing class used to be a real thing. That skill you have been honing since toddlerhood was once an attribute that sparkled up résumés, giving a large advantage to professional candidates. So what has now become as basic and necessary as tying your shoe used to be quite rare. Appreciate the skill and don't take that for granted, as well as how far technology has come.
7. Be Mindful When Investing in Your Electronics
As far as technology, apps, and platforms go, there are definitely fads. Not everything has staying power, and the ones that do are consistently upgrading (what iPhone number are we on again?). Generation Z will never know the true beauty of a Game Boy or an iPod or carrying around a digital camera everywhere they go. Simplicity of one product has been lost in the versatility of a smart device.
All this considered, it is best to be particular when investing in certain electronics as they change often and are expensive. The advances that have happened over the course of 20 years are phenomenal and we are only improving, so before you pull out the wallet, consider the evolution of your investment. It might just be better to wait it out.
8. Your Personal Brand Matters
What you post, how often you post, what you say, and how you present yourself is very accessible. Generation Z-ers are likely aware of this, as they were the first to grow up in it and learned young to navigate their privacy boundaries. Learn from Generation Y and be thoughtful in what you put out there in the digital world. You know it can come back to haunt you.
9. Unplug Whenever You Can
Generation Y watched as the internet was introduced and infiltrated their lives, yet they still have memories of pogo sticks, rollerblading, and hula hoops. These outside activities were very much staples in our childhoods, and for Generation Z, iPad games are likely taking their place. Remember that taking a break from electronics is fun. Going outside, exploring, and playing will always be important, so unplug that device as often as you can. After all, you don't make friends or memories by playing four hours of computer games after school.
10. Save. Your. Money.
The Baby Boomers were a great generation for careers and buying homes. Generation Y has struggled immensely in comparison. Things can change quickly; it's best to be prepared, so always save your money. You will never regret it!
Image Source: POPSUGAR Photography / Macy Williams