How Long Does Champagne Last After It Has Been Opened
Here's Every Question You've Ever Had About Champagne — Answered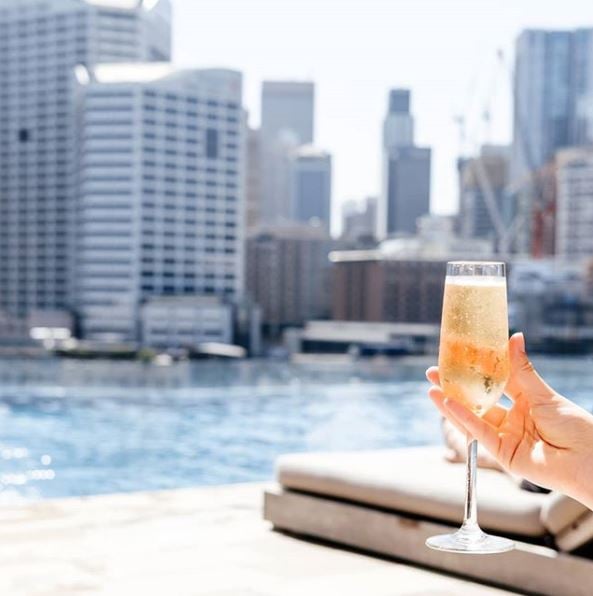 The silly season might be over, but our obsession with a glass of champagne will never wane. Especially on a Friday night after long, hard week.
In order to better understand one of our favourite bevvies, we sat down with champagne expert and Champagne Bar manager at Sofitel Darling Harbour, Sutari Martinez.
How many times have you popped a bottle of bubbles, only to not finish it and pop a spoon in the neck 'to keep it fresh for next week'. Spoiler alert: that doesn't work.
Below, you'll find all your most-pressing questions answered in detail (including the best bottles under $50).
POPSUGAR Australia: What is the difference between sparkling wine, Prosecco and Champagne?
Sutari Martinez:Champagne comes from the region of Champagne in the North of France. It's a very cool climate wine and the chalky profile of the soil gives the wine its distinctive mineral, and chalky flavours on the palate.The wine rests on yeast lees for over 14 months, before being released to market.
Prosecco on the other hand is an Italian white wine sometimes made in a similar way to Champagne depending on the producer. Prosecco however is made from Glera grapes. The name is derived from an Italian village of Prosecco near Trieste, where the grape and wine originated. Prosecco is not from France, but from the Friuli Venezia Giulia region of Italy.
Sparkling wine can be made anywhere in the world using 'Méthode Traditionelle' or the tank method. The traditional method involves a second fermentation in the bottle you buy the product in. The tank method involves injecting the wine with carbon dioxide while it is held in a tank which is a similar method to that used by soft drink manufacturers.
The second fermentation must be done is a very solid bottle to allow for the pressure of carbon dioxide that builds up in the bottle. The heavy bottle also contributes to cost of the wine's production.
PS: How long does champagne last unopened?
SM:Champagne can last for over 100 years in the right conditions. For example, they have found bottles of Champagne stored in a constant, dark temperature under the sea from when the Titanic sank in 1912 that were still very drinkable. This is astonishing and has been proven again and again with the raiding of old ship wrecks. It must be said that very old vintage Champagne tends to lose some its bubbles but can still be excellent to drink. Champagne has a rare ageing ability due to the way it is made.
PS: How long does champagne last opened?
SM:About one day in the fridge open at the top or with a cork or stopper in it for a few days.
PS: Does the spoon-in-the-bottle trick actually work to keep an opened bottle bubbly? How does it work and how long does it work for?
SM:The silver teaspoon trick doesn't work at preserving the bubbles in wine. That is an urban myth or housewives tale. We use the "Verre de Vin" technology allowing to close the bottle and make them last longer — allowing to have more champagne by the glass without deterring the wine. This technology is used by the most renowned Michelin Star restaurants around the word.
PS: Why does Champagne make you feel merry faster than non-sparkling wine?
SM:Carbonated alcoholic drinks are absorbed more quickly. Carbonation increases pressure in the stomach, which helps to force alcohol into the bloodstream through the stomach lining. Though relatively inconclusive there have been two very small studies showing the blood alcohol content of people drinking bubbly spike faster than versus flat champagne. So, carbonated drinks tend to hit the studied participants faster — but the impact on blood alcohol is the same in the end after waiting for things to settle down.
PS: What's your favourite way to drink Champagne?
SM:I like to drink Champagne with oysters natural in a beautiful bar with a view. I choose oysters to let the acid in the champagne cut the creaminess of the oyster's interior. The natural, unadulterated profile of oysters also allows the wine to really shine through. For example when drinking Champagne I would never put the mignonette sauce. Which is vinaigrette of red wine and shallot on the top because the vinegar will mask the subtle properties of the wine. A little lemon and pepper with freshly shucked oysters is enough or perhaps some fresh salmon roe or caviar.
I also love to use a beautiful vintage champagne to mark a special occasion. This is a champagne made from a single year's grapes — usually only made in the very best years.
PS: What are your three picks for bottles under $50?
SM:Perrier-Jouët Grand Brut is great value for money, this is a very elegant wine, that's made in Chardonnay dominant style of the house.
Champagne Ayala Brut Majeur is a second label from Bollinger harking from the village of Aÿ in Champagne. It is dry and light and of excellent quality wine for a low price (which is why it is often sold out!).
Piper-Heidsieck Brut Champagne is my "go to" Friday night Champagne. Reliable in quality and texture, Piper Heidsieck a good aperitif style wine from a fantastic house and good as a first drink of the evening with friends.
In Champagne Bar we tend of serve some of the finer, more distinctive wines that are harder to find or are made specially for having with food like the Pommery Brut Apanage.
PS: Anything else you'd like to add?
SM:Champagne Bar is an award-winning champagne bar located on Level 3 at Sofitel Sydney Darling Harbour. We have a long list of Champagne sold by the glass.
One interesting fact about the bar is that we sell bottles of wine from $150 right through to a Jereboam of Louis Roederer Cristal which is $22,000! Pop in for a visit!