How to Love Flying
12 Things to Love About Flying, From Someone Who F*cking Hates Flying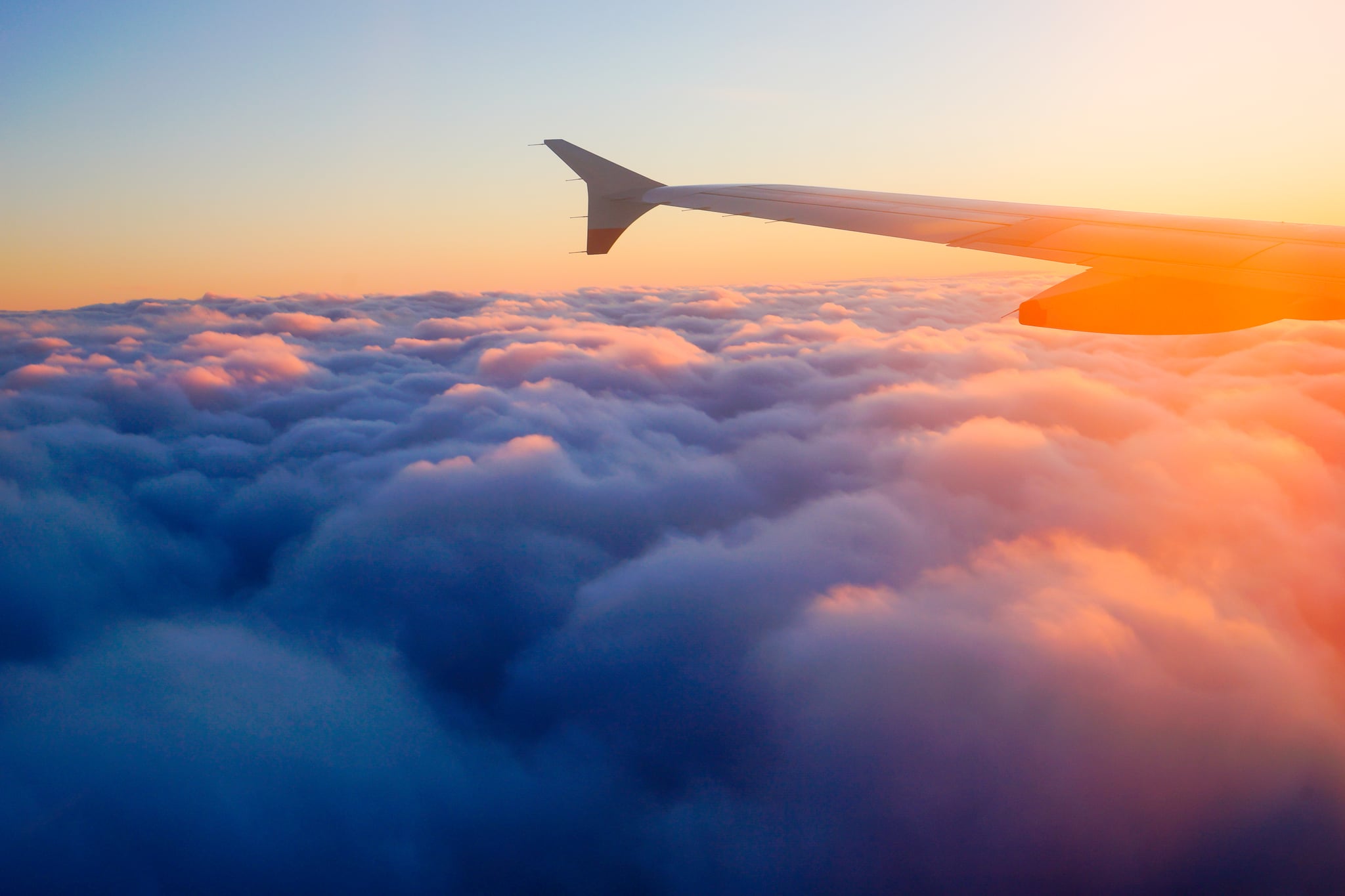 I hate flying. I start thinking I'm going to die the second I set foot on a plane. I know it, my friends and family know it, the airport barman who serves me my second wine at 8 a.m. knows it — I can't deal with the lack of control and the fact that I'm willingly getting into a metal tube to fly through the sky. If something goes wrong, we're in such deep trouble.
Fear aside though, I actually rather like the concept of flying. If flying could be on the ground, I'd be all about it! How come? Because it's luxurious AF, and I'm going to tell you why.
1. It is the height of laziness.
Food is literally delivered to your lap. No matter who you are, where you came from or how well off you are, if you're on a plane, you can get food delivered to your lap. This is a true marvel of the modern world.
2. No one can touch you.
I mean, obviously your seat buddy can and will at some point in the flight. But if you have annoying emails to deal with, a telephone call you're putting off, Facebook messages you don't have the energy to get back to . . . Flying gives you at least a couple of hours away from it all. And there aren't many times you can say that anymore, in this digitally-connected world.
3. To that end, you can work uninterrupted for hours.
I know that doesn't sound awesome, but if you love your job and find it hard to secure a few hours of solid work, interruption free, a plane is your best friend.
4. Movies! TV! Music!
It's all at your fingertips and it's the best. Forced TV time? We're so into it.
5. Alcohol!
Sorry to sound like a drunk (I swear I'm not, boss) but no sight is more welcome than that of a drinks trolley rolling down the aisle towards me. If you're on an international flight, drinks are usually free (open bar? Hello!) but even if they aren't, just one cold, crisp glass of white to ease the nerves is a luxury I never take for granted.
6. It gives you a chance to watch the movies you'd never watch.
The Revenant? Room? Finding Dory? Wanted to, but never had the chance and probably never will 'cause, #spoileralert, DVD stores aren't a thing anymore and Netflix is selective. On a long-haul flight, I can catch up on three movies back-to-back, and still have time for a flick through the excellent in-flight mags.
7. On that note, it gives you time to do things you never get to do anymore.
Like read a novel. (I recommend The Girl on the Train — I couldn't put it down.) Do a crossword. Does anyone on this earth get time for a crossword anymore? Not really, but they're a great time-waster and actually make you use your brain, not Google.
8. The conversation.
Look, sometimes you really don't wanna chat to anyone, and that's cool. But other times, you'll find yourself having the most interesting conversation with someone you just met, and it'll give you the kind of buzz money can't buy. We so rarely get to have long, meaningful chats with people anymore — everyone is usually buried into their iPhones or tuned out with headphones on — so if you've got someone willing to have a chat, see it as something to be grateful for. Besides, you never know who you could meet!
9. The novelty of it all.
Call me crazy, but I love travel goodies. From the mini toothpaste, travel-sized face cream and face wipes that I bring on board, to the blanket, pillow and crappy headphones that are waiting on my seat when I arrive, it's all a bit cute and quaint. Once the seatbelt sign is off, I love going to the bathroom, swapping my contact lenses for my glasses, swiping off my makeup, slathering on a serum, face cream and lip balm, then heading back to my seat to snuggle up with the blanket and pillow in preparation for points 1, 4, 5 and 7.
10. Sleep, sleep, glorious sleep.
Um, is there anything more wonderful and luxurious than sleep? We're hard-pressed to think of anything, and planes are basically giant cocoons within which you are encouraged get some shut-eye. We know, we know — it's not always heaps comfortable. But at the very least, you can sling your feet in the bouncy footrest, lean your head back, close your eyes and rest. That's something we can all appreciate!
11. All that anticipation.
When you're on a plane, you're generally going somewhere exciting — whether it's an interstate or overseas holiday, or just a visit to the family, it's a nice break from the usual. If you're returning home, it's equally wonderful. When you're sitting in those squishy little seats, think of the good that's to come, rather than the fact that the person in front of you is practically lying in your lap. Plus, the view is top-notch up there.
12. The post-flight shower.
No hot shower in the world is better than a hot shower after a long flight. Period.