How to Manage Your Money While Overseas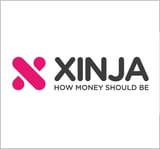 We've partnered with Xinja — who are building an independent, 100 per cent digital bank (or neobank) for Australians. Xinja is here to help you manage your money and plan for your next holiday.
Simple, quick, transparent — that's how managing your money should be. Of course, it's not
always the case. Xinja is here to change that, building a 100% digital, independent Australian
bank— one that we could really get on board with. Intrigued? Find out everything you need
to know below.
Been keeping an eye on the news lately? We recommend sitting down with a coffee this
weekend and reading everything you can on the Royal Commission to the banking industry .
It's sobering stuff, and for so many Australians is the final straw in their relationship with the
big banks. But where do you put your hard-earned cash if not in a traditional bank? As it
turns out a very tempting alternative is not too far away from launching.
It's an exciting new concept that is designed exclusively for mobile. Founded by a team with
a range of backgrounds from banking to customer experience to tech, the Xinja mission is to
to use technology to bring humanity back to banking. They'll do this by a combination of
clever mobile app features, cool new AI and great customer service. Their app is currently in
the App Store (with Android coming later this year) and their prepaid card is now available.
And they're rolling out exciting new app features all the time, like split the bill and spend
categorisation (i.e. perfect after a Friday night of cocktails) and it's these things that make
Xinja your financial ally instead of an enemy.
The timing of the card launch couldn't be better, because we've just started planning a holiday
to the'mermaid hotel' in Vietnam and Xinja have the perfect travel card. Just load it up with
your spending money before the trip and away you go. It offers full currency conversion fee
refunds, as well as no ATM fees charged by Xinja. This in addition to app features such card
locking for security and instant transactions in the local currency and AUD, makes Xinja's
pre-paid travel card a life saver if you're planning on travelling abroad.
But hang on — didn't we say that Xinja would be a bank? Yes, they will be. . . And they're
working on it. With the initial roll-out of prepaid cards currently in the market, the Xinja
team are now working away to be granted a banking licence. Given the current banking
crisis, a new player couldn't come soon enough — for now, we'll wait patiently.
If you're keen to try out the Xinja pre-paid card ( girls' holiday, anyone? ), apply now on their website. Watch this space!