Interview With Daina Reid, Australian Film and TV Director
On the Job With Australian Film and TV Director Daina Reid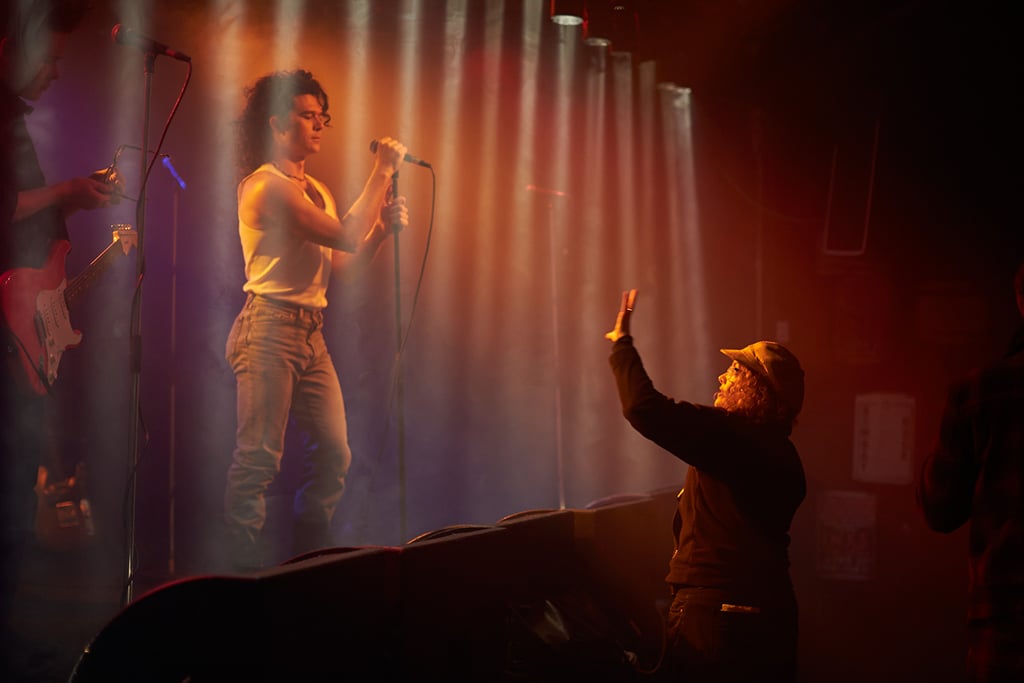 Pictured: Daina Reid directing Luke Arnold in INXS: Never Tear Us Apart.
Daina Reid is the woman behind the camera for some of the best Australian television we've seen in recent years. You name it, she directed it, from Paper Giants (both miniseries) to Howzat! Kerry Packer's War to this year's TV event INXS: Never Tear Us Apart. She's also helmed episodes of beloved Aussie dramas such as Offspring, Rush and Nowhere Boys.
Daina is now one of the country's most sought-after directors, but she actually got her start in front of the camera on the sketch comedy series Full Frontal. We spoke to Daina, who was extremely generous with her time and wisdom over the phone, to talk about the role of women in the Australian film and TV industry, which of her projects she's most proud of, and what her advice is for anyone looking to follow her career path.
POPSUGAR Australia: What was your very first job?
Daina Reid: My first job as a director was for Blue Heelers. I used to be an actor, and I was on a comedy television show called Full Frontal, and the Blue Heelers studio was next to ours. On my last live night that we used to do live in front of an audience, I went next door and asked if I could start doing some attachments with the directors there, which I did. And then they put enough faith in me, and they gave me a proper job directing.
My first actual job was selling shoes at Betts at Hay Street Mall in Perth! [Laughs]
PS: Is there anything you took away from that first job that's helped you today?
DR: I don't know [laughs]. All I took away from that first job was that I didn't like reggae music, because the manager of that store just loved reggae music so much. Now I loved Bob Marley, but he just played absolutely obscure piece of reggae music, non-stop, from opening until closing. It ruined it for everyone.
PS: When did you know directing was something you wanted to go into?
DR: Look it's really tragic, and very nerdy, but I saw Star Wars when I was very young, and that's what I wanted to do. That was it. I went, "I want to do what he's [George Lucas] is doing." From then on, I headed towards it. I did veer off, because when I was doing some television at Curtin University in Perth, everyone said you need to get experience with actors and work that stuff out. So I started doing the theatre course as well there, where I met some of my great friends. Then I got caught up in that world for a while and auditioned for the acting schools, and got into WAAPA. I'm very glad that it happened that way, because the best way to learn how to work with actors is to be one. It was great how I spent 10 years being an actor, before I went, "Right, that's enough of that," and got back on track.
PS: Do you ever think you'd be able to direct something you're also starring in?
DR: No [laughs]. I'm definitely finished with that, as far as being the performer myself. What I loved about being an actor was the breaking down of the text, and really working through that performance like a piece of music. I still get to do that, it's just that somebody else does the acting. I work with them, but that's what I loved about both.
PS: How would you describe the role of women in the film industry today, or more specifically the Australian film and television industry?
DR: Well, there are many amazing women practitioners in the film and television industry. I remember when I was back at university doing film and television, and how a few people from the industry came and talked to us, and one person said, "Oh, you know, continuity is a good job for a woman," and everyone went, "Oooh!" because it was a very big time of feminism, which has kind of gotten less fashionable now. Extremely sadly — I don't know what the hell is going on there — because when I was coming through, everyone wanted to do everything. So I think there are amazing producers and directors, and I think we just need to keep forging forward, because like the rest of the world, like everything, sadly I think we've gone a bit backwards. There's always going to be room for improvement, I just think we need to keep moving forward with it. And I think we need to acknowledge a bit more feminism. Like it's not a dirty word, or anything like that.
My parents were very distressed when I decided to go to acting school, so I'm glad all those skills have come together to enable me to work on these great projects, and bring them into being as well as I can.
PS: What's the toughest job or project you've taken on?
DR: I think it's going to be the one I'm about to, which is The Secret River for the ABC, which is based on the Kate Grenville novel. I think it's going to be pretty tough. INXS was pretty tough, and I Love You Too, the movie I did, was pretty tough.
PS: What has been your most memorable "I've made it" moment?
DR: [Laughs] Oh dear. I don't think you can say. . . I'm always too superstitious to think, 'I've made it.' Because sure enough you think, 'I've made it,' and then it's all gone. But I remember the moment when I got offered my first episode to direct of Blue Heelers — I remember that moment, of walking down the hallway thinking my life just changed. That was very memorable.
PS: Which of your projects are you most proud of and why?
DR: Ooh, that's very hard. It is like the [favourite] children question. And I'm proud of them all for different reasons. The one that I personally love watching the most, and it's very hard to say, but. . . I'm a massive fan of baseball movies — I don't like baseball, but I like baseball movies — and I remember. . . It's scary to talk about these things, but Howzat! is like a baseball movie. And so there's something about it. And this has nothing to do with me being the director of it, but if I was a viewer of it, there's something very uplifting about it. Personally, that's my favourite. But it's very hard to pick. I mean, INXS is great but it's got a sad ending. I'm just saying as a punter. But again, I love Paper Giants as well — I thought that was lovely. I'm divorcing myself from the process.
I'm very big on finding the emotional connection, finding the human, in those lead characters, and their vulnerabilities. To me, that's what it's all about. What is driving that person? What in them is making them do what they do, and why do they need to do it, and how is that like every one of us?
PS: What is your number one priority outside of work?
DR: My family!
PS: What has been your biggest professional setback?
DR: Hmm. I don't think it's happened yet! [Laughs] When I was going to be a dancer, I got Achilles tendinitis, which I still have to this day. But I think that's work out alright, too.
PS: Who are your mentors?
DR: I'm a big fan of Billy Wilder. His movies are so diverse. Two of my favourite movies are Some Like It Hot and The Lost Weekend, which could not be more different. I started as a comedy performer, so I love that genre, but I am now directing mostly dramas. I love the way he does things.
PS: Who are some other women in your industry you admire?
DR: My good friend Amanda Hicks, who's a great producer. Joanna Werner, who's out there doing amazing things. Kate Dennis, who is another director and has a family as well, so I look to her a lot for how she's managing being a director and a parent. Emma Freeman, I love her work. There's another woman called Angie Higgins who's a terrific editor, and she's got four children. There are lots, and I'm going to be missing so many women. [In a separate email after our interview, Daina added: "Imogen Banks and Mimi Butler, both producers. Also Asher Keddie and Mandy McElhinney, both actors. Also, Jessica Hobbs!"]
PS: What are three things you can't live without?
DR: I'm thinking back to my Full Frontal days and Shaun Micallef would have said something like, "My circulatory system," or, "My respiratory system." I don't want to sound too soppy! I need to think about that one.
PS: How do you relax or shut off at the end of a long work day?
DR: I cook dinner for my kids and then we put them to bed. Then my husband and I cook dinner for ourselves. I know you're supposed to have it altogether, but it's the last thing I'm hanging onto. We cook something nice, and we'll either sit and chat, or we'll watch appointment television like House of Cards or something like that. I watch a lot of quality stuff. And I read a lot, too. I'm a big reader. It's really important to try and find some time for it. Since I moved away from St. Kilda, when I had a family, the library I have here is so accessible and so close, and will do anything for you. I get everything from the library! My favourite outing is to return one and get another one.
PS: Are there any pet projects or dream stories you want to bring to life?
DR: Oh yeah! But I'm not going to talk about it [laughs].
PS: What would your advice for a 25-year-old woman trying to follow in your career path be?
DR: It's tough because — this is controversial, but I've said this in public before — I think there is an assumption that you don't know how to do it, or you won't be able to handle it, or that you won't be all over it. Somehow, because a man's a man, he's going to be more all over it. I think you need to bank on yourself — you don't need to be arrogant and throw your weight around, just bank on yourself, so when you might get a response like that, you won't assume you are wrong. Because you are learning — when you're starting out, you're learning. Some people are going to be really helpful and it is good to listen, and take on board all that stuff — just differentiate the two things between people who are trying to help you, and people who think you can't do it so they're taking over. And just quietly hold on to where you know it's got to go, and don't doubt yourself.