Julie Snook Equality Interview
Julie Snook on Gender Equality: "We Have a Long Way to Go"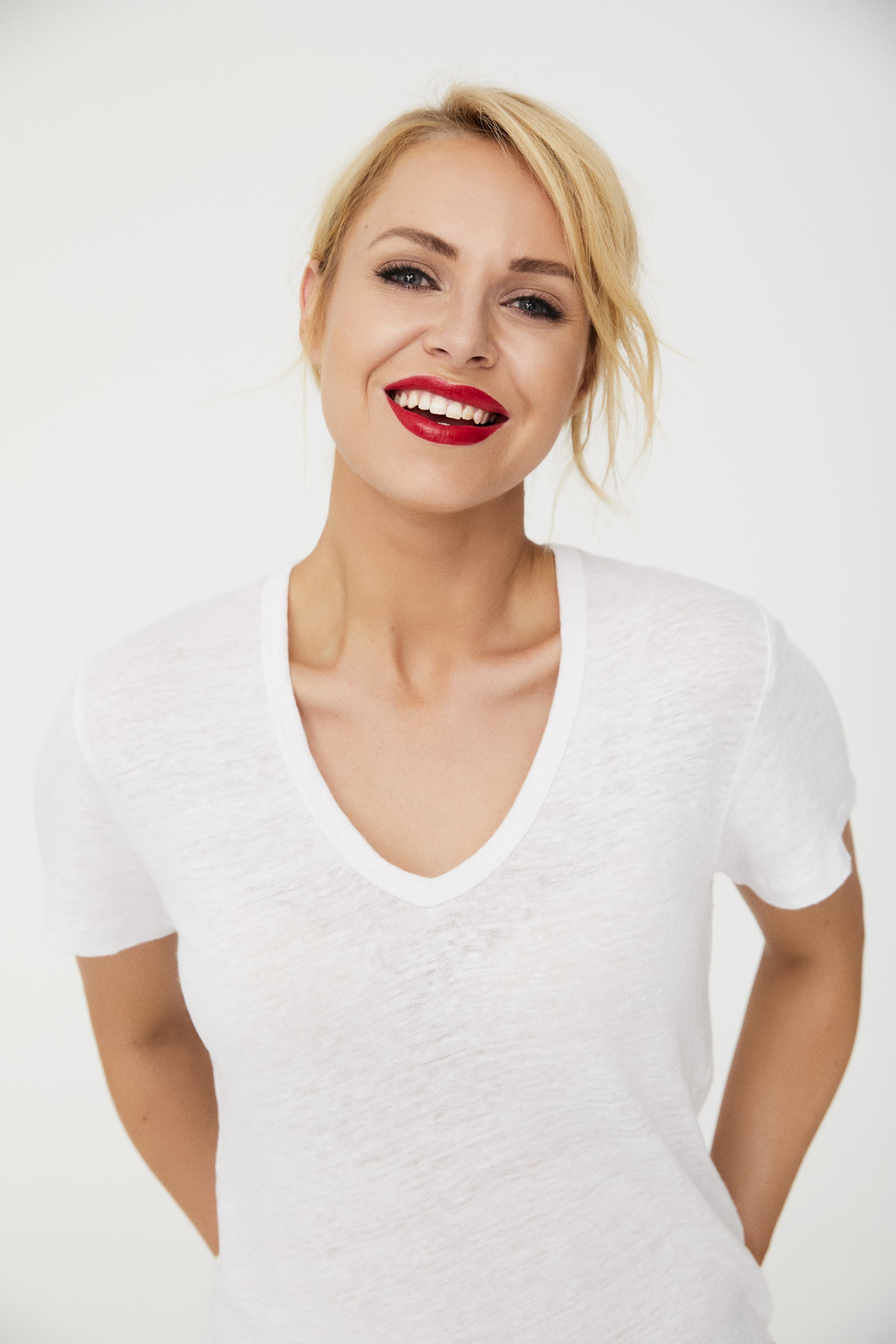 Journalist Julie Snook is well known in Australia thanks to her work on Channel Nine's news programs, but there's no denying it was her off-air altercation with colleague Amber Sherlock that sent her name into the stratosphere in January of 2017. Regardless of how you felt about that whole situation — "It was just a very unfortunate incident," says Julie — we're grateful for one thing: it shoved Julie right onto our radar.
Over a year on from "jacketgate," the 30-year-old is using her profile for good, joining a slew of high-profile women in Elizabeth Arden's March On campaign, which donates 100 percent of the proceeds of a limited-edition lipstick to UN Women.
We stole 10 minutes of Julie's time to hear about the campaign and — in the spirit of International Women's Day last week — to talk equality.
POPSUGAR Australia: Tell us about the Elizabeth Arden March On campaign.
Julie Snook: It was a shoot that a few of here at Channel Nine got behind. All run by women, which was something that was really, really fun — makeup artists, photographers, you name it, everyone involved was a woman. It was all ladies and that was really wonderful. It was a chance for us to show our support for International Women's Day. Obviously Elizabeth Arden dates back to 1910 and has the history of the suffragettes who wore red lipstick and started the whole movement — so it was amazing to be featured. All proceeds from the March On lipstick will go to UN Women, 100 percent of the proceeds.
PS: There's been a bit of a groundswell around equality in the past year with everything that's happened within the #MeToo and #TimesUp movements. Do you feel like there's been a shift?

JS: Yes and no, to be honest. I think a lot of the focus has been on Hollywood; we've seen so many big names utilising the awards season to really bring it to the fore. I think now more than ever, it's not so much that women have voices now, it's . . . I think Meghan Markle said this recently, it's that there's the chance and the platform to use them. We have a long way to go when it come to equality, whether it's in the workplace, whether it's beyond. There is a long way to go, but I still think we've got so many women in such amazing roles — especially in the media — who are at the top of their game and really setting the benchmark. So we've come a long way but of course there is a long way to go. I think awards season particularly, the the whole #TimesUp campaign has really brought the issue to the fore and it's something that's being discussed worldwide. It doesn't matter what your opinion might be, it doesn't matter who you are, everyone's talking about it. And I suppose that's the point, to get the conversation starting and get some action in place.
PS: You're a woman in media. Have you struggled to reach a level of equality?

JS: I've been very lucky. I've been a journalist for a decade now and I've always worked alongside men and women. A lot of men are in the sports world, but I've never, ever had an issue. I've always been very warmly received and well looked after. Some of my closest mentors are male role models, and they're wonderful people and I've never had an issue. I'm very lucky though, — I know others have, we've heard that others have, but I've never had any [issues]. I've had nothing but support and guidance. Especially here at Nine where we're a pretty tight team and it doesn't really matter who you are or where you're from. I've always been of the belief that it doesn't matter: sex, race or religion, as long as you can do the job and you can do the job well, and you're a good person and treat people the right way, it doesn't really matter.
PS: The whole jacketgate situation . . . did you find it odd how nuts that went?
JS: Odd is an understatement. It completely . . . I think it's safe to say it caught everyone off guard. It really did snowball into something completely unexpected and unnecessary. But we lived and we learned and I can look back on it now and be grateful that it's over. You live and you learn and you move forward, but it really blew up and caught everyone off guard for whatever reason. I don't know why it did!
PS: Do you think it's because it fed nicely into that outdated narrative of women being pitted against each other?
JS: Perhaps it could have been. I think it also was a behind-the-scenes look at a world that people might find interesting. It was just a very unfortunate incident, to be fair. Amber and I have always said we don't have an issue with each other — we never have, and we certainly hope not to. It was just a tough day at the office for two busy people, and it unfolded the way it did.
PS: And unfortunately it was on camera.

JS: Unfortunately, yes.
PS: Let's talk career goals! Where would you love to get to in your line of work?

JS: The million-dollar question! You would think by now I'd have an answer [laughs]. To be honest — and this is a really boring answer — I've always been the person that just takes opportunities as they present themselves. At the moment I love my job. I'm very, very lucky to work in an incredible workplace. I have so much fun, and so many good mates around me. We've obviously got the start of the rugby league season and I'm working on our netball coverage again — that kicks off at the end of next month. I've got Autumn racing coming up, the countdown is on to the championships . . . so for me the year's just about to step up and get really busy. The madness rolls on for another year!
Image Source: Elizabeth Arden