Strategies to Stop Procrastinating
If You're Sick of Your Own Procrastinating BS, You Need to Read This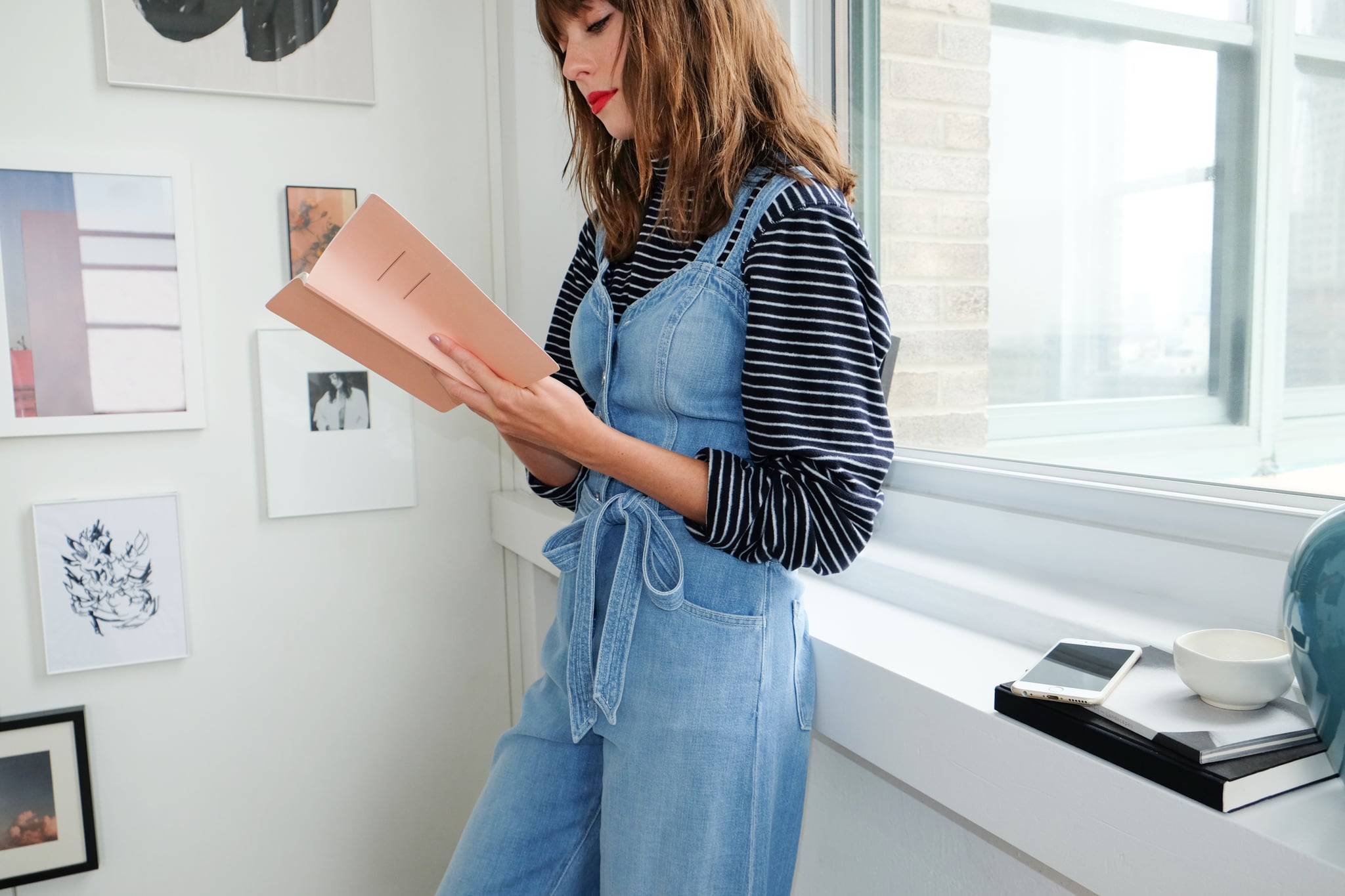 Is procrastination the name of your game? I feel you. I'm not sure what it about us humans, but when there's an unpleasant or tedious task at hand, I can absolutely guarantee you will be able to fill your time for eternity with the most ridiculous things — anything to avoid the boring/daunting/time-consuming job ahead.
Gotta file and order your year's worth of tax receipts ahead of your July 15 tax appointment? You would, but you've juuust gotta do the dishes first and then vacuum the entire house and cook dinner and then walk the dog, and then maybe you'll re-organise your book collection so all the spines match colour for when your fancy friends come over on the weekend — and then perhaps you'll just super quickly go through all your handbags to make sure there are none you can get rid of on eBay real quick, for a bit of extra cash. Before you know it, it's October and you've rescheduled that appointment three times.
I've been this person before and I'm constantly reminding myself not to be. Why? 'Cause it's annoying as all hell that I prolong my own pain. This is exactly the sentiment Dr. Stephanie Burns shared at a Remarkable Woman breakfast I went to on International Women's Day in early March. Talking to the crowd about why people struggle to meet goals, Dr. Burns headed straight for a concept close to my heart: putting off the sh*t bits of life.
Turns out, I'm not the only one who likes to avoid the painful or boring stuff — in fact, a study Stephanie worked on found that 75 to 85 percent of the time people fail to achieve goals they've set. "It is more than normal to quit, and therefore fail, than it is to succeed," Stephanie explained. "[So] succeeding is extraordinary."
"From a biology standpoint, organisms are designed to move away from comfort. As a human organism, you say, 'If it doesn't feel good, stop whatever is the cause of that stress.'"
Why is the failure rate so high? Quite simply, because it's easier to quit. "From a biology standpoint, organisms are designed to move away from discomfort. As a human organism, you get this line that says, 'If it doesn't feel good, stop doing whatever is the cause of that stress.' So it makes sense. If what I'm doing doesn't feel good, or it's unfamiliar, new, taxing, maybe confusing, frustrating, then you are going to start, as a human, to do whatever it takes to stop."
Stephanie further explained to those of us at the breakfast that the unpleasant stuff can be incredibly simple, but still end up having a huge effect on whether we reach our goals or not. An example: struggling to find a parking spot at university every day leads to frustration. University becomes associated with frustration, frustration turns to disinterest, disinterest turns to wanting to pull away from the unpleasant thing, which eventually leads to quitting. Like the butterfly effect, it all comes down to the choices you make well before the end goal.
Further to that, Stephanie (who talks some serious truth, even if it hurts) says somewhere along the way, people create a narrative to suit them, to rid them of any guilt for not seeing through their goals. "What we do is we use the big part of our brain to start to construct a story or a narrative called a rationale, or an excuse for why next year would be a far better time to be doing this, or tomorrow would may be a better day to do it, whatever. So we create an excuse and if the excuse sounds good enough to ourselves and when we tell it to others, we go 'bingo!' No guilt — and we walk our way towards quitting."
"We create an excuse and if the excuse sounds good enough to ourselves and when we tell it to others, we go 'bingo!' No guilt — and we walk our way towards quitting."
This is where procrastination comes into the whole situation. "What's interesting about this is that people then go on to label themselves 'procrastinators,'" Stephanie explains. "They get used to not achieving things and somehow become convinced that they are a procrastinator, as if that's a personality trait. It's not. It's a behaviour, and it's a learned behaviour."
Stephanie continues on to say that almost all the successful people she's come across in her life have the same tendency to habitually get the difficult things on their list completed first. She sums it up with a point that might well have changed my productivity forever thanks to its simplicity and accuracy. "Just get it done. There's a palpable sense of relief when [the hard tasks are] complete and it leaves a freedom in the day to now choose the things that you do enjoy, that you really want to engage in." That palpable sense of relief? I know that feeling and god, it's good. When you finally tick off something that's been on your to-do list forever and can move on? Nothing better.
"Just get it done. There's a palpable sense of relief when it's complete and it leaves a freedom in the day to now choose the things that you do enjoy."
Interestingly, that feel-good tactic plays a big part in having great organisational skills as well — yes, you'll feel good ticking the tough task off your list, but its benefits are two-fold as it helps you become a more organised person overall. Procrastinating with a looming deadline? Just get it done — you'll experience that delicious feeling of relief plus your boss will view you as orgnanised and trustworthy when you wrap up a project ahead of time.
At the end of her chat, Stephanie shared with the audience the three strategies she sees non-procrastinators utilising regularly. We've condensed them below so you can take them on board and start apply them to your own situations. Having done so myself for the past eight days, I've achieved a big first for me: I've exercised for an hour every single day, all thanks to strategy number one, which I personally found most useful. Read on, and may you kick all your future goals with gusto.
1. Don't Think About the Task at Hand
The goals non-procrastinators are hitting are just as hard as everyone else's, but somehow they get it done. How? Stephanie says it often comes down to switching off your brain. "They don't think about what they're about to do. The worst thing you could ever ask yourself is, 'Do I feel like? Do I feel like reading that report? Do I feel like studying that? Do I feel like taking the rubbish out?'" Stephanie says if the emotion attached to the question (i.e., boredom at the thought of taking the rubbish out) is negative, you'll tell yourself no, and you won't get it done. "You think, 'Nah, we'll run after the truck in the morning. That's a far better idea.' So yes, they don't think. By not thinking, they don't stimulate the negative feeling about it. You go, 'Don't think about it. Just get this thing done.' And that's how you get motivated to start."
2. Think, but Only About How You'll Feel Afterwards
"They don't think about how they're gonna feel while doing it," explains Stephanie, "they think about how they're gonna feel once it's done. 'How good is it gonna feel to put another tick on the box? How good to feel is it gonna feel when my spouse asks me if I did my run today and I can say yes? Or bad — how bad am I gonna feel if I come home tonight without the dry-cleaning and tomorrow I have to iron the shirt in the morning? That'll get you to pull in and get the dry-cleaning."
3. Just Start, and Decide Later
This one is super simple and achievable by everyone — and I've personally found it works a treat. Stephanie explains it as a two-step process to getting goals complete. "You have to have two behaviours. You have to initiate action. When you get home, if you sit on the couch, you're not gonna cook dinner cause you can't get from the couch to the kitchen. It's just too far. Am I right?" she laughs. "So you have to initiate an action and then you just have to be able to sustain it long enough to [reach your goal]. In human behaviour, initiating action is far harder than sustaining. Just start — initiate action — and then decide if you want to keep going. If you can get up, just get out the door, jog the first 10 minutes . . . then you go, 'ding ding ding! 10 minutes is up. Do I feel like running?' It's now almost easier to keep running than it is to go home and take a shower, change clothes and all that. What you're training your body to do behaviourally is to start. If after 10 minutes you still don't want to do it, fine. Put it away. But at least you trained." And that's 10 minutes more jogging than you would have done otherwise, so consider it a win for the non-procrastinator in you.
Image Source: POPSUGAR Photography / Paul Kabata