What It's Like Going Offline For 24 Hours
How 24 Hours Offline Made Me Realise How Addicted I Really Was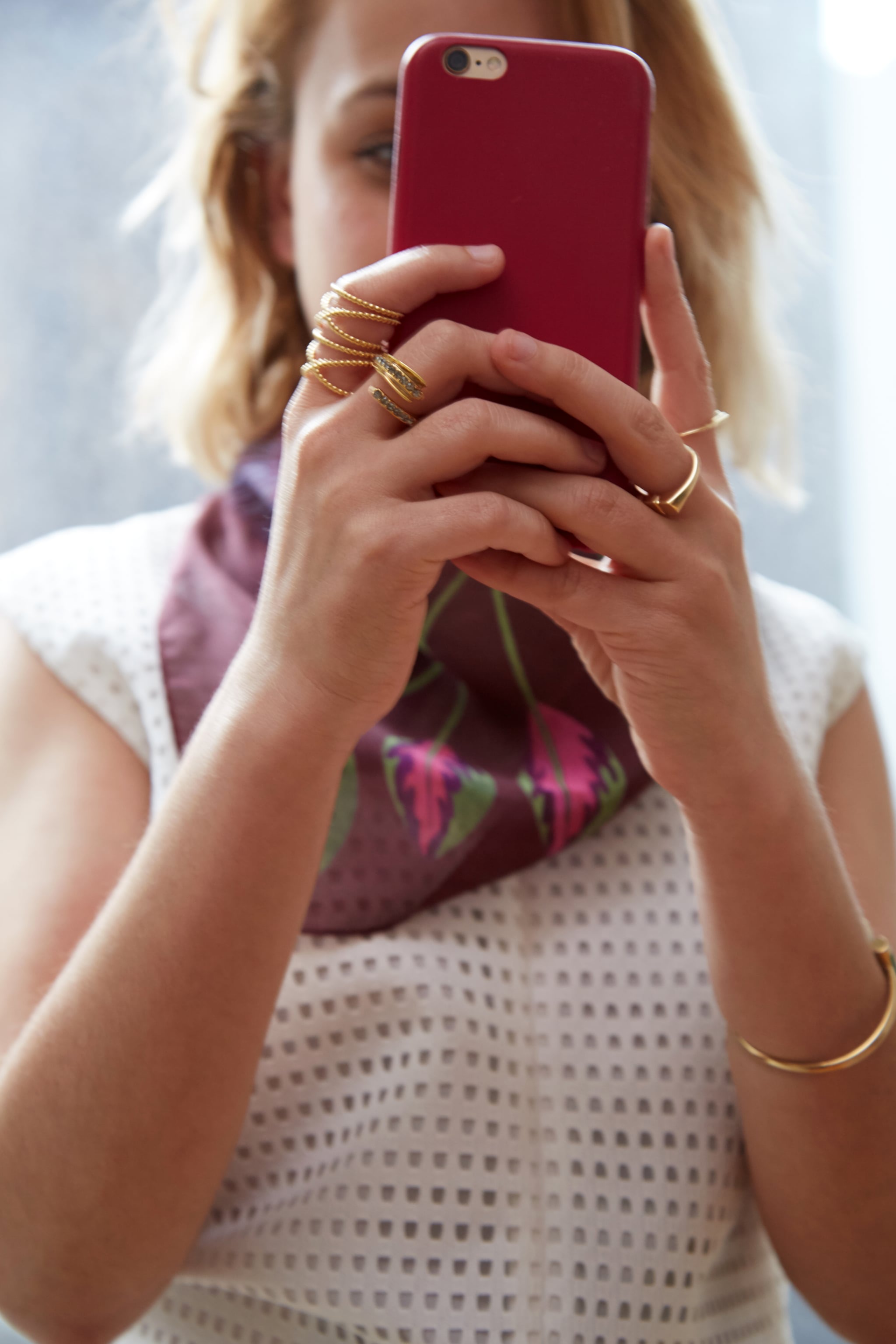 Putting my iPhone into a safe for 24 hours was probably one of the most anxious experiences of my year. How sad is that? I love Instagram. I love spending hours and hours scrolling, saving Carmen Hamilton's outfits to my "Fashion" collection, and Reformation's latest front-tie top to my "Shopping" collection. Then I head over to Pinterest and do the same thing. I used to read a lot, but now those apps are my down time. They're where I get my inspiration and curate my dream life and my dream look. I'm barely ever on Facebook, though.
And then there's my email. I have to be honest and say I loathe it. Hundreds a day coming in from all over the world. I spend the first 20 minutes of awake time with one eye open in bed, replying to emails that have come in from the US and Europe overnight. No one asks me to do it, but I do.
From there I'm on HipChat with over 30 people across seven digital rooms. I make at least 15 decisions before 8 a.m. I am in and out of the HipChat rooms while I get ready for work, as I walk from my car to get coffee, and then onto my desk. It's consistently a lot, but for years I've prided myself on my superior organisation skills and ability to be everywhere at once. "I'm just a doer!" I tell those asking me how I manage it all — even though the top middle of my back is aching from stress, my heart is constantly thumping and the thought of my inbox after a day of meetings makes me feel a bit, well, down in the dumps.
So when I was invited to spend 24 hours device- and internet-free in a home as a guest of Panadol, I couldn't accept quick enough. A legitimate excuse to ignore all emails? Yes, please. I called my husband to see if he could wrangle a Monday and Tuesday off, and then we waited for the day excitedly.
We arrived at a luxe shed-style home in Gerroa, about an hour and a half south of Sydney. Panadol has dubbed it the "Home of Reconnection" — you can enter to win a stay — following the company's release of independent research from more than 1,000 Australians surveyed about the impact technology use is having on our lives.
For over half of the country, using our phone is the last thing we do before falling asleep and the first thing we do when waking up. And — you might have guessed it — two in five millennials have suffered tension headaches or migraines due to constantly being switched on to their devices. But what if we didn't need to pop headache pills and instead, reduced our technology consumption? A staggering 73 percent of those surveyed found that idea appealing and yet, it is the addiction to our devices that holds us back.
As my husband and I walked into the Home of Reconnection, there was a safe at the front door. I proceeded to film myself putting his phone in the safe, quickly sending that to Instagram Stories to let the world know I was going to be offline for 24 hours — so you'd better not need me because you can't reach me! And then it hit me. Oh dear . . . maybe I need you?
He set us up in the garden and without realising I was doing it, I started to set up my Instagram shot. Copy of The Gentlewoman, tick. Bassike tracksuit pants for relaxing in style, tick. Glass of red wine, tick. Hair in messy top knot, tick. But no Instagram.
"It was then that I realised I'd confused productivity with connectedness."
After what I think was about an hour (no clocks, either), I sat there looking out onto the rolling green hills and further to the ocean — a view legitimately moving enough to paint it — and realised I was bored sh*tless. And more than that, I was sleepy. It couldn't have been later than 2 p.m. It was then that I realised I'd confused productivity with connectedness. Refreshing every account every 10 minutes meant I always had something to do. I was needed, constantly rewarded and left with zero time to reflect on what value, if any, I was getting from these constant digital exchanges.
Then a big magpie swooped in and, because it had been so long since my husband and I were out in nature, we were scared of it. It totally dominated us and we ran away from our chairs. My heart was thumping in the same way it does when I think about those emails, but this time for the right reason. My body was in literal fight-or-flight mode! Only, instead of running from a killer bear, it was a magpie. (Cut us some slack, he was big and it's swooping season.)
From that moment on though, I am pleased to report we completely surrendered. We played game upon game of ping pong. We listened to music on a record player (thank goodness he knew how to use it as I couldn't Google!), I baked a cake, made fresh pasta and even a side salad. I set the table for dinner, ensuring the candles and the wine were positioned just so (for our own pleasure, not Instagram). I took pride in the food I'd cooked for my husband — the first meal I'd made him in a very long time. We finished magazine after magazine and started new books.
Because we had no clock, he turned himself into a human sun dial and that was probably just the best thing I've seen all year — and it's November. We fell asleep quickly, slept soundly and woke naturally. We played a fun "guess what time it is" game on our way to the car the next morning — we'd slept until 9.30 a.m.! Using my human sun dial I calculated we got about 11 hours sleep. At home, I average five hours a night — and really that says it all, doesn't it?