Why It's Bad to Be On Your Phone at Night
Here's Why Your Late-Night Instagram Scroll Really Isn't Worth It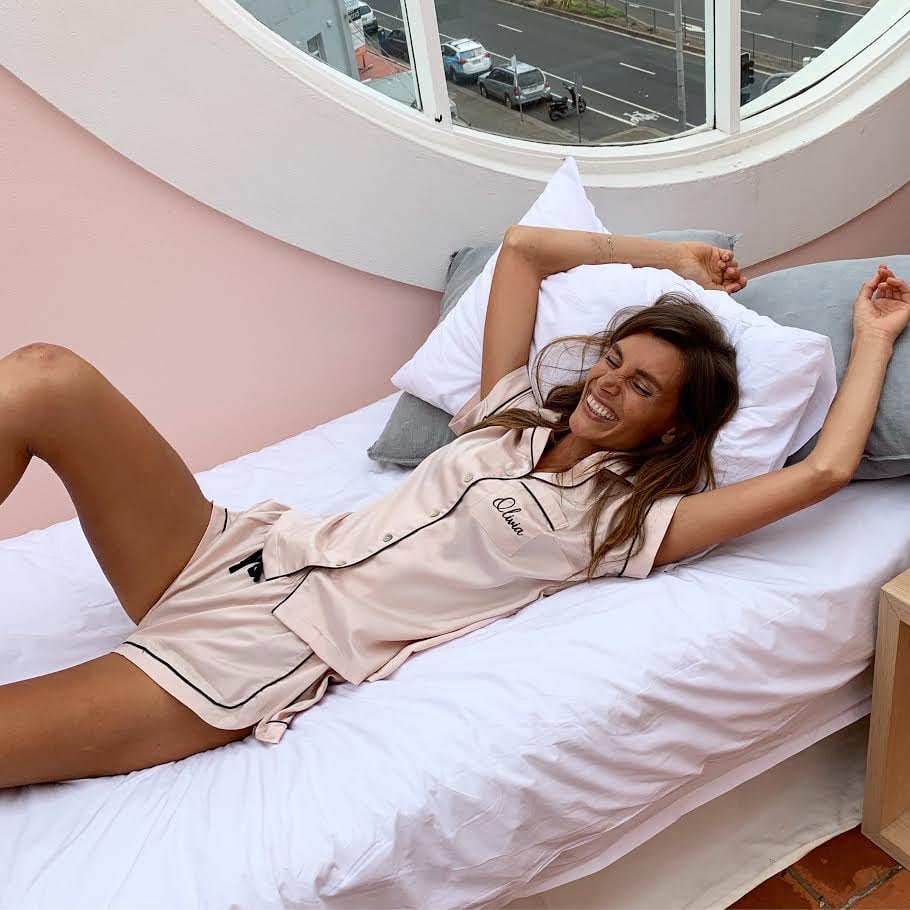 Evidence shows individuals exposure to evening screens are 217% more likely to lack sleep and 272% more likely to be tired throughout the day. Consequently, your body experiences a metabolic shift which leads to increases in appetite, weight gain and sugar cravings — not just signs of fatigue.
As a sleep specialist, removing screens is fundamental — however, with eight years of study under my belt, I'm well versed in the why. So, is your late night scroll worth it?
It exposes you to blue light
Research in the Journal of Endocrinology and Metabolism shows that blue light delays melatonin production — the key hormone to promote sleepiness — by 90 minutes. Translated, your brain is buzzing for 90 minutes after you get off your phone, which means you're likely to wake up during the night and wake up exhausted.
It keeps your brainwaves active, which prevents you attaining the benefits of quality sleep — including fat loss
As published in Annals of Internal Medicine, researchers found sleeping 8.5 hours enables 55% more body fat loss under calorie controlled conditions rather than 5.5. Say what? They found it's largely attributed to metabolic changes which occur under lack of sleep, including an increased demand for sugary carbs and an overall increase in calorie intake.
It increases anxiety and depression
High phone usage correlates with mental health conditions including stress, anxiety and depression. Not only is it the constant comparison between your feed (and life) to those on your feed, it's also the perception that you could be disturbed at any time with late night emails.
It's addictive
A study published in Journal of Natural Science, Biology and Medicine pinpoints the same area in the brain responsible for addictive behaviour is activated by smart phone usage. Behaviourally, knowing you should get off your phone late in the evening, yet consciously ignoring this, is another sign of addiction — as is feelings of anxiety when you are unable to use it, say, if you're out of reception.
So you're convinced to put the phone down. What next?!
1. Even before you have disconnected from your device in the evening for two hours before bed, wear blue light-blocking glasses, to prevent stimulating light entering your eyes, which would otherwise delay your feelings of sleepiness by 90 minutes.
2. Diffuse sleep enhancing oil. I like Sleep Assist, which incorporates the properties of Lavender and Sweet Orange. Research shows lavender tranquillises the body and mind, and likewise, academic studies demonstrate sweet orange a natural sedative.
3. Sleep on a cloud (kind of). I use super fine merino wool pillows and mattress underlay by Shleep. Not only does this feel wonderfully soft, the fabric is thermoregulatory, which is vital for quality rest. A study published in Journal of Physiological Anthropology notes a high core body temperature can cause you to wake up during the night.
4. Get support to improve your sleep. Link with me on Instagram (before 8pm) and receive my daily tips. Incorporating psychology, physiology and nutrition; these bite size pieces of advice help you maintain the changes you know you need to make over time.
Olivia is a Sleep Specialist (Bachelor of Social Science - Psychology; Certificate of Sleep Psychology; Diploma of Health Science - Nutritional Medicine, Certificate 4 in Fitness). Outside of sleep, she loves the infamous Bondi to Bronte, escaping to Europe over winter and cups of English Breakfast Tea. Find out all of Olivia's sleep secrets on Instagram (ironically), join her email list and head to her website.
Image Source: Supplied