MasterChef Brendan Pang's Fried Pork Wontons Recipe
Brendan Pang Fell in Love With Cooking Making Dumplings With His Grandmere — Here's the Recipe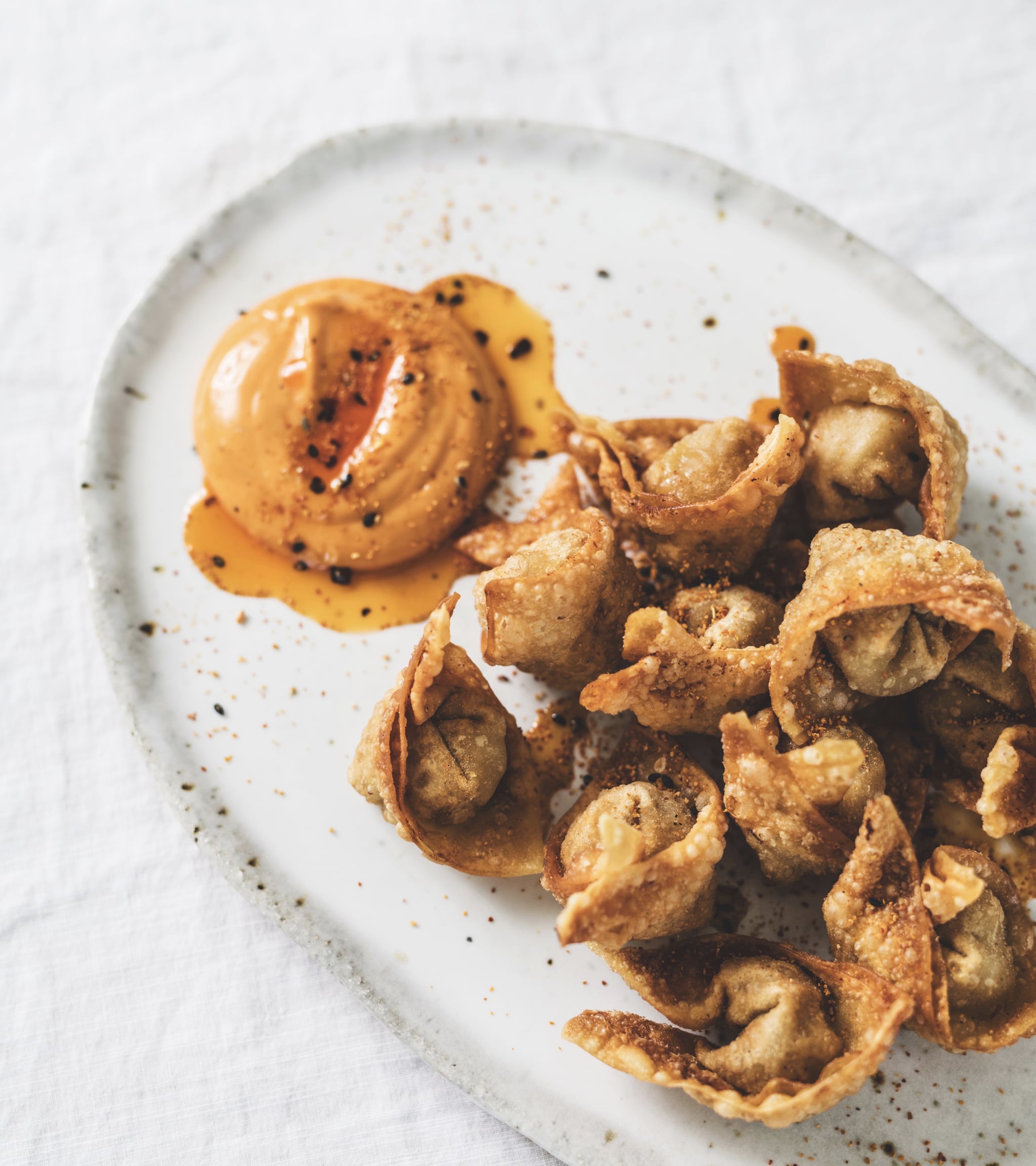 We've asked the eliminated contestants from MasterChef: Back to Win to share with us the dish that made them fall in love with cooking — because even world-class chefs had to start somewhere. And we've all got plenty of time — and the reality TV inspiration — to put our culinary skills to the test.
Brendan Pang says making wontons with his grandmother first sparked his passion for food. "For me, [making wontons was] something that I was taught growing up, around the dining table. It's the dish that got me so excited about working with dough, like dishes with noodles and wontons and dumplings.
"Everyone loves crispy fried wontons and this version is a special family recipe handed down from my grandmere," Brendan says. "If you've had these before at yum cha, you might expect them served with a mayonnaise, but I've added a twist with a slight kick of Korean chilli paste to elevate the dish."
Grandmere's Fried Pork Wontons
Brendan Pang
Notes
If you've never made dumplings before, start with something simple like wontons.
Incorporate an egg into your filling to help create a light and silky texture.
If the filling is dry it will be dry after you cook it so ensure there is some juiciness by using a fattier protein. Alternatively, you can beat a little liquid into the filling such as stock.
Choose the right dumpling wrapper for your intended cooking method. For example, wonton wrappers work best when boiling and deep-frying and gow gee wrappers are best when steaming or pan-frying.
Don't overfill your dumplings. There is a fine line between overfilling and underfilling. The best way to overcome this is to make as many as you can so you get a good feel for the filling-to-wrapper ratio.
If you are making a vegetarian filling, cook it down first to avoid excess moisture.
Always use fresh ingredients where possible, especially aromats such as spring onion
and ginger.
Dumplings are best served immediately once cooked, however can be frozen and
cooked straight from the freezer.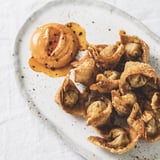 Ingredients
30 wonton wrappers
Vegetable oil, to fry
For the filling:
300g pork mince
1 tbsp light soy sauce
1½ tbsp oyster sauce
1 tbsp coriander leaves, finely chopped
1 tsp ginger, finely grated
1 tsp sesame oil
1 tsp shaoxing cooking wine
¼ tsp ground white pepper
Pinch of salt
For Spicy Korean Mayonnaise
⅓ cup Kewpie mayonnaise
1 tbsp Gochujang (Korean chilli paste)
Directions
To make the wonton filling, place all ingredients in a mixing bowl and mix vigorously in one direction until the mixture binds. Cover and leave to rest in the fridge for 30 minutes.
Working with one wonton wrapper at a time, place one heaped teaspoon of filling in the centre. Brush two adjoining edges of the square with water. Fold the wet edges over (in half) to make a triangular shape and enclose the filling. Brush one of the corners with water and fold inward to overlap with the other corner. Press to seal. Place onto a tray lined with baking paper, cover loosely with a tea towel and repeat process to form remaining dumplings.
To make the Spicy Korean Mayonnaise, place all ingredients in a small mixing bowl and stir until well combined. Set aside in the fridge until required.
When ready to cook the wontons, fill a pot with vegetable oil to about two thirds of the way up and heat to 180°C. Test by dipping a wooden chopstick into the oil. It will sizzle when ready. Gently lower wontons in batches into the oil and cook until golden brown, about 3 to 5 minutes. Drain on a plate lined with paper towels and serve immediately with Spicy Korean Mayonnaise.
Information
Category

Pork

Cuisine

Chinese

Yield

30 wontons

Prep Time

25 minutes

Cook Time

5 minutes

Total Time

29 minutes, 59 seconds
Image Source: Supplied