MasterChef Khanh Ong's Sweet and Sour Squid Recipe
MasterChef's Khanh Shares With Us His Mum's Recipe for Sweet and Sour Squid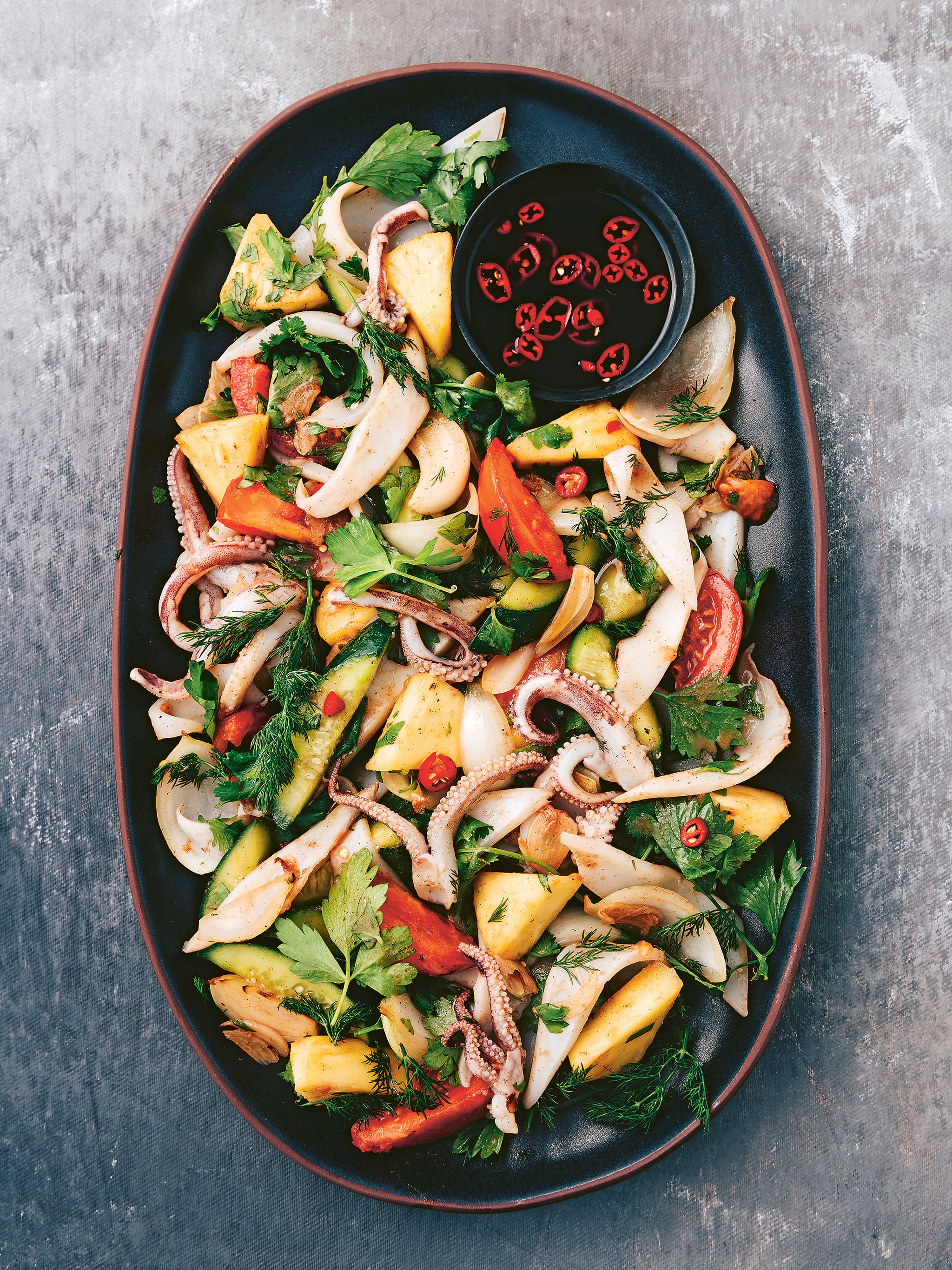 We've asked the eliminated contestants from MasterChef: Back to Win to share with us the dish that made them fall in love with cooking — because even world-class chefs had to start somewhere. And we've all got plenty of time — and the reality TV inspiration — to put our culinary skills to the test.
This recipe for Mum's Sweet and Sour Squid reminds Khanh Ong of home, for obvious reasons, and comes from his forthcoming cookbook, A Gay Guy's Guide to Life Love Food.
"It's a recipe that I don't think people know that it's Vietnamese," he notes. "It's something that I loved eating growing up, and that's why it's in the book. It's something that really reminds me of my family — Mum loved it, I loved it."
Writing in his book, Khanh added that the dish is a household favourite. "The sweet and succulent squid is accented by the acidity of the tomatoes and pineapple. To dial down the sour in the dish you can scoop out the seeds from the tomatoes, but I love this dish just the way it is.
"My uncle, who goes fishing regularly, would always bring over a freshly caught squid and I would watch mum clean it from about 1km away — too scared of getting squid juice on me. Now, I just get my fishmonger to deal with it."
Mum's Sweet and Sour Squid
Khanh Ong
Notes
Chinese celery is available from Asian supermarkets. When I can't find it, I substitute lovage or the leaves from the top of regular celery, as the flavour is quite similar.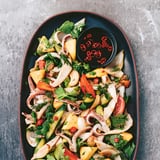 Ingredients
400g squid (about 2 squid)
1 bird's eye chilli, chopped
2 tbsp light soy sauce
1 tbsp vegetable oil
3 garlic cloves, finely chopped
2 tomatoes, each cut into six wedges
1 Lebanese cucumber, halved lengthways then cut into 4cm pieces on the diagonal
200g fresh pineapple, peeled and cut into 2cm thick wedges
1 onion, cut into 6 wedges
2 tbsp fish sauce
¼ cup (firmly packed) Chinese celery leaves (see Tip), roughly chopped
2 sprigs of dill, roughly chopped
¼ cup (firmly packed) coriander leaves
1 tsp ground white pepper
Pinch of sea salt
Steamed rice, to serve (optional)
Directions
Begin by cleaning the squid. Rinse thoroughly, and remove and discard the head and quill. Cut the tube of the squid open then slice into pieces about as thick as your thumb. Cut the tentacles into 5cm pieces and set aside.
Stir the chopped chilli into the soy sauce to make a dipping sauce.
Heat the vegetable oil in a wok over high heat. Add the garlic and cook for 20 to 30 seconds until fragrant. Add the squid and cook, stirring to coat everything in the garlic for 1 to 2 minutes until the squid begins to change colour. Add the tomato, cucumber, pineapple, onion and fish sauce. Turn the heat down to medium and cook for 2 to 3 minutes until the tomatoes start to break down and soften. Add the Chinese celery, mix well and cover for 2 minutes.
Mix in the dill, coriander and salt and pepper and then spoon everything onto a serving plate. Serve with rice, if you like, and with the dipping sauce on the side.
Information
Category

Seafood

Cuisine

Other Asian

Yield

Serves 4, with rice

Prep Time

15 minutes

Cook Time

10 minutes

Total Time

24 minutes, 59 seconds
Image Source: Supplied