Roxy Jacenko's Advice on Building a Brand
Roxy Jacenko Shares Her Must-Know Tips For Building a Successful Brand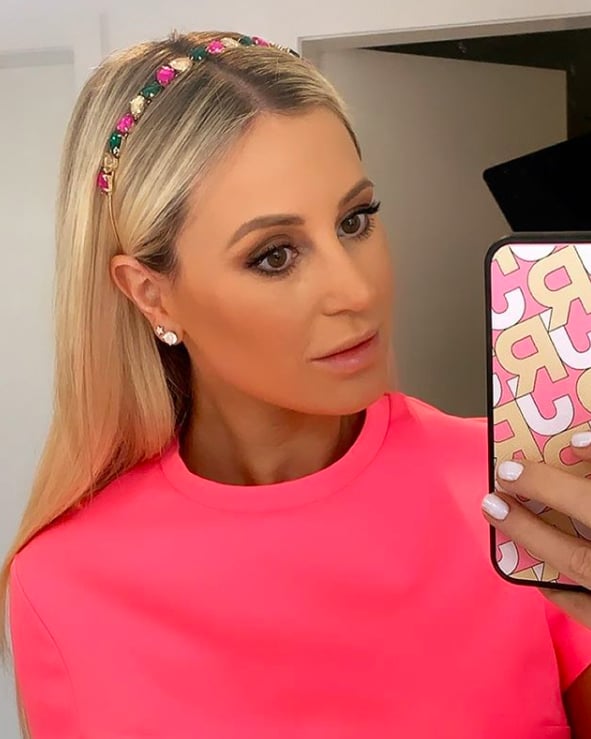 If there's one woman we trust when it comes to building brands that cut through the noise and make a mark, it's Roxy Jacenko. The entrepreneur has not only built five successful brands of her own (hi Sweaty Betty PR!) and amassed 250,000 Instagram followers in the process, but she's spent over 15 years growing her clients businesses and personal brands.
With her second Brand Bootcamp coming up (enrolments close this Sunday March 8 FYI, tickets are available here!) we asked her to share her most important pieces of advice when it comes to starting, growing and maintaining an unforgettable brand in 2020. Read on her her nuggets of gold!
1. Picture Your Ideal Customer/Follower
The golden rule is don't try and appeal to everyone! If your message and image are so vanilla that you don't deter some people, then you're never truly going to resonate with others. The aim is to be loved by some, not liked by all.
Think about some of the world's biggest and most widely loved brands, like Apple or Nike. There are still tonnes of people who don't like these brands. But the people who love these brands, really love them and are willing to line up for hours because they want to be the first to get their hands a new product.
When you're creating content for your brand or thinking about the image you want to portray, picture that ideal customer that you want to work with, have buy from you or follow you on social media. What excites them? What are they interested in? What do they want to see or hear about from you?
While you need to be strategic about what you share, the photos you post and the collaborations you agree to, above all else you need to be authentic to your brand. And the only way to be authentic is to stop trying to please and appeal to everyone. Not only is it impossible, it's holding you back from being truly authentic and giving your brand a recognisable voice in a very crowded and noisy market.
2. Your brand Is All-Encompassing
When people first think of a brand, they often think of a logo, packaging or perhaps a website. But your brand is so much more than this.
It's the way you word emails and how you answer the phone. It's the level of service you offer your customer (whether that's for a physical product, a service or brands that you collaborate with). It's the way that you write a handwritten note on personalised notepaper. Or send a gorgeous bunch of flowers to say thank you.
Your brand is the quality of your offering and staying true to your word about what you'll deliver and when. It's not only in what you deliver, but how you deliver it. Consistency is key.
Everything you share on social media, every post on your blog or website is representative of your brand. All of the imaging and messaging needs to be consistent and authentic because overtime, this builds to become part of your brand story.
Whether you're starting from scratch or building on an existing brand, take time to think about how your brand is perceived by others and all the unique touchpoints that people will come into contact with your brand.
How can you stamp your point of difference and make your brand stand out for all the right reasons? Setting the right foundation for your brand and then following that through with consistency is essential for success.
3. Be a Leader, Not a Follower
Today, everyone wants to be an influencer, brand or an entrepreneur. Which is great! However, what I've noticed is that are so many copycats and look-alikes who are merely dishing out another version of same-same that you see in every second Instagram post!
If you want to be truly successful and have people love you and your brand, you need to be bold enough to be different. Be disruptive and do things a little differently – give people a reason to want to follow you or buy from you. What is it that you do differently than anyone else?
The easiest way to do this is to be authentic and rather than follow trends, create them. Try and predict trends and think creatively about how your brand can be one step ahead by being the first to market with a new product or to present something in a fresh way.
I always say you don't need to be a rocket scientist to figure this out! You just need to be alert and proactively look for inspiration and opportunities. Think about your strengths as a brand and play to them, while always being open for ways to improve and innovate. If you're seeking opportunities, you'll find them I promise.
Never try and replicate exactly what someone else is doing. Firstly, because people can spot a fake a mile off and won't be able to genuinely connect with you. And secondly, you'll never get ahead for long by pretending to be something that you're not. Branding is all about finding, refining and owning your point of difference.
For more information on Roxy's Brand Bootcamp, follow this link!