Photographer's Response to Losing a Client Over Gay Marriage
1 Photographer's Epic Response to Losing a Client Over Gay Marriage
While many people rejoiced at the historic US Supreme Court ruling legalising gay marriage across the country, some were unhappy about the decision. Still, that didn't stop one photographer from responding to a hateful message about gay marriage with love.
The Florida-based photographer, Clinton Brentwood Lee, owns and operates Brentwood Photography, a company that shoots weddings and a variety of other events. On June 26, like several other people and companies, Lee changed his profile picture and cover photo, one of which used Facebook's "rainbow-fying" feature.
While those two photos have racked up over 4,000 "likes," one client was not happy and sent Lee a message that they were no longer going to use him to photograph their wedding. Lee then posted the entire exchange, including his reply that stands by his support for gay marriage, on Facebook. The post has gone viral, with over 68,000 "likes" and 11,000 shares, with many commenters applauding Lee for his actions.
The original clients wrote back with: "Wow really? F*#K YOU!!! Companies likes yours are the reason our country is falling apart! Supporting these people and groups like you're doing only further their agenda are slowly ruining this once great country and destroying families," according to BuzzFeed. "Certainly happy we chose not to do business with you. Good luck with the queers … *SSHOLE!"
Lee sent another short reaction and wished them all the best and has since been unapologetic about answering to other same-sex marriage haters.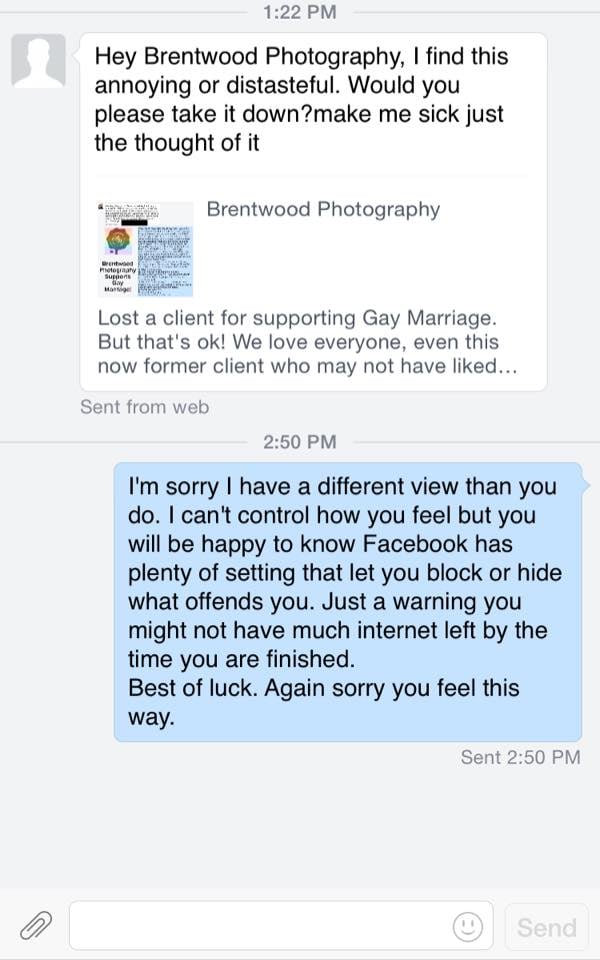 Lee's response is just another example of how love can conquer hate, especially when it comes to such an issue like gay marriage.