Star Wars Galaxy's Edge Facts
6 Facts About Star Wars: Galaxy's Edge Coming to the Disney Parks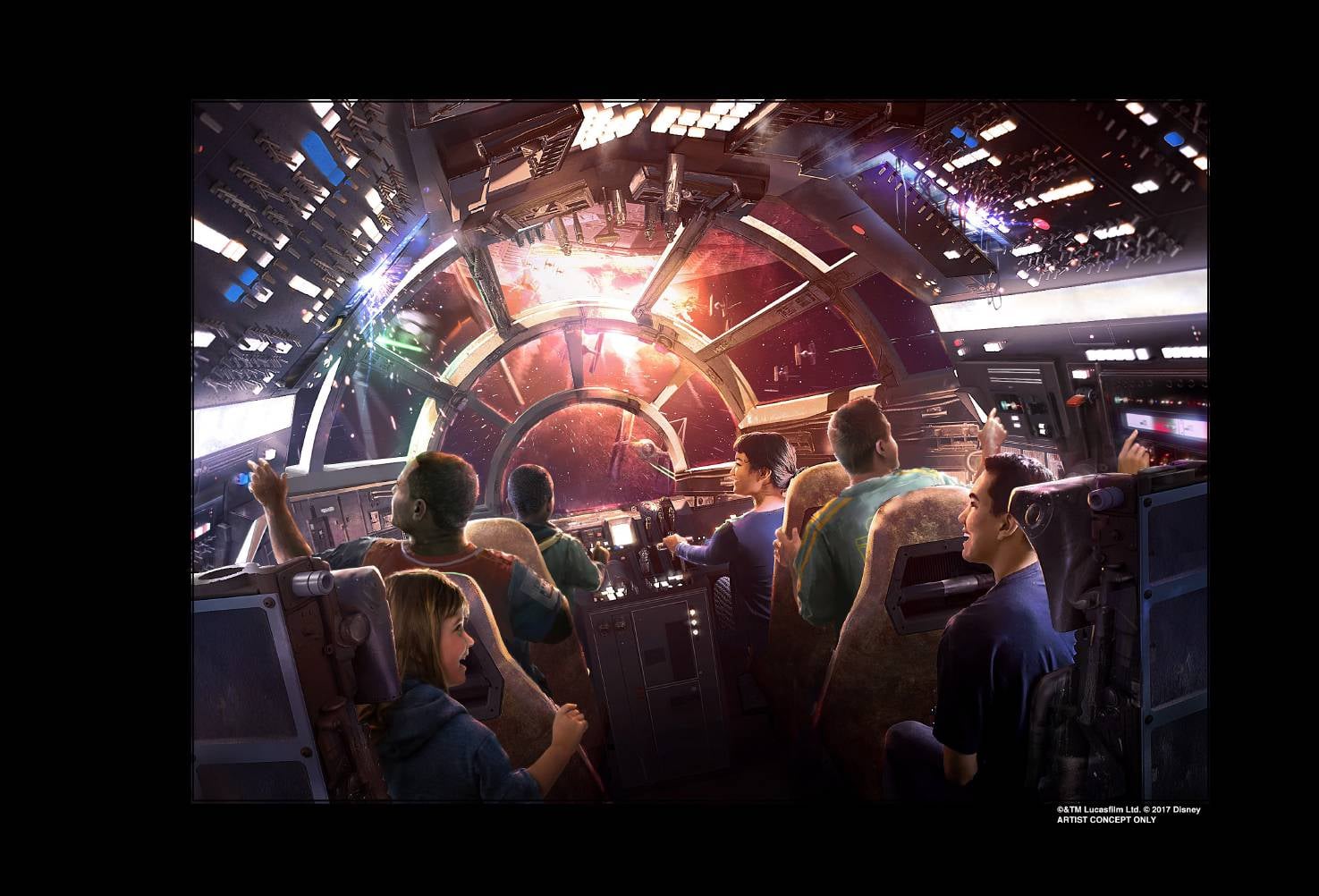 When Disney goes, Disney goes all out. After sharing a sneak peek of the Star Wars Land attractions coming to both Disney World and Disneyland, we finally got an official name for it and even more facts at 2017's D23 expo. Walt Disney Parks and Resorts Chairman Bob Chapek broke the news that the sections of the park themed after the movies will be called Star Wars: Galaxy's Edge. We learned even more information about what's to come and put it together so fans can get their facts straight and start planning their adventures for the 2019 opening.
1. The lands will feature two major attractions. Disney says these attractions will "put guests in the middle of a battle between the First Order and the Resistance." The rides promise to be fully immersive experiences for park-goers. They will be the largest single-themed land expansion at the parks, at 14 acres each.
2. One attraction will be huge! One of the two main attractions is designed to make guests feel like they're on a Star Destroyer inside a hangar bay. Disney says that "it's an attraction built on a scale we've never done before."
3. The second attraction will give guests the opportunity to fly the Millennium Falcon. Guests will be working to complete a mission and will pilot the ship, shoot blasters, and prepare for hyperspace. How you do on the mission holds and how you perform the skills will earn extra galactic credits. Bringing the ship back "banged up" could put you on the list of a bounty hunter. "End up on Harkos's list and you may face a problem if you show up at the local cantina," says Disney.
4. There will be a cantina! Rex, the troublesome pilot from the previous version of another Disney attraction, will take on a new role in this new land as the DJ at the cantina.
5. There will be characters everywhere! Guests will also encounter many familiar faces inside Star Wars: Galaxy's Edge, like BB-8, Chewbacca, and even members of the First Order.
6. The opening date is just around the corner. Star Wars: Galaxy's Edge will open in 2019, so fans just have to wait a bit longer! The Galaxy's Edge will first open at the Disneyland Resort and then later in the year at the Walt Disney World. There are no specific dates — yet.